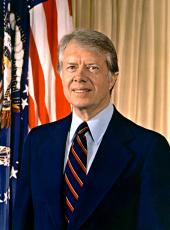 St. Paul, Minnesota Remarks at an Energy Briefing by St. Paul Citizens.
ENERGY
THE PRESIDENT Mayor Latimer and all of those who've come here to help me deal with one of the most important and significant challenges that our Nation has ever faced, let me express my thanks to you.
I'm going to be on the beautiful Mississippi River for the next 7 days with about 140 fine Americans, and I know we'll make many new friends on the ship. It'll be kind of a working vacation, because I will take every opportunity to express to the American people my deep concern about the first development in the rapid changing characteristics of energy supply that have ever comprised a direct, serious threat to the security of the Nation that we love.
This is no exaggeration. We have become overly dependent on uncertain and very expensive imported oil. We import not only oil, but we import unemployment and we import inflation. I've already taken action with the help of the Congress to save 4 million barrels of oil per day by 1990, and I propose to the Congress savings for another 4 1/2 million barrels of oil per day.
I can pledge to you that the most oil that this country will ever import in a year was imported 2 years ago in 1977. We're going to freeze that import and start bringing it down to make our energy security something on which we can depend. The basis for it is the windfall profits tax. The basic decision there is, as oil prices go up with decontrol to encourage American production, who is going to benefit? The oil companies or the American people? I'm determined that it will be the American people, and it must be as a result of the passage of the windfall profits tax. Only your voice can make that possible.
And out of the windfall profits tax will come money to help the poorest American families bear the increased burden of inevitable increases in the price of energy. It will let us form much more effective mass transit systems. It will also mean that we can increase American production. More coal will be used, clean-burning coal; more solar energy; more production of oil and natural gas. And the most important thing of all and the cheapest thing of all—more conservation, how to stop wasting energy.
This beautiful building has been renovated so that it does become energy-efficient. Every single building in St. Paul can have the same degree of achievement. But it can only be done with the full cooperation and involvement of all the citizens of this community.
This meeting is very important, not only for you but for the entire State of Minnesota and, indeed, for the entire Nation. Because you've done such good work before I got here, and to some degree because I'm here, people will know what you're going to do, and this is very important to us all.
Today, in preparation for my visit here to St. Paul, I sent a personal letter to every senior elected official of every county and city in the United States of America, 6,000 personal letters, with an enclosure saying what certain communities have already done. And it wasn't a coincidence that one of those communities that I've used as an example was St. Paul, because you've done a good job.
Now, I came here to listen primarily, but I want to make two very quick points. There are two basic errors or misconceptions that permeate America. One is that conservation can be accomplished by government. It cannot. It must be accomplished by citizens. Secondly, that conservation is somehow painful or inconvenient. It does not have to be painful or inconvenient. It can be exciting. It can be enjoyable: And instead of dividing one American from another, it can form a basis for closeness within a family or within a community or, indeed, within a whole nation. And it saves a lot of money—not my money, not the Government's money, but your money. This must be done. And if all the communities in our Nation will do as St. Paul is planning, then our conservation effort will be successful. That's what I hope and pray.
And now I'm eager to listen to the presentations that have been prepared. And if you don't mind, I might interrupt every now and then to ask a question if I feel the urge.
Thank you for letting me be here. It's a great honor and pleasure for me. It's going to help the whole Nation, what you're doing.

Thank you very much.
STATEMENTS
MAYOR LATIMER. Mr. President, ladies and gentlemen:
In preparation for this our first meeting, as you know, we have divided into five committees. We began as a committee of 100 for a 100-day effort, and we now have three times the number of people, and I hope that means one-third the number of days. But as preparation for this, Mr. President, we have asked eight people who had previously asked to serve on this committee to make presentations on different subjects.
CENTRAL HEATING PROJECT
The first presenter is Cliff Olsen, who is from the First National Bank of St. Paul. He represents the Chamber of Commerce in the energy committee, and he's a vice president of the District Heating Development Company, which is the subject which Mr. Olsen's going to speak about. Cliff?
MR. OLSEN. Mr. President, Mrs. Carter, Amy, Mr. Mayor, honored guests:
Several years of effort were fulfilled in June of this year when the public and private sectors of our community joined to form the St. Paul District Heating Development Company. Its purpose is to demonstrate the technical and the economic feasibility of providing a metropolitan community such as ours with central heating through the medium of hot water produced through cogeneration in conjunction with an investor-owned electric power station. This power station, incidentally, uses only coal as its fuel. While innovative, the concept is not revolutionary. Central hot water heating systems have been used in Europe for many years. The point is that it's never been tried in the United States.
The advantage offered by this system is the almost doubling of thermal efficiency, because energy otherwise wasted in electric generation is recaptured and becomes the hot water used in the heating system. Also the oil and natural gas which is not used to heat homes and industries is saved, and it amounts, by our engineers' calculations, to be sufficient to heat some 200,000 homes. This is about twice the number of homes that we have in St. Paul.
Our efforts have been helped very greatly by the significant contributions of the Minnesota Energy Administration and the Department of Energy. Particularly, we owe a debt of gratitude to the facility at Oak Ridge. We are also most appreciative of the interest that DOE, Under Secretary John Deutch, has shown and also for the substantial financial assistance which you have tendered to us.
We are presently in the final stages of planning which will lead to the construction, we hope in early 1981, of a demonstration project, which will include the downtown central business district and also the capital building complex.
We are very pleased with our progress to date. And we recognize that it is due to the unselfish and complete cooperation of business, labor, and every level of government. Given the opportunity to compete in a truly free market, we sincerely believe that district heating is the mode of the future, and we in St. Paul are pleased to provide an example to the rest of the country.
MAYOR LATIMER. Thank you very much, Cliff.
TRANSPORTATION PROGRAMS
The second speaker is Malcolm McDonald, who manages the Space Center Buildings in St. Paul, Minnesota, and works with Operation 85, which he'll tell the people and the President about. Malcolm?
MR. McDONALD. Mr. President, Operation 85, trades and labor, business and civic leaders who are planning the St. Paul of tomorrow. Acting in the conviction that most practical local solutions to our energy problems will be found through a productive partnership, we as citizens have tried to construct a here-and-now energy conservation program to reduce our daily energy consumption, increase our downtown air quality, and save money for all of us.
In cooperation with the city and in particular the office of the mayor, the Metro Transit Commission, and private industry, Operation 85's Committee on Commuter Alternatives has designed four energysaving programs for cars and people. In October we will announce the first phase.
These programs for carpools, vanpools, greater bus riding, and parking at the edge of the city have as their common goals reducing the number of cars by 15 percent, reducing gasoline consumption through shorter trips, and reducing downtown traffic congestion, increasing the use of existing public transportation systems for greater efficiency, increasing revenue for our bus system to reduce its deficit, increasing our air quality, and saving money for all of us.
To make these programs happen, the public and private sectors are cooperating to provide special aims—parking and cost incentives for van- and carpoolers; properly spec'd, long-lasting equipment designed for low-speed, continuing shuttle, to reduce maintenance and operating costs; variable work hours, flex-time, to reduce peak pressure on transit facilities; encouragement for appropriate bicycle use; and rediscovering how to walk down our new pedestrian malls.
For the future, we are looking to help St. Paulites with area wide matchups for carpools, shared-ride taxis, dial-a-ride for the handicapped, additional shelters at fringe parking lots, and extensive information programs.
Our public and private cooperation comes from our common desire to build the St. Paul of tomorrow, through the best and most economical use of public and private funds and people time.
Looking further into the future, we have been considering a people-mover; light-rail transit; computer-controlled traffic management; expanded use of buses, jitney, small bus, and school bus to replace car use during the middle of the day.
Mr. President, all of us have benefited from public support at the local, State, and Federal level, both in funding and in personal commitment. We look forward to continued cooperation. The private sector of business and labor here in St. Paul wants to show through all of these efforts what we can do for ourselves.

Thank you, Mr. President.
ST. PAUL ENERGY PARK
MAYOR LATIMER. Next is Allen Boyce, who is the president of the Citizens League, which, Mr. President, is an extraordinary, not-for-profit group of citizens who research every level of government in the major issues, as well as being an employee of the Burlington-Northern Railroad. Allen will talk to us about the potential of the energy park in St. Paul.

Mr. Boyce.
MR. BOYCE. Mr. President, I'm very glad that you decided to begin your trip here in St. Paul. I think it's particularly appropriate on a trip revolving around the energy issue that you begin in a central city like St. Paul, which is inherently energy-efficient. This is because of the proximity within our city of our facilities for shopping and work, recreation, and housing.
And I think here in St. Paul we have the opportunity to take this inherent advantage one step further. What we have-and I think this is rather unique—is a site of approximately 250 acres of land right in the heart of our metropolitan area, halfway between the downtowns of Minneapolis and St. Paul, which is available for development. This area presently contains a coke plant, which has recently shut down, an under-used stadium, and a great deal of vacant land. What we see here is the potential for the development of what we call an energy park. This would be an area which would demonstrate new techniques for combining energy-efficient light industry, housing, transportation, and the production of energy itself.
We foresee a public-private corporation which would be established to develop the following types of facilities, all in one complex: high-density, energy-efficient housing; an office industrial park for energy-related industries; an energy research and development center in connection with the University of Minnesota; a solid waste recovery plant to make use of some of the wastes generated in the complex; a hot water district heating system which could potentially produce both electricity and then, through cogeneration, use some of that waste heat for district heating.
There's also potential for a (:able television system which could provide special energy-saving features that would help reduce the need for people living and working in this area to travel. Also there's a possibility for further development of our mass transit facilities, and I think placing a development like this in the center of a city like St. Paul helps to begin reducing the need for people to travel long distances to work, to live, and to have their recreation. And it makes the production and the distribution of energy ranch more efficient because of the compactness of our central city areas.
So, I hope you'll be supportive of this energy park project in St. Paul.

Thank you.
HOME WEATHERIZATION
MAYOR LATIMER. Mr. President, as you have pointed out numerous times, the greatest burden on the poor is in fact the inflationary impact of energy costs. And that's why it's very important to us that our next speaker, Michael McAllister, is the director of energy conservation for our local CAP program, which is called the Ramsey Action Program.

Mike?

MR. McALLISTER. Mr. President, Ramsey Action Programs in St. Paul is a community action agency serving the low income people in Ramsey County. Among the many programs offered, the energy programs are providing a much-needed service in two Ramsey County residences.
Currently the energy programs have three main components. One, optimum weatherization research projects—this program's operation is in conjunction with the National Bureau of Standards and the Community Services Administration in Washington, D.C. This project is a thorough evaluation and a study on the cost-effectiveness of weatherization and the development of new and improved weatherization techniques and methods. This research program is determining which energy conservation measures are the most cost-effective in residential construction.
Two, the State and Federal Crisis Intervention and Emergency Energy Assistance programs. In the past 6 months, 4,554 households have received assistance because of the high energy costs. In Minnesota, this program should be expanded and the funds administered on a year-round basis. Three, home weatherization program. In Ramsey County, this program is being accomplished by a joint effort from the city of St. Paul manpower programs, the Community Services Administration, and the State department of economic security.
Recently a needs assessment on the homes in Ramsey County was completed. 45,402 eligible people for the home weatherization program were identified. Our priorities for weatherization are fuel oil users, senior citizens, and handicapped people. In addition, the study revealed that the working poor need fuel assistance and weatherization assistance. Currently they are not eligible for assistance, because their gross income is above the guidelines; however, their net income is below the guidelines.
In the past years we have weatherized over 500 homes in Ramsey County. In 1979 we expect to weatherize 453 homes, and in 1980 over 1,000 homes will be weatherized. Depending on the living habits, our studies show that energy consumption can be reduced by 30 percent with proper weatherization methods. However, there are problems with the program.
The CETA regulations, such as the average for CETA employees, has to be resolved at the national level. In addition, there is plenty of Federal funds for weatherization materials, but very few funds for labor and support costs. The people in the State of Minnesota and the community action agencies need more funds to support the energy conservation programs.

Thank you, Mr. President.
MAYOR LATIMER. Thank you very much, Mike.
INNER-CITY PROGRAMS
Mr. President, the city of St. Paul is a very strong neighborhood-oriented city. The next speaker comes from one of our great old, nearby, downtown neighborhoods, the West Seventh Street area. Her name is Becky Yust, and she also teaches at the University of Minnesota as a home economist.

Becky?
MS. YUST. Good evening, Mr. President.
Tonight I'm representing the West Seventh Federation, an organization in an inner St. Paul neighborhood.
It is my belief that we can have simple but long-lasting solutions to affect energy consumption. Two very basic concerns that affect families the most are simply getting to work and keeping warm in their homes.
The need for efficient transportation is great. Over 40 percent of the households in our community do not even own a car. For 2 years we have investigated and proposed a light rail system or modern trolley for our community. As in most city neighborhoods, we have one main business street that serves as a corridor from downtown to the airport and suburbs. Three different bus lines intersect it, and it is a natural collecting point for residents. Light rail is a preferred transit system, because it is nonpolluting, it operates in our severe climate, and it is not capital intensive; plus the efficiency and technology has been proven here and in Europe.
The second problem involves heating our homes. We have very few newly constructed housing units in the inner city. The vast majority of the housing structures are existing and too expensive to replace, and because of their age, they do not have insulation. We need funds through the HUD 312 program to provide moneys to help people insulate, weatherstrip, replace rotted windows, and ventilate.
Targeting moneys to pay heating fuel bills alone will not effect the conservation of energy. We do not want to maintain the present situation. We need to change consumption so that families can have lower heating costs.
In summary, the problems of the inner city are not new. We are still trying to deal with jobs, housing, and schools. Energy just provides a different perspective on these same issues. It is my hope that as renewed attention and pressure is placed on the inner city because of energy conservation, that you will listen to the residents living there now for the solutions.
The inner-city neighborhoods have been victims of crises in the past. Policies need to be responsive to the communities they directly affect so that the quality of life does not deteriorate.
It would seem that it is easier for the Government to effect physical changes than attitudes and habits of individuals. Therefore, in neighborhoods such as ours, improvements in transportation systems like implementing light rail transit and improvements in our existing housing stock could substantially help inner-city neighborhoods and complement ongoing rehabilitation and revitalization efforts.

Thank you.
THE PRESIDENT. I've asked the mayor to let me say just a word.
We have three more presentations to make, but there are three themes that run through all these presentations. One is there is no possibility of success without a joint, cooperative effort. One person alone, a President or a mayor, Congress, can't do it. It has to be a joint effort. Secondly, every one of the programs proposed—even the cogeneration plan or the people-mover, the weatherization of homes—is already dependent upon Federal funds as kind of a core basis for a much broader, magnified effort by everyone else. And third, every one of these proposals so far doesn't make life more dismal. It makes life better. It is not a sacrifice to get to work efficiently, not to have traffic jams, to have an easy way to shop, to save heat in your homes, not to throw away heat in the generation of power, and as you well know, every time you don't burn either coal or gas or oil, air pollution goes down.
So, those three things—a cooperative effort, the Federal Government must and is helping and can help more with the windfall profits tax, and third, conservation-makes our life better and not worse. It's a good thing for us to remember, and I know you'll watch this and see if what I've said is true for the last three speakers.

Thank you, Mr. Mayor.

MAYOR LATIMER. Thank you.
The sixth speaker is Greg Haley, who is an architect, has been very active in his community, and, in particular, has been working on community planning in his neighborhood and would like to talk about that aspect of it.

Greg?
COMMUNITY PLANNING
MR. HALEY. Good evening, Mr. President, Mrs. Carter, ladies and gentlemen:
I am representing District 12 Community Council. District 12 is one of 17 neighborhood planning areas created to facilitate citizen participation in the city of St. Paul. The council and other neighborhood groups have been working diligently on projects that deal either directly or indirectly with energy concerns. Our plan has been developed over a 3-year period by residents and businessmen. The city will use it and other district plans to help formulate an overall city plan.
The principal element of our plan is to propose the residential and industrial development of the vacant and under-utilized railroad land that bisects our district. New housing would fill a need for university students and provide homes for families who prefer to live and work in the city. Industrial development would help stem the flow of companies to suburban industrial parks, decrease employee commuting time, and provide a centralized distribution point for goods and services.
The University of Minnesota's innercampus transit system will pass through this redevelopment area, affording transportation to students and staff living in the neighborhood. This under-utilized railroad land and adjacent properties make up Mayor Latimer's proposed energy park. At the very least, the energy park could be a refreshing alternative to urban redevelopment. We hope it can be a stimulating learning tool and a model for other cities to emulate.
Our neighborhood is also pursuing solutions to energy-related problems on a smaller scale. We have volunteer staff in the home improvement centers who will give out information on reinsulating and renovating older homes and how to finance the work. We have formed a local development company composed of businessmen and residents to hemp small businessmen secure financing for capital improvements, including rehabilitating older structures for energy efficiency.
We have also actively pursued a recycling program in District 12. We now have once-a-month curbside pickup, and our goal is to have collection of separated recycling materials in conjunction with our regular weekly refuse pickup. The district planning process in St. Paul has been a highly successful vehicle in shaping the future of the city. Involving citizens in the decisionmaking process has created an impetus which is necessary to renew the vitality of our core city.
We hope District 12 has and will play an important part in the continuing revitalization. Our interests lie in many areas, and we feel that the diversity of our projects are necessary to help deal with the multifaceted energy problem. We especially look forward to working with Federal, State, and local officials on Mayor Latimer's proposed energy park.

Thank you very much.

MAYOR LATIMER. Thank you very much.
SOLAR ENERGY PROJECTS
The next speaker is Russell Doty, who is an attorney and has done considerable research professionally in solar and alternative energy sources and the kinds of ordinance and statutory changes that might be needed to adapt to the new technology.

Mr. Doty?
MR. DOTY. Mr. President, Mrs. Carter, Ramsey County has 30 to 50 solar installations, and from these projects and the 400 to 700 other operating solar systems in Minnesota, we have confirmed that Minnesota's climate is definitely suitable for solar applications. For example, one Twin City solar system was producing 90-degree tapwater on Christmas Day 2 years ago. Many of Minnesota's systems have been working successfully for more than 2 years, and many of them are warranted for up to 10 years. But people do not yet realize that solar systems work here, and we continue to need massive amounts of money to make solar curriculum guides and resource people available to the educational projects.
The effect of education is dramatic. Your July speech created so much interest that the Minnesota solar dealers who I've talked to who have been on the verge of going broke now believe that they may even be able to make it. But interest alone does not mean that solar soon will be available to everyone who is interested.
Even though we have a low-income solar loan program administered through the Minnesota Housing Finance Agency, and even though we now have a combined Federal-State tax credit that defrays up to 50 percent of the solar systems' costs, most people cannot afford the initial investment, that two to ten thousand dollar, upfront cost of the solar system. Energy utilities finance that upfront cost of powerplants by floating bonds that are amortized over long periods. And they float tax-free bonds for some of that plant. Now, solar energy-generating plants also should be paid for by long-term financing—but financing that allows the people and not the utilities to own their energy-generating systems once the costs are amortized.
Your proposed loan grant and small energy business assistance programs have and will help, but those funding sources won't and don't provide enough money to go around. And under them, the larger established firms likely will continue to ace out smaller applicants who are just as creative. You can help solve that problem-and this is my most important point—by advocating Federal legislation to enable St. Paul and other municipalities to support the issuance of taxexempt, low-interest-rate industrial revenue bonds.
The bonds will finance on a leasepurchase-type basis the widespread use of individual solar systems. People can then pay for the solar system over long periods of time at Btu rates equal to utility rates, and the money market, not the government's budget, will be the only limit on available funding.
For example, a. $400 million bond issue will provide more than enough money to install solar tapwater heating systems on all of the housing units in St. Paul. Direct heating solar systems can now produce more Btu's per dollar invested than nuclear and coal electric generating systems.
So, continue to challenge us, Mr. President. Give solar the same money market access and fast x/rite-off and other tax advantages that coal and nuclear powergenerating utilities enjoy, and we'll insulate and solarize and do everything that we haven't done yet and should do and do our best to see that you never have to find another $400 million to clean up a plant like Three Mile Island.

Thank you.
MAYOR LATIMER. Mr. President, you probably noticed, although we believe strongly in local control and citizen participation, that the prospect of Federal moneys continues to have some interest to us. Do you get that feeling? [Laughter]
THE PRESIDENT. With the windfall profits tax, we will have that money

MAYOR LATIMER. All right.
Our final and perhaps our briefest speaker— [laughter] . You can tell, Mr. President, that in St. Paul they know the next speaker, and they know that he's not going to be brief, but he promised me he would be. His name is Tod Lefko.
THE PRESIDENT. If I miss my boat, he's going to have to swim with me. [Laughter]
ENERGY PLANNING PROCEDURES
MAYOR LATIMER. Mr. Lefko is important to this city, because he helped to formulate the neighborhood participation process that we have been working under so successfully. He teaches at the university. He has about all of the qualities you could look for, except he can't seem to get elected to office. [Laughter]

MR. LEFKO. Thanks, George.
Mr. President, and fellow citizens, how can we translate public awareness of what can be into public action or what should be? The issue of energy is before us. In St. Paul, the possibility of solutions are enhanced because of our style of decisionmaking. In St. Paul, decisions are approached in a philosophically and pragmatically different manner than many other cities.
We begin with four philosophical bases: first, a belief in local responsibility and application of pragmatic planning. We have a tradition of identifying and facing problems and not waiting for Federal action. Next, if we have a secret, it is that we are process-oriented. We have learned that issues must not be faced as a crisis, and we've developed processes for integrated decisionmaking.
Third, in St. Paul the choice is not between the new and the old. We realize that the future is a balance. There's something just and proper about talking about energy alternatives in this building. And if you want to see what the true and best demonstration of St. Paul is, here it is.
Fourth, we see energy as but a part of a larger system, tied to economic development, housing, integrated planning, education, and movement toward self- sufficiency. Even seeking self-sufficiency we realize our obligation and interdependence. In fact, Mr. President, we know that Minneapolis has always looked to us for leadership. And we have never failed them. We shall not this time, either.
Mr. President, with these bases, St. Paul has created a number of decision processes which allow us to raise awareness and action levels. These include, first, a decentralized neighborhood planning process which recently received the award as one of the best in the Nation; second, designation by your administration as the test area for the negotiated investment strategy—and a wise decision it was, sir-third, a nationally recognized mixture of foundation grants, private investment, and governmental expenditures for urban renovation; and fourth, a State and regional decision process on energy and land use. Our State department of energy has been viewed as the pioneer in energy planning and data collection.
Mr. President, we've been successful in establishing the processes. Now we must be even more creative in utilizing them. In this view, we are discussing establishment of a model citizen educational process on energy, gardening, housing, economic development, and governmental forms and functions. Next, establishment of an urban extension service tied to our neighborhood planning process is being researched. And third, creation of an expanded participatory planning process on St. Paul, the eighties and beyond, is being explored.
Mr. President, we see a city where for the first time information, education, leadership, systems planning, and investment are being integrated. Here in St. Paul awareness can and shall be translated into action.
Mr. President, look about you. You see a city with faith in itself and the ability to become even more of a model for what neighborhoods, cities, and our society can, with vision, become.

Thank you.
MAYOR LATIMER. Mr. President, I really appreciate your generosity, and that's what I call it. I might add, by the way, that I broke up my vacation to come back here, too. [Laughter] But I've got more little kids than you have, and I couldn't afford to bring them all back with me, and I regret that. But it was very generous for you to do this. I know that.
I do feel very strongly that you have sparked a sense of mission in dealing with the energy issue, because it will affect poor and rich alike. You've also said something else today that I have been preaching and repeating here, and that is that we are at another crossroads. And the energy problem is not merely a problem but also a productive solution, that energy is going to be a job-producing entity, that energy indeed can pull the community together, as you have pointed out.
I think that we can take a very positive approach to the solutions to energy. And I also believe we can do it locally here, as so beautifully pointed out by Mr. Lefko.
I repeat to Mrs. Carter and to Amy and to the President, thank you so very, very much for blessing our city with your own presence and the presence of your family.
THE PRESIDENT. Thank you very much.
I can truthfully say, from the bottom of my heart, this has been an enjoyable and an inspirational meeting.
We live in the greatest nation on Earth, and we are blessed beyond all people. And still I'm absolutely convinced that what I said that Sunday night in July is accurate, that our Nation is on the verge of a very serious problem. We have tended to lose confidence in ourselves, to lose confidence in one another, to come alienated or even antagonistic toward our own Government, and to fail to recognize the blessings that we have.
God's given us every possible natural and human advantage—freedom where individuality and initiative and innovation can be nourished and used to overcome any challenge, which has always been proven in the past. We've got five times more energy reserves in our country than all the OPEC nations combined.
We're the strongest nation on Earth militarily, the strongest nation on Earth economically, the strongest nation on Earth politically. We're a democracy. Our free enterprise system encourages challenge and competition and dynamism and flexibility to meet any possible obstacles that might stand in the way of American people having a better life. And I want to see the wounds that exist and the discouragement that exists healed, and I want to see the challenges that arise overcome. And I want to see the problems that present themselves solved and the questions answered. And nobody claims-certainly I don't—that all those answers and all those solutions and all those challenges can be met from Washington.
St. Paul has the kind of spirit that can make us all proud of our country. And they can bind us together in a spirit of brotherhood and sisterhood and unity that must be the basis for future progress.
I'm thankful to you. And my visit here bas made me even prouder to be the President of the greatest nation on Earth. Thank you very much.
Note: The President spoke at 8:03 p.m. in the lobby of Landmark Center.
Following the energy briefing, the President went to the Lambert Landing in St. Paul, where he boarded the riverboat Delta Queen to begin his trip down the Mississippi River.
Jimmy Carter, St. Paul, Minnesota Remarks at an Energy Briefing by St. Paul Citizens. Online by Gerhard Peters and John T. Woolley, The American Presidency Project https://www.presidency.ucsb.edu/node/250415