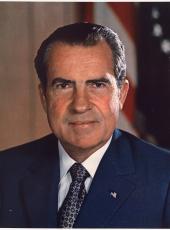 Speech of Vice President Richard M. Nixon in the Town of Lihue, on the Island of Kauai, HI
Vice President NIXON. Thank you very much, Mr. Chairman.
Distinguished guests on the platform and our friends here in Kauai, I want to say that on an occasion like this, where the rains are falling, the speeches should be short. And I can say that though an invocation is of course not usually considered to be a speech, after listening as I did and as I am sure you did, very carefully and respectfully to Father McDonald, that is probably the best speech we will hear all day. And that is the prayer for all America, I am sure, in the hearts of all the American people today. [Applause.]
He made only one error in that invocation. He said that this was my first visit to Kauai. I want to point out that my wife, Pat, and I visited here 10 years ago, or not 10 years but 8 years ago, when we were in the U.S. Senate. We came to Oahu, we went to the other islands, but we had an occasion here. And we shall never forget the picnic that I had. There is a marvelous little beach, whose name I don't remember, up on the northwest end of the island, a little cove, where I think the water is bluer and the weather is better than at any place in all the world.
Now, speaking of the weather, the Governor said, "You know, this isn't Kauai weather. This is the kind of weather we ought to get at Hilo. This is California's unusual weather."
And now, if I might just add these words with regard to this island to those of you who have been so gracious as to arrange this meeting and who are standing now in the rain : This November will be a tremendously important date in your lives, or in mine, too, yes, and in Mr. Kennedy's - but in your lives. And the decision you make this November will affect not only your lives and the life of America, but it will affect the cause of freedom throughout the world. It may determine whether we can have peace, and the victory of freedom. And I was so glad to have Father McDonald use the word "victory" rather than "containing" or simply "defending" freedom, because remember, freedom is something that can't stand still. It must move forward. And it belongs not only to us in this gracious land, but it belongs to people in all the world, in the Communist world as well as the free world. This is the kind of thinking we have to have, if we are to meet and defeat those who stand for the forces of tyranny in the world.
Now, as you go to the polls in November, may I say simply this: You should look at the candidates, listen to our speeches, but when you vote, remember that you are voting for America, not for a man and not for a party, but for America. A presidential campaign is bigger than any man's ambition. It is more important than any party's future. And that is why Americans in presidential campaigns always do, will in this campaign, and I trust will always in the future, think of what is best for America, what leader can do the best job in keeping the peace without surrender, and in mounting the defenses of freedom for everybody, everywhere, throughout the world.
I do not tell you today that I am the only man that can do that. I only say: Make that your judgment. Listen to our speeches. Then when you go into the polling booth, think in terms of what is best for America, and then that will be the decision that will be in your best interests and the best interests of our country.
And may I say, finally, again, that for your graciousness in coming, for standing here, or sitting, as you may be, in the rain, my wife and I are deeply appreciative. We only hope that the time may come when we may come back to this garden island, and come back, may I say, in an official capacity, or if events should work out otherwise, in November, an unofficial capacity. But in any event, we don't know of any place in the world that we would rather spend a vacation than in Hawaii, and in Hawaii I don't know of any place better than Kauai.
And so, for that, thank you very much. [Applause.]
Richard Nixon, Speech of Vice President Richard M. Nixon in the Town of Lihue, on the Island of Kauai, HI Online by Gerhard Peters and John T. Woolley, The American Presidency Project https://www.presidency.ucsb.edu/node/273716