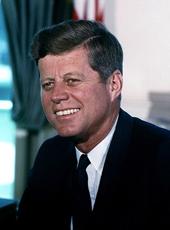 Speech of Senator John F. Kennedy, Cow Palace, San Francisco, CA - (Advance Release Text)
STAFFING A FOREIGN POLICY FOR PEACE
One week from tonight the next President of the United States will be turning to the arduous tasks that lie ahead - selecting a Cabinet - and preparing a program for peace.
But whoever our next President may be - whomever he selects as his Secretary of State - their efforts for a successful foreign policy, their efforts for peace, will depend in large measure on the men and women who must carry out that policy. A program for peace can be no better than those who implement it. Our stature abroad can be no more respected or influential than those who speak for us. The policies may be decided at the top - but they are placed and executed here, and accepted or rejected abroad, at a somewhat lower level.
Speaking in this State last month, Mr. Nixon showed his inability to grasp this basic fact. His objective was to describe the new machinery by which he intended to "win the struggle for peace and freedom." But that machinery turned out to be nothing more than a series of committees, conferences, and good will tours.
This should not have come as a surprise. In these last 8 years, confronted with some 75 different problems requiring action, this administration has promptly responded with some 75 different committees and conferences. Mr. Nixon has announced a new committee or conference himself on the average of once a week in this campaign.
But to win the peace - to prevent another war - and it will not be a war of words - we need more than words, harsh or soft, more than committees, conferences, and goodwill trips. We need a stronger America - militarily, economically, scientifically, and educationally. We need a stronger free world, a stronger attack on world poverty, a stronger U.N., a stronger U.S. foreign policy - and, above all, a stronger foreign-policy staff that is dedicated to peace.
I recognize fully the need for judgment and foresight by the President and his top advisers. High-level committees and summit conferences can play a useful role. But the hard, tough work of laying the groundwork for peace must be done by thousands of hands. It was Clemenceau who said: "War is much too serious a matter to be entrusted to the generals." And surely, in this nuclear age, peace is much too serious a matter to be entrusted to either generals or summit conferences.
We can push a button to start the next war - but there is no push-button magic to bring a just and lasting peace. To be peace loving is not enough - for the Sermon on the Mount saved its blessing for the peacemakers. The generation for which I speak has seen enough of warmongers - let our great role in history be that of peacemakers.
But the harsh facts of the matter are that in three vital areas we have been ill-staffed and ill-represented in the struggle for peace - in our disarmament planning, in our diplomatic and foreign service, and in our technical assistance to underdeveloped nations.
In all three areas, we have failed to realize that times have changed since World War II. Weapons are more complex, and, therefore, so is their control. The enemy advances now by nonmilitary methods - and military methods cannot prevent that advance.
Disarmament planning is one of the most glaring failures of these last 8 years. There have been a series of opportunities, conferences, and proposals by other nations including the Russians. But we have not been ready. The inspection and detection of modern weapons and their testing requires complex new techniques in dozens of specialized technologies: seismology, atmospherics, aerial reconnaissance, radar surveillance, and many others. The research problems are enormous.
But this administration has had fewer than 100 employees working full time in this field - less than one-fifth as many Government employees as are taking care of cemeteries and memorials for the U.S. Battle Monuments Commission.
As a result, our disarmament proposals have lacked continuity and practicality - our delegates to arms-control conferences have been ill-prepared, ill-instructed, ill-staffed, and constantly changed. We have never adopted a comprehensive and meaningful position, and we have too often resorted instead to irresponsible grandstand plays.
I have proposed a national peace agency, an arms control research institute, to prepare those studies necessary for a firm and precise policy, to make certain our spokesmen are better prepared and better staffed at future conferences, to enable us to seize the disarmament initiative. For I know we can do better.
But I want to turn now to the problems of our foreign policy staff overseas. Many Americans have marveled at the selfless example of Dr. Tom Dooley in Laos. Many have shuddered at the examples in "The Ugly American." Both examples may be found in great numbers in our oversea missions. But most of our personnel are somewhere in between, most could be doing a better job, and most must do a better job if we are to survive the modern techniques of conquest.
For on the other side of the globe, diplomats skilled in the languages and customs of the nation to whom they are accredited - teachers, doctors, technicians and experts desperately needed in a dozen fields by underdeveloped nations - are pouring forth from Moscow to advance the cause of world communism.
The Lenin Institute for Political Warfare exports each year hundreds of agents to disrupt free institutions in the uncommitted world. A friend of mine visiting the Soviet Union last year met a young Russian couple studying Swahili and African customs at the Moscow Institute of Languages. They were not language teachers - he was a sanitation engineer and she was a nurse. And they were being prepared to live among African nations as missionaries for communism.
Already Asia has more of these Soviet than American technicians - and Africa may by this time. Russian diplomats are the first to arrive, the first to offer aid, the only ones represented by key officials at diplomatic receptions. They know the country, they speak the language - and in Guinea, Ghana, Laos, and all over the globe, they are working fast and effectively. Missiles and arms cannot stop them - neither can American dollars. They can only be countered by Americans equally skilled and equally dedicated - and if I am elected, I ask you to help me find those Americans.
The key arm of our foreign policy is our ambassadorial and Foreign Service. In my travels to every continent, I have often been impressed with the caliber of men and women in the Foreign Service. But I have also been depressed by the grounds for selecting the non-career ambassadors who are placed in charge of these career servants. Many have been ill-chosen, ill-equipped, and ill-briefed. Campaign contributions have been regarded as a substitute for experience. Party leadership has been regarded as a substitute for training. Men who lack compassion for our own people here at home - for our poor, our oppressed, our minority groups - have been sent to oversea posts where compassion, as well as anticommunism, must be reflected in their daily words and deeds. Men who do not even know how to pronounce the name of the chief of state to whom they are accredited must match wits with Communist emissaries long trained in the ways and dialects of that nation. As the Senate Foreign Relations Committee concluded this year about our ambassadors:
There are too many nominees, career and noncareer, who are merely so-so; not had enough to reject, but not really first rate.
In 1958, it was reported that our Ambassador to Moscow was the only U.S. Ambassador to a Communist country who spoke the language of the country to which he was assigned. Only two of the nine ambassadors in Arabic-speaking countries spoke Arabic. In 8 of the 12 non-English-speaking NATO countries, our ambassadors lacked a workable knowledge of the main language spoken there. But even our Ambassador in Paris could not negotiate with General De Gaulle in French. "A man who is ignorant of foreign languages," said Goethe, "is ignorant of his own."
Lower standards at the top level induce lower morale and lower standards in the ranks. It was reported this month that 70 percent of all new Foreign Service officers had no language skills at all last year. Only 3 of 44 Americans in our Embassy in Belgrade spoke Yugoslavian. In Athens only 6 of 79 Americans at the Embassy spoke modern Greek dialects fluently. In New Delhi, not a single American could speak Indian dialects fluently. But we cannot understand what is in the minds of other peoples, or help them understand ours, if we cannot understand their language.
And what personnel we do have, we have failed to use properly. After the key African state of Guinea achieved her independence from France, it was 9 months before we sent an ambassador. He arrived to find the Russians well entrenched. Today we still do not have a single diplomatic representative in six of the newly independent nations of Africa - nations that vote in the U.N. - nations that can affect our security. And when a mission chief is sent, the indications are that he will have no briefing papers on African customs and problems - no staff member that speaks Swahili or Urdu or other language - and no staff member who is not also a member of the white race. There are only 26 Negro Foreign Service officers - less than 1 percent - and I think we have to do better.
Finally, where are we going to obtain the technicians needed to work with the peoples of underdeveloped lands outside the normal diplomatic channels - and by "technicians" I include engineers, doctors, teachers, agricultural experts, specialists in public law, labor taxation, civil service - all the skills necessary to establish a viable economy, a stable government, and a decent standard of living?
A news item in this week's paper reported that "a group of Russian geologists, electrical engineers, architects, and farming and fishing experts arrived in Ghana today to give technical advice." Another item described the potentiality for Castro-type or Communist exploitation in northeast Brazil, where intolerable living standards have reduced thousands to a starvation diet, and in two villages prevented a single baby from living beyond the age of 12 months. And still another item described unrest in the Caribbean island of Haiti, where - in 1950 - 90 percent of the population has never been taught to read or write, and there is 1 doctor for every 10,000 people.
Think of the wonders skilled American personnel could work, building goodwill, building the peace. There is not enough money in all America to relieve the misery of the undeveloped world in a giant and endless soup kitchen. But there is enough know-how and enough knowledgeable people to help those nations help themselves.
I therefore propose that our inadequate efforts in this area be supplemented by a Peace Corps of talented young men willing and able to serve their country in this fashion for 3 years as an alternative to peacetime selective service - well qualified through rigorous standards; well trained in the language, skills, and customs hey will need to know; and directed and paid by the ICA point 4 agencies. We cannot discontinue training our young men as soldiers of war - but we also need them as "ambassadors of peace."
This would be a volunteer corps - and volunteers would be sought among talented young women as well - and from every race and walk of life. For this Nation is full of young people eager to serve the cause of peace in the most useful way.
I have met them on campaigns across the country. When I suggested at the University of Michigan, lately, that we needed young men and women willing to give up a few years to serve their country in this fashion, the students proposed a new organization to promote such an effort. Others have indicated a similar response, offering a tremendous pool of talent that could work modern miracles for peace in dozens of underdeveloped nations.
I am convinced that our young men and women, dedicated to freedom, are fully capable of overcoming the efforts of Mr. Khrushchev's missionaries who are dedicated to undermining that freedom.
These proposals offer no quick and easy solution to the problems of peace. But they are essential tools. "Give me a fulcrum," Archimedes is reported to have said, "and a place to stand and I will move the world." The tools I have suggested can be our fulcrum - it is here we take our stand - let us move the world down the road to peace.
John F. Kennedy, Speech of Senator John F. Kennedy, Cow Palace, San Francisco, CA - (Advance Release Text) Online by Gerhard Peters and John T. Woolley, The American Presidency Project https://www.presidency.ucsb.edu/node/274141