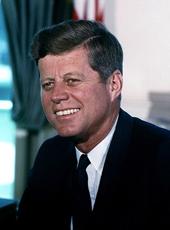 Speech by Senator John F. Kennedy, Commack Arena, Commack, Long Island, NY - (Advance Release Text)
We pledge ourselves to seek a system of higher education where every young American can be educated, not according to his race or his means, but according to his capacity.
Never in the life of this country has the pursuit of that goal been more important or more urgent. For our universities have become the research and training centers on which American defense and industry and agriculture and the professions depend. Our progress in all these fields depends upon a constant flow of high-caliber and skilled manpower, upon new ideas and creative applications of old ideas, upon the acquisition of skills and the ability to apply those skills. Thus, today, the university is, in the words of Woodrow Wilson, "the root of our intellectual life as a nation."
And our universities are not only essential to a strong society here at home, they are vital to the cause of freedom throughout the world.
Our universities are our hope for success in the intense and serious competition for supremacy in ideas, in military technology, in space, in science, and all the rest in which we are now engaged with the Soviet Union. Other nations will look to us for leadership; our prestige will rise only if we are a vital and progressing society. And, today, the basis of vitality and progress is the trained capacity of the human mind.
Our universities must train men and women who can bring the benefits of modern technology to the developing nations of the world, who can help create the framework of economic advance on which freedom in these lands depends.
And our universities must serve as centers in which the youth of other lands can acquire the knowledge to run the factories, teach in the schools, and staff the governments of their own countries.
But American universities are more than a source of strength, here and abroad, they are the great catalyst of the democratic way of life. Through the gateway of a university education young men and women of all backgrounds, of all races and religions, of every economic group, can find opportunity - opportunity to develop their own capacities, and opportunity to find a fruitful and satisfying outlet for their skills and interests.
And that is why we intend to work until a college education is available to every young man and woman with the talent to pursue it.
But today the doors of our colleges are closed to some of our most talented youths. It has been estimated that each year 150,000 men and women in the top 10 percent of their class do not go to college simply because they cannot afford it. And, in the sixties, as the cost of running our universities increases, the cost of going to college will also increase. Today it costs approximately $10,000 for 4 years of college, a rise of $4,000 in the past 2 years, but by 1970 it will cost $15,000 for a college education. And this added expense will mean that many more able young men and women will lack the means to attend college.
And as the burden on the students increases, so will the burden on the universities themselves. Our college population has expanded at a fantastic rate. In 1946, only 22.1 percent of all Americans between 18 and 21 were enrolled in institutions of higher education. Last year 36.2 percent or 3,400,000 young Americans were in college. And by 1970 it is estimated that college enrollment will double to almost 7 million students.
If they are to meet this vast increase in students, our universities will have to spend $6 to $7 billion a year more than the $4 billion they are now spending. They will have to construct more buildings in the next 10 years than all the college buildings which have been constructed since 1760. They will have to recruit and pay 300,000 more teachers. And they will have to raise the pay of teachers they now have. Today the standard of living of the average college teacher is about the same as it was a generation ago, while the standard of living of the average worker has gone up 75 percent.
Unless the college teacher is guaranteed a decent way of life, it will be impossible to attract or retain able men to teach our youth.
Private contributions and the efforts of State and local governments can do much to relieve this increasing burden. But the Federal Government must also do its share. For the problem of higher education is a national problem. Upon its proper solution rests the future strength of the entire Nation. An the harsh fact of the matter is that only the Federal Government has the resources to fill the widening gap between what is needed and what State and private sources can supply. As John Adams said:
The whole people must take upon themselves the education of the whole people and must be willing to bear the expense of it.
Federal help for our colleges and universities is an historic policy of our Government. It was 100 years ago that Abraham Lincoln signed the first Land Grant College Act. More recently, President Truman proposed and signed the college housing loan program under which more than a billion dollars has been loaned, without a single default, to construct 1,200 dormitories, classrooms, dining halls, and health centers. And 2 years ago, a Democratic Congress passed the National Defense Education Act which has provided loans to many needy college students.
But these programs are now inadequate to our growing needs. We need new policies - bold and imaginative leadership - if we are to reach our goal of a college education for all who desire and deserve it. And we will only reach this goal under a Democratic President working with a Democratic Congress.
For the Republican Party has opposed almost every effort to help our students and our colleges in the past 8 years. A majority of House Republicans voted against the National Defense Education Act. Only vigorous Democratic opposition saved the college housing loan program from destruction by the Republicans. Two separate housing bills providing for aid to colleges and universities were vetoed by this Republican administration. And the Republicans have killed every Democratic effort to enact a Federal scholarship program.
We can no longer afford to let men of little vision and little faith deprive Americans of a college education, and deprive America of the trained and skilled minds on which our strength depends. We must act - and act now.
First, we must provide Federal scholarships for a limited number of needy and qualified students, perhaps 15,000 - 25,000 initially.
Such a Federal scholarship program, paying a substantial portion of expense, would enable many thousands of bright young Americans, who now cannot afford to go to college, to pursue their education full time.
Second, we must increase the funds now available for loans to needy students. This can be done not only by increasing the funds available under the National Defense Education Act, but through a student loan insurance program, modeled on that now in operation in my native State of Massachusetts. Under this program, the Federal Government would guarantee loans made by colleges and universities to deserving students. Thus, schools which do not have adequate loan funds will be able to borrow these funds on the strength of the guarantee. Although initially a special fund will be required, the program will be self-financing through repayments and a small insurance premium paid by the school. All loans made under this program would be administered and controlled by the university itself.
Third, we must enact an adequate college housing program, a program which will provide enough help so that colleges can keep pace with increasing enrollment and which also provides for construction of technical and medical schools.
John F. Kennedy, Speech by Senator John F. Kennedy, Commack Arena, Commack, Long Island, NY - (Advance Release Text) Online by Gerhard Peters and John T. Woolley, The American Presidency Project https://www.presidency.ucsb.edu/node/274105