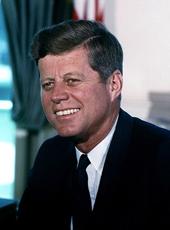 Speech of Senator John F. Kennedy, Civic Center, Charleston, WV
Senator KENNEDY. Thank you; Senator Byrd, Hewlitt Smith, ladies and gentlemen: I am grateful for the generous introduction of your distinguished U.S. Senator who has given Lyndon Johnson and myself unstinting support since the Democratic convention, and I appreciate what he said here tonight. Thank you very much. [Applause.] And I am delighted to be here on this platform with my friend and colleague in the U.S. Senate, who has spoken powerfully for the interests of West Virginia and also for the United States, Senator Jennings Randolph and your next U.S. Senator. [Applause.]
This State needs leadership if it is going to move forward. There is a Federal responsibility and a State responsibility, and I think that State responsibility can be met by electing your attorney general, your Governor, Wally Barron. [Applause.]
I am here tonight with Governor Lawrence, Senator Clark and members of your congressional delegation, and people from nine States, who have come to this conference in Charleston in order to talk about new jobs and new growth. I come back here to this State where I started last spring to express my appreciation for the support you gave me on that occasion [applause] - and now in view of the fact that West Virginia made it possible for me to be nominated, I am just asking you to help me along for another 6 weeks and get us elected. [Applause.]
I think it can be safely said that I am the only presidential candidate who does not need a guide to show him the road from Charleston to Beckley. [Applause.] I am the only presidential candidate who knows that you spell Mullens, W. Va., M-u-l-l-e-n-s. [Applause.] I have seen the industrial resources of the Kanawha Valley and the Ohio Valley, and I have traveled in counties in this State that desperately need the attention and the assistance of a government which looks forward and does not stand still. This conference here today on new jobs and new growth is part of the commitment which I made to the people of West Virginia in the primary, that 60 days after my election if I am elected, I will send to the Congress of the United States a program to assist West Virginia to move forward. [Applause.] And what I said last fall and what I say tonight I mean. I think this State has a great future. I took my case to the people of West Virginia last spring, but I have taken the case for West Virginia all over the United States [applause] because I think what I have seen in West Virginia, a State which has fought for this country in wartime, where the spirit runs strong in peacetime, which wants a chance to move ahead - I think West Virginia and parts of Pennsylvania and parts of Kentucky and southern Illinois, and parts of Indiana and parts of Ohio, and parts of Maryland - I think those sections of the United States which have been forgotten under this administration are only symptomatic of the lack of leadership which this country has had for the last 8 years. [Applause.]
The Republican candidate for the Presidency is running on a platform that you never had it so good. I would like them to tell that to the families in McDowell County and Logan and Mingo. I would like them to tell that to those Americans who see our prestige fading around the world, who see the Communists who now stride across the stage of the United Nations, who may be quarantined as Mr. Khrushchev and Castro are in Manhattan but are not quarantined as they spread their influence across Asia, and Latin America and Africa. I think we can do better. [Applause.] I think we can do better. I think we are a great country, but we can be a greater country, and I think we are a powerful country, but I think we can be more powerful, and the Democratic Party says of the sixties, "Yes, we want to move forward," and the Republican Party has said in the last 8 years as it has said in every administration in this century, it has said no to progress, it has vetoed progress, it has had a program of no new starts, and on education and housing and distressed areas, and employment, this country has been standing still.
I spoke this afternoon to the United Steel Workers convention. We are using today only 50 percent of our capacity, and when we don't make steel, they don't mine coal in West Virginia, and when you don't make autos in Detroit, you don't make steel and you don't mine coal and you don't make chemicals and you stand still. I think we are going to have to do better. We are going to have to find 25,000 jobs every week for the next 10 years if we are going to keep our people working. [Applause.]
Let me make it clear that I have come to this conference as the standard bearer for the Democratic Party, and I commit our party to a policy of full employment, as Franklin Roosevelt committed it in his generation during his administration. [Applause.] And on Inauguration Day next January, I pledge my administration to this policy, and I will send to the Congress specific programs designed to carry out the following objectives:
First, we will develop the resources of this country, clean our rivers, build our roads, put our workers to work in companies arid businesses which have the resources to use the great wealth which the Lord gave us in this State and around the country. [Applause.]
Secondly, we will stimulate private investment in a growing America by eliminating the artificial restrictions which this administration's high interest rate - tight money policy has placed on the growth of our economy. We spend $4 billion a year on interest on our debt more than we did 10 years ago, and every family that buys a car, a television set, an automobile, or a house pays interest on that additional debt. I think we should unleash the economy rather than attempting to restrict it if we are going to put our people back to work. [Applause.]
Third, this administration has talked about Federal aid to education and they have talked about the desirability of having assistance for teachers' salaries. But in the last 8 years no bill has passed. The future of West Virginia and the future of the United States is tied up in our obtaining the best possible educational system for our children. The Soviet Union is turning out twice as many scientists and engineers and technicians as we are. If we are going to absorb the new technology, we are going to have to have the best trained people in the world, and they are going to come out of this State and the other 49 States. Therefore, we will suggest a program of Federal aid to education and for teachers' salaries to make sure that they are well trained and well paid. [Applause.]
Fourth, we must recognize that the problem of automation is not a problem for a family or even for a company, or even for an industry. The problem of automation is a national problem, and I think it is incumbent on the next administration to call a national conference of representatives of our basic industries of labor unions, of working people, and the Government to try to bring better relief to our people, so that new machinery means better life rather than people out of work.
McDowell County, W. Va., mines more coal than it ever mined before, and there are more people receiving surplus food packages in McDowell County than in any other county of the United States. Automation did it, and automation will do it in the steel industry and the auto industry and the chemical industry and the glass industry of this State, unless the Federal Government turns its attention to it. I do not recall that this administration has concerned itself in the slightest with a problem which is entirely new, which can mean great blessings to us, but which can also mean great dangers to the American working men and women who need a job. [Applause.] And we will enact a bill which has passed the U.S. Senate twice, which has been vetoed twice, which provides assistance to those who live in distressed areas, which will help send Government contracts, which will provide loans for businessmen, which will provide vocational retraining, which will provide supplemental unemployment compensation benefits, so that in these distressed areas where unemployment is 8, 9, and 10 percent, we can help these places move again. This is a national problem, not a problem for a county in West Virginia or a county in my own State of Massachusetts. This is a problem which faces the United States. It crosses into 9,10, or 11 States, and these are not people who live in India or Latin America. These are fellow Americans, and if I got any benefit out of my experience in West Virginia, it was because I saw what men and women and children in a rich country like the United States have passed through because of the indifference of this administration. [Applause.]
Let me say that this is not a problem just for West Virginia. This is a problem for the country, because if we are moving ahead here in the United States, if we are strengthening ourselves here, then the power and prestige of the United States increases. If we are standing still, if we give the impression that the future belongs to the Communists and not to us, if we are not able to meet our own problems, then we affect ourselves and our position and our children's position in the future. I ask your help in this campaign. I think this country is a great country, and I think it requires the dedicated effort of all of us. I think this country should move again I can assure you that I stand here tonight as the standard bearer of a party which has been led in other years by great Americans in this century, like Woodrow Wilson and Franklin Roosevelt and Harry Truman, and I pledge to you that what they tried to do [applause] what they tried to do in their day and in their generation, we are going to do again. If we win this election [applause] the Democratic Party will lead, and the United States will move again. Thank you. [Standing ovation.]
John F. Kennedy, Speech of Senator John F. Kennedy, Civic Center, Charleston, WV Online by Gerhard Peters and John T. Woolley, The American Presidency Project https://www.presidency.ucsb.edu/node/274280