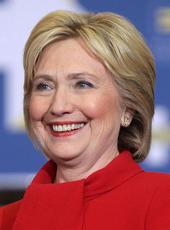 Speech on College Affordability at Plymouth State University in Plymouth, New Hampshire
Thank you. Thank you all. Thank you so much.
I am so happy to be here at Plymouth State and to be with all of you. To have a conversation about what is at stake in this election and I want to thank my friend and your senator Deb Reynolds. Deb is so committed to representing her constituents and trying to come up with creative good ideas that will make a difference for them. I also want to recognize and thank someone else who is here, who is the speaker of the House of Representatives in NH, Speaker Terie Norelli. (Applause)
And President Sarah James Dean, thank you for welcoming me to this campus, President Dean has the great privilege of being able to preside over a campus whose reputation is so excellent and growing and whose students go on to do so many important things on behalf of New Hampshire, our country and the world. And I want to thank Trevor, Trevor Tanridge, student body president, thank you for welcoming us and thank you for having this student sponsored series that is going to be taking place here at Plymouth State. I think that's a terrific idea and I congratulate you and everyone who worked with you on it. We're going to have a conversation today and we're going to start by talking about an issue that might be of particular interest to all of you and your families and that is college affordability. How we can do more to make college affordable for hardworking young people and their families. I have a couple of people with me who you will meet in a minute who are going to really illustrate some of the challenges that students and families here in NH and across the Country face when it comes to affording college. Ill be introducing them in a few minutes. But I thank them for being part of this discussion.
After we finish talking about college affordability we're going to throw it open for you to ask any questions you are interested in because I know how important this election is for the future and in fact it is probably more important for the future of the students here than for the rest of us because the next President will make decisions to chart the course of our country through much of the 21st century. Now I obviously believe that among the tasks of the next President will be reversing the damage that has been done by our current President. We won't be moving forward with confidence and competence into the future, tackling the challenges we face, understanding that there is no guarantee and we will remain a great nation with a growing economy and shared prosperity and the opportunities available that were present for previous generations unless we do the work that is necessary to make that happen. And one of the key to a strong and confident America is a system of higher education that is acceptable to all who are motivated to seek it out. And yet as I travel across our country, I have confirmation every day about how much more difficult it is for many students to afford to start college, continue college and graduate from college than it was 20 or 30 years ago. But I'd like to start off with a few questions. How many of you have ever worried about whether you could afford college or if your family members whether the young people in your family could afford college? How many of you have ever had to worry about that. That's a lot of hands. How many of you have taken out college loans. How many of you are totally baffled by the college loaned format?
How many of you have ever wondered how we're going to pay back those loans? Well, we don't exactly make it easy for you, do we? College costs are up 35 percent in the last five years alone. The average student graduates with $20,000 in debt.
That number is even higher in New Hampshire. New Hampshire has one of the highest costs of college in the country. Therefore, students graduate with higher debt.
Higher education has never been more of a financial burden, but in today's global economy it's never been more important. Graduates from four-year colleges earn nearly twice as much as high school graduates, an estimated $1 million more over a lifetime.
Forty-two percent of all new jobs this decade will require some post-secondary education. That's a big jump from even six and a half years ago, when it was only about 29 percent.
Countries across the world, from Japan to South Korea, from Canada to Ireland, are educating their young people at higher rates than we are in America. That is news.
Our higher education system has historically been the envy of the world. We know that in other countries (inaudible) the future was determined at the age of 12 or 16. But they have changed, and they now value college much more, and the rates of young people going to college are actually higher than we have now in America. And China and India are not far behind.
When it comes to higher education, we should not be playing catch-up with the world, we should continue to be leading, because the skills and knowledge of our workforce will determine whether America can compete and win in the 21st century.
Americans work harder than anybody in the world. When you measure productivity, which is a term for determining how much output we get per hour, per worker, Americans are by far the hardest-working people.
But there is a mismatch between what Americans are being compensated for in terms of all that hard work and whether our skills are keeping up with the new job challenges that await us.
This is at the heart of what I've been talking about this week. How can we rebuild the road to a strong and prosperous middle class in America?
After what this administration has done the last six and a half years, it will not be an easy task.
I believe we need a new beginning, so I've been outlining how I would change course, how I would change course in education, how I would change course in the economy, how I would change course in heath care, how I would change course in Iraq and our policy around the world.
I started talking about an economic blueprint for a 21st century economy. We've got to create more jobs. I think we can do that if we had a serious set of policies to address energy independent and global warming.
(APPLAUSE)
CLINTON:
I believe that we can create jobs if we end the war on science and begin to respect scientists and researchers...
(APPLAUSE)
I believe we can create jobs if we invest in our infrastructure -- our roads, our bridges, our public transit, and our virtual infrastructure, which is why I appreciated Deb talking about my Connect America plan.
We are falling behind in access to high-speed Internet. We used to lead the world. Now other countries have made investments. They're moving more quickly on the information superhighway.
We also have to restore fairness to our economy. We have more inequality than we've had since the Great Depression. The rich are going so much richer, the middle class is running in place, and people are falling back into poverty.
Contrast that with what we did during the '90s: 22 million new jobs and more people lifted out of poverty that in any time in our country's history.
(APPLAUSE)
I believe we can get back that level of (inaudible) if we put our fiscal house in order, getting back to where we were six and a half years ago with a balanced budget and a surplus, start paying as we go again, instead of borrowing billions of dollars every single week from countries like China, Japan, South Korea, the gulf states. And we even now owe money to Mexico.
So I think we should get back to fiscal responsibility, because you begin as a nation to lose control over your destiny when you owe money to countries whose interests are not the same as your own.
(APPLAUSE)
See, I want to get back to the basic (inaudible) that I was raised on. If you worked hard and you're responsible, then you and your family can get ahead. It's pretty simple and it works.
Yesterday -- Tuesday -- I outlined how I want to help more Americans save for retirement. We're going to preserve and protect Social Security and then we're going to give Americans a change to make investments so that they can build up their own retirement funds.
And yesterday I talked about innovation, and I went to an innovative company right here in New Hampshire, GT Solar, which should be the model for what we do around the country. They're actually exporting technology to China.
Don't you think that's what we ought to be doing instead of the other way around? And we can if we have the right policies again.
Well, today I want to talk about how we open the gateway to the middle class by making college affordable and accessible.
Back when I went to college my late father said to me that he'd saved enough money -- he was a small-business man -- to pay for room, board and tuition, but I wanted to buy a book or anything else, I had to earn the money. That was our deal.
CLINTON:
That was fine with me.
Then I graduated from college and I decided I wanted to go to law school. So I told my father, and he said, "That's not part of the deal."
(LAUGHTER)
So I had to get a little scholarship, and I had to keep working. But then I borrowed money. And I borrowed money from the federal government. I borrowed it, as I recall, at something like 2 percent interest. It did not bankrupt me. It did not cause me to have to take a job on Wall Street. Instead, I got to do what I wanted to do.
As a young lawyer, I wanted to work at the Children's Defense Fund to defend the rights and needs of children.
And now, what is happening is so many young people come out with debt and have to take jobs solely for the purpose of paying off their student loans.
I think we've got to get back to the great American tradition of making it possible for you to go to college. You know, Harry Truman had the G.I. bill, that led to a thriving middle class. President Eisenhower started loans for math and science education. He adopted Pell Grants and the Hope scholarships.
And we have all understood, for a long time, that (inaudible) college education is not the (inaudible) for all of us.
Unfortunately, our current president has a different approach, more focused on providing handouts to Halliburton and tax cuts to oil companies than he is to making sure that we take care of getting the next generation educated.
So I'm going to reverse that, because too many people today feel like they're just invisible when it comes to affording college. You know, if your parent work as hard he knows how and you still haven't saved enough money, then you are invisible to this president.
If you're a young person who went ahead and applied, and then didn't get enough financial aid and had to put that acceptance letter in a drawer somewhere, you feel pretty invisible as well.
And if you're a recent graduate who wants to maybe be a nurse or a teacher or a police officer or a social worker -- and then you look at your student loans and you figure out you can't pay them off if you be what your heart wants to be, you're invisible as well.
Well, you are not invisible to me. And you will not be invisible to the next president of the United States, because we will...
(APPLAUSE)
I have been working to open the doors to college for a long time.
CLINTON:
You know, when I was first lady in Arkansas I served as the founding board president of something called the Arkansas Single Parent Scholarship program. The idea was to help single parents access higher education and better jobs so they could better provide for themselves and their children. (inaudible) that program in 2000 and found that 80 percent of the recipients have graduated and 92 percent have found employment that paid more than what they had before.
In the Senate, I sponsored a Student Borrowers Bill of Rights to ensure that students' monthly payments would not exceed a certain percentage of their income and that the interest rates would be fair and not unpredictable.
I'm proud that the new bill that the Democratic majority just passed and was signed into law provides an income-based loan repayment program like I had in law school and based on what I championed in the Senate.
My bill of rights would also protect students from loan company schemes to exploit them with exorbitant rates and to give you the best information available.
I've also proposed a new G.I. Bill of Rights for the 21st century. This bill would provide the full cost of tuition and fees and a living allowance for 36 months of schooling for those who give four years of active duty military service.
And I've also...
(APPLAUSE)
I've also proposed creating a United States public service academy, modeled on our military academy, that would give tuition-free education to young people who would go into education, government, public health, environmental conservation and more.
CLINTON:
This academy would give young people committed to a life of service the chance to get the skills and training and leadership abilities that they would need.
And today here, at Plymouth State, I want to unveil my plan as president to expand access to the American dream.
Here's what I will do. First, I will create a new, $3,500 college tax credit. I will do that by taking the old HOPE tax credit and more than doubling the maximum benefits that students can receive under it, from $1,650 to $3,500.
This new tax credit will cover more than 50 percent of the typical cost of public colleges and universities and the full cost of community colleges. This tax credit is the heart of my plan, because I want to reward people who are trying to do better for themselves.
I will make it partially refundable, so that people with low incomes will also be able to have something.
Second, I will make applying for financial aid in the first place a lot easier. Now, as you know from your experience, you practically need a Ph.D. to understand how to fill out these forms.
This form, called the FAFSA has three times as many questions as the typical tax refund, and it's five times as long.
Families are sometimes required to submit it before they even receive the tax information they need to fill it out.
And if they do send it in, what they get in return is a card that says, "Based on the information you have submitted, we have used the standard formula to calculate your (inaudible) which is" -- then there's a dollar amount.
CLINTON:
And then it goes on to say your school will use this number determine what types of aid and how much you are eligible for based on your educational (inaudible).
If you don't know what that means, you are not alone. And the form does not provide an explanation.
For those who are curious, EFC is expected family contribution.
Listen to this. We did a lot of research to get this number. Americans spend 100 million hours a year filling out these forms. That is the equivalent of 55,500 full-time jobs.
(LAUGHTER)
But 25 percent of the qualifying expenses never get claimed. These forms are tedious, confusing and 100 percent unnecessary.
That's why I'm getting rid of them...
(APPLAUSE)
Here's what you'll do when I'm president. You'll check one box on your income tax return. Doesn't matter whether you're long form or short form, one box. That's it.
Then you'll receive a letter from the Department of Education with a couple showing the amount of federal aid, grants and loans, you're entitled to. You'll include this information on your application. Your college will collect the money directly from the Department of Education. And you'll be on your way to getting the diploma.
This will save families and students 100 million hours a year. It'll save the government money. And it will increase, we estimate, the college-going rate by about 5 to 7 percent. Think that's a pretty good payoff for eliminating piles of paperwork.
(APPLAUSE)
Third, under my plan we'll work to hold college costs down and we will hold colleges accountable for the results. I will create a college cost calculator by asking colleges to submit to the Department of Education information -- anonymously, of course -- about their students' income and the aid that is received. We'll then use that information to create a user-friendly Web site where students can type in their family's income and immediately learn roughly how much they would pay to attend a particular college.
I will also instruct the Department of Education to release information about graduations and graduate employment rates for every single college in America. And I will require state and local colleges and universities to set a fixed rate for each entering freshman class that will last for multiple years.
CLINTON:
No more sudden tuition hikes. No more scrambling to scrape up the cash you need just to graduate. And when you start college, in year one, you should know what you're going to have to pay until you graduate.
And we're going to move in that direction.
(APPLAUSE)
Fourth, I would make college more affordable for those who serve in AmeriCorps.
After my husband created AmeriCorps in 1993, the program covered 40.7 (ph) percent of the total cost of attending a four-year public college.
Today, 13 years later, tuition costs have skyrocketed, but the amount of tuition assistance is exactly the same.
I will address this by doubling the education awards that AmeriCorps volunteers receive for the service they render. These young men and women are building homes, mentoring children, providing disaster relief, and so much more.
They're serving our country every day. And I want our country to serve them in return.
(APPLAUSE)
And I was very pleased today that (inaudible) AmeriCorps educational (inaudible).
(APPLAUSE)
Because the school believes so strongly in this program.
(APPLAUSE)
I would like to see more (inaudible) lead.
Fifth, I'd strengthen community colleges. They offer some of the most important, cutting-edge, worker training opportunities in America.
CLINTON:
And some provide a high quality education, yet, too often, they are treated like second-class citizens. If they're not four years as a college, even though they often provide a better education than some of our four-year colleges, they still don't get the respect and support they deserve.
They're not ranked by U.S. News & World Report. Four-year colleges often refuse to accept their course credits, making it virtually impossible for millions of promising community college students to go on and receive a B.A.
I will work to support our community colleges by providing incentive grants, a partnership between community colleges and four- year institutions, for lower tuition, increased graduation rates, and create what are called articulation agreements that enable students to transfer more smoothly from two-year to four-year colleges.
Fifth, I'll establish a graduation fund to increase graduation rates. The United States used to rank first in the world in the percentage of our young people with a post-secondary degree. We have now fallen to seventh, not because our young people don't start college, but because fewer than two-thirds who start actually finish.
Some can't keep up with the work, and others simply can't keep up with the tuition.
My graduation fund will set out to close this diploma gap. This grant to four-year colleges that will hold down tuition costs and provide greater support for students, especially struggling students. A lot of first-generation college students are really bewildered by the college environment. They don't have a brother or a sister or a parent to call and say, "Gosh, you know, I don't know what to do."
I remember, how homesick and lonely I was when I went to college. My mother had never gone to college. My father went to college on a football scholarship, so that didn't exactly relate to my experience.
And I just felt like I was in over my head, that everybody in the college was smarter than me. And I called home, and I said, "You know, I want to come home."
CLINTON:
And my parents said, "You have to stick it out until the end of the semester," and luckily, things changed. But a lot of people have nobody to talk to about that. And we need to do more to provide effective help.
Seven, I will challenge America's most selective colleges to recruit, retain and ensure the access of more low-income and minority students.
(APPLAUSE)
If you look at the income breakdown of the so-called most select colleges and universities -- I recognize that it's also our country -- there has been a dramatic shift. An increasing and very high percentage of the students in those institutions come from the wealthiest of American families.
It used to be you had a much broader income distribution. And that no long is the case. While these schools have done leaders in expanding (inaudible) 75 percent of students at America's elite colleges come from the top 25 percent of income in America.
Only three percent of the students there come from the bottom 25 percent. And we're talking about motivated, qualified students. The top wealthiest schools in America have endowments worth a total of $155 billion, yet they continue to raise tuition year after year.
Well, I am challenging these schools to set an example -- devote substantially more of their endowment to recruiting more low-income and minority students and ensure that they graduate, that every child in America should have a shot at going to the best schools in America no matter where they're born or how much money their family has.
That should be part of the American dream.
(APPLAUSE)
Finally, for those who don't attend college or those in the workforce who need to update their skills, I'm going to provide $500 million to support innovative on-the-job training and apprenticeship programs.
You know, when you look -- yes, let's applaud for that.
(APPLAUSE)
Because, you know, even though I'm 100 percent committed to encouraging and enabling more young Americans to go to college and graduate, the fact is that in any age group, more young people do not go to college than do. In fact, it's close to 60 percent that do not.
What are we doing for those 60 percent hardworking, motivated young Americans? I don't think we're paying enough attention to them. Apprenticeship programs that prepare specialty skilled workers in manufacturing have decreased dramatically in number and size during the past 20 years, creating an urgent need for skilled workers, particularly in the trades and manufacturing.
I had the New York auto dealers come to see me a year or so ago. And they said, "Senator, we have 600 jobs right now we cannot fill for auto mechanics. Because being an auto mechanic today means you've got to understand computers. Nobody's training auto mechanics any longer.
These jobs pay starting at $50,000, because they are highly skilled. And what the auto dealers decided to do is start their own school. And I want to help them do that.
About a week later, the airline mechanics came to see me, said, "The average age of an airline mechanic is getting older, and it looks like we're going to be losing a lot of people to retirement. What are we doing to help train the next generation of airline mechanics?"
You don't want to get on an airplane that hasn't been checked out by a good airline mechanic.
Think about what builds America, what runs America, what keeps America going. It's a lot of hardworking people, and I think we should do more to give them the training and the apprenticeship programs that fill the gap that now exists between what they can do and what they should be able to do, if they're provided -- were provided that opportunity.
(APPLAUSE)
So I'm going to make that part of my American dream.
Now, if I had been giving this speech to you six months ago, I would have a lot more to say about what I wanted to do because we were so out of balance. But I want to tell you, one of the reasons why it was good for America that the Democrats took back the Congress in 2006, because we have now passed a college bill that solves some of our problems. I'm zeroing in on the remaining ones.
The college bill we have passed -- and I want to thank President Bush for signing it. He didn't veto it; he signed it -- has (inaudible) subsidies by $22 billion, increases the Pell Grant to $5,400 by 2012. The legislation includes my proposal to make student loans more affordable by limiting the loan payments to a percentage of your income.
The bill also includes something I strongly supported, a public service loan forgiveness program. So if you work in a public service job, and you've made 10 years of payments, you will be done paying off your loan.
And we're going to try to encourage young people to...
(APPLAUSE)
But I believe America's ready for change. And I believe that change is just a word, if you don't have the strength and experience to make it happen. And I hope that you will give me the opportunity to lead that change. I think the best days of America lie ahead, if we not only have new leadership that is confident, optimistic and effective, getting results here at home and around the world, but if we have people of all ages in America, committed once again to seizing the opportunities that are available for those who work hard and are responsible, and themselves are taking on the future with confidence and optimism as well.
Thank you all very much.
CLINTON:
And now we're two, three people, with two different stories that really fit into what I've been talking about. And I think it's important that we get these stories out before us because I think it will trigger some of your own stories when we get to the question time. Our first guests are Kim and Ashley Beauregard. Kim is Ashley's mother, and Ashley is a high school junior. She is a junior at Laconia High School and is the junior class president, so congratulations.
(Scattered Applause)
CLINTON:
She has worked hard, she has been a successful student, she is very interested in going to college. She has three brothers, one is in the military, one went to tech school for mechanics, one is a painter, but she is really motivated in her desire to go to college, and the Beauregards are concerned about how they will afford college for Ashley. So Ashley and Kim, thank you for joining us today.
(Applause)
Ashley Beauregard:
Well being the youngest in my family I've always known that I wanted to go to college and it wasn't affordable for the rest of my family but they've always supported me and knew that I wanted to go. So my oldest brother decided to go into the military because after a few years out of high school he realized that he wanted to go back to school and he had no way afford it. So it was kind of a struggle for us watching him have to go into the Air Force and wonder what might happen because of the war and things like that. So we were kind of nervous, but glad that he went to school and we're glad that he's doing what he's doing. My other brother Chris went to a tech school and I'm very proud of him, and my brother Matt is actually going to school today at a technical college in Laconia and trying to get an education but it's still hard for us to afford it. And so I've been doing different programs trying to learn how to afford it. But there are some things as a high school student that I'm not really aware of, like the Pell Grants, which you mentioned. I mean, I've never heard of it and I'm sure that other students in my school haven't and other students around New Hampshire and the United States haven't heard of different programs and scholarships that students can get to afford school. So I'm really interested in how to pay.
(Laughter)
CLINTON;
That's the right question to ask. Kim, do you want to add something?
Kim Beauregard: There's a student educational talent search for families that are financially stable but might not have the money to pay 50,000 dollars for school, and they brought us around to the different colleges in New Hampshire, Plymouth State was one of them. And I learned a lot about the different colleges but they never showed us how to pay. And we didn't know of any of the options that would be open to her and some kind of scholarship definitely would help her. But we would take out a home equity loan on our house.
CLINTON:
You would consider taking out a home equity loan?
Kim Beauregard: We would sell the house if we have to.
CLINTON: You would sell you own house?
Kim Beauregard: If we have to, to pay for college for her/
CLINTON: Well Kim as a mom myself I have to say I'm really moved by that. What Kim said it that not only would they take out a home equity loan to pay for Ashley to go to college, but they would sell their house if it were necessary. Because she is their youngest and she's always dreamed of this. And like most mothers Kim wants to do whatever it takes to help Ashley live up to her dream. I just don't think that a hard working family like yours should be put in that position. And that's what we're going to try to fix.
(Applause)
Kim Beauregard: Senator, the things you said today really give me a lot of hope. And all of your, not just today, but you health care plan and all your other proposals are wonderful and I'd just like to thank you.
CLINTON: I think that it would really be in America's interest if Ashley could pursue her dreams. She's a motivated, obviously ambitious young woman who's done well. And I think the point you made about how this information is so hard to gather is definitely something to address. Now with the internet all we need is a simple website where everybody can go. That way you can go to one place, put in the name of any colleges your considering and you could see what the costs are, you can see what the offers are, you can see what you eligible for. Because these are huge decisions, especially for a family like the Beauregards who a willing to make such a drastic decision of maybe selling their home. We need to get number one, the best information possible, number two we need to get more help. This is an issue, I won't, but I could talk about for a long time. We have moved away from what used to be called "need based aid" and meritocracy. Now that sounds really good, cause we're a meritocracy and we should award merits. The problem is that need based was often used to help young people from families of more modest means afford to go to college. But if you push it so far towards merit based aid and you have no financial limits a lot of financial aid is now going to families that can afford to pay all or most of the college costs for their own children. And that means that a lot of good, hard working B students who are trying hard, with good college stats are just left out. So we've seen changes in the last twenty years that have really tilted strongly against middle class families. That's why I'm putting forth this agenda today, because if we don't get back to a better balance we're just going to see more and more colleges with students coming from the top twenty-five percent of our income. I've got nothing against that but I like an America where people up and down the income scale are going to have a chance to live up to their dreams.
(Applause)
CLINTON: I'm going to turn know to Gene, Gene Barton is a junior here at Plymouth State, he is the junior class vice president. He has been working since she was fourteen years old. He has had to take out both scholarships and loans, to his own credit, to put himself through college. He had a challenging life story, but now he's majoring in political science, he's planning to go to law school. And I know that his mother is very proud of him. And I think you could see in Gene's story exactly what you want America to be. His mother, and I have a quote here from Gene, "He always wanted to go to school and go to college. He always wanted to be a lawyer and be a judge one day. But in order to get where he wanted to be he had to go to a four-year college. And he's worked really, really hard, not only to obtain that educations but to make the most of it." Gene do you want to share your thoughts with us?
Gene Barton: Inaudible
CLIONTON: Are you advertising?
(Laughter)
Gene Barton: Inaudible
CLINTON: I hear this a lot because if you get over the hurdle, Kim and Ashley are facing the first hurdle, 'can you afford to get in?' And the second hurdle is 'can you afford to stay in?' And then the third hurdle is, 'if you graduate, can you afford to do what you want in life?' Whether it's graduate school, professional education or the job that you want, because of debt that you incur. Now I'm a big believer in individual responsibility, and I like that people have to pay, like I said, I had to pay for law school and the rest of that. But I think we've made it really, really hard. It's so hard now that we are losing young people who could make a contribution. One of the proposals I made the day before yesterday about retirement security is to create what I call "American Retirement Accounts," that you can put money into, as soon as you start working. And then if you do need money for college, or if you buy a home, or other necessary expenses like that, you can draw it out tax-free. It goes in tax free it would come out tax free, for you to be able to use that money, because we need to create more savings. Part of the reason we're in the bind we are right now, about why it's so hard for so many families to afford college is that middle class incomes have stagnated. The average family income has lost a thousand dollars the last six years. And so here we have people working hard, two jobs, sometimes three jobs and their not getting ahead while health care costs, education costs, and energy costs are going up. So we've got this perfect storm where everybody's working hard and their not getting ahead and we're not making it easier, we're making it harder. One of the things that I'm proposing, that will help Gene do, is to get more resources to rely on to be able to go forward, and I wish you well on that. The whole point to the road to the middle class and trying to make the middle class more prosperous is that that is what America is. You know you can find rich people anywhere in the world. And with all do respect rich people did not make America great. They've made their contributions, but, the people who sacrificed, who fought the wars, who made the economy grow, who did the hard work, have been part of this unique American invention, this huge middle class. You know other countries are following in our wake, you see them raising the standard of living. But we've been the pioneers, and that enabled generations of Americans to live better than their parents and grandparents. Well, know we are in danger of stalling, and I don't want us to be the first generation of Americans to leave our country worse than when we found it. And that means we've got to have a new commitment to doing what it takes to get the engine of economics and prosperity for all, moving again. And I'm confident we can do that. But we've got to help people to afford to make some of these life decisions. So I want to thank Kim, and Ashley and Gene for sharing their stories. It's not easy coming up in front of all of you and doing that, thank you.
(Applause)
CLINTON: Does anybody have a microphone on them somewhere? Do we? Okay, so we're going to call on people from now until the bell rings or whatever happens around here. So why don't we, I see a hand there, the man in the blue shirt.
Q: Thank you for coming to Plymouth State, my question also relates to education. My father got laid off three days ago from his job. He was a thirty-five year Eastern truck driver. My concern is paying for college after we come to school is a great idea. But for me, as a student, right now as a student, things like food and gas are a luxury. I just got my car payment in and I work two jobs. And you know, it's hard. How can we help students not only pay for college, but how can we help them pay for the rising cost of gas, text-books, and other issues that come up in a college career?
CLINTON: Well, how many people can relate to that question?
(Applause)
CLINTON: You know I'm sorry about your dad and I hope that things turn around for him. You know when I think about what we need to do to make is possible for people to start, continue and graduate, I think we need to find ways to provide more aid that can be flexible. It's great to pay for the room, the tuition and the board. And what I propose will give you more resources to do that and then enable you to shift some of that money that you're earning on your two jobs away from living expenses. But it is still going to be a stretch for some people. And I tell you, when I was in school there were a couple of times when I had some expenses that I couldn't meet, and we had, I went to Wellselly, which is a woman's college, outside of Boston, and we had what we call the student aid society. And you could borrow money in an emergency to meet your living expenses, with the promise that you would pay it back, when it came time to pay it back. You just signed you name, there was no big checking you out or anything like that. You were a student and you made a promise to pay it back. That helped me out on more than one occasion, I have to tell you, because like my dad said, if I wanted to buy a book I had to earn it myself. And I had to go and borrow money from this student aid society to do exactly what you're talking about, to meet living expenses and other needs. I don't know how many colleges do that, but I think it's something we ought to encourage more people to think about. Secondly, I reference the program I started, it was made for single parents, but it doesn't have to be, it was "Philanthropic Dollars" and we did not give people grants for room, board and tuition, we gave them grants to handle living expenses. Because, you know, if you can't get to class because your car breaks down, you're not going to be able to continue your education. If you're a single parent and you can't find affordable childcare, you're not going to be able to continue your education. If you have a medical emergency and you're an uninsured student, you might be in trouble too. So I think you're exactly right, we need to look for some creative ways, get some private dollars in to supplement the public dollars that I'm talking about with tuition tax credit and other things. And I would just throw that out as an idea. A lot of students, and I respect this young man standing up, like when I felt so distraught and homesick when I was at college because I didn't know if I would fit in. Well, a lot of students feel that way, and they think they are the only person who is struggling with this kind of issue. But if we made it more transparent and said look we know we can help more people, lets get creative about it, I think that would be a way of helping tide people over and then you pay back, it's like a revolving loan fund. You know, when you get ahead you do that. I think we need to look at other ways to do this because that's the main reason a lot of people drop out. There living expenses explode on them, there emergency expenses explode on them. And there are a lot of hard working people in this state and around the United States and I think we ought to think of ways we can help them more.
(Applause)
CLINTON: That had right there, yes.
Q: Hi, I just wanted to ask, I'm an age out foster student. I wanted to know, there are other states that are helping age out foster students that get into college and everything like that, and I wanted to ask how you were planning to make the acceptance of an independent age out foster youth?
CLINTON: Let me thank you for asking that question again, that's a courageous question. And I thank you for that. You know I have spent a lot of my career as a lawyer representing and working for kids who are in the foster care system, and what she's referring to is what's called an age out foster youth. What that means is that in the foster care system you haven't been adopted into a permanent home, it's not a good idea for a lot of reasons to return to your birth home. And the foster system says 'we're finished, when you turn eighteen and graduate high school' in some states whichever happens first. I have represented foster kids who when they turn eighteen and have a semester left in high school and the state sends a worker with a big, black garbage bag to wherever the foster child is living, they put your belongings in it and you're on your own. I've know a lot of foster kids who have been very resilient and resourceful and been able to survive that, but I've also known a lot that haven't. A lot of kids who age out of foster care finish high school and they want to go to college. Now imagine if it's as hard as it sounds for all of you imagine what it is like to have no family, to have no credit, they have supported you and know it's over. So I have focused on helping a group you may have heard of. It's got an unfortunate name, but it's a wonderful group called the Orphan Foundation. The Orphan Foundation, and if somebody in your staff will find this young woman, I will connect you up to The Orphan Foundation, which helps to pay for college for aged out kids.
(Applause)
CLINTON: You probably don't think about it a lot, but something on the order of twenty to twenty-five thousand kids age out of foster care every year. And the ones who do get to go to college, I try to have a foster care student and college intern program and I've got a couple of great students who have interned in my office. And one thing you don't think about that they've educated me on is they go to college which is a huge accomplishment, but where do they go for the holidays? One quote, one woman said that "all I ever wanted was to have some place to go for Thanksgiving." And I think that this is another area where if we could pay a little more attention to each other, if we listen to each other, we can try to help each other, you never know what that help might mean to somebody. And how that person in turn can help someone else. So make sure that you connect up with somebody on my staff. Thanks.
(Applause)
CLINTON: Yes sir.
Q: Thank you Senator, I have two questions, the first is you talk a lot about students which is fantastic. Would you have to raise taxes to do that? The second question is, in the Senate, you supported raising the minimum wage. And as a business major I've been educated that this devalues the dollar and it also puts a lot of small businesses out of business, creating opportunities for big business. Would you care to comment on that?
CLINTON: I'd be happy to. Thank you and good luck in you business career. The first question 'how would I pay for what I want to do for college?' Well I have proposed a number of ideas that I think are important for America and put forth on my website HillaryClinton.com, how I would pay for each and every one of them. Here's how I would pay for improving affordability for paying for college, I would freeze the estate tax at what would be the 2009 level. I other words if you have an estate when you die of seven million dollars or less you will not pay taxes. If you have an estate more than seven million for a couple, you will.
(Applause)
CLINTON: I happen to believe that inherited wealth and concentrated wealth is not good for America.
(Applause)
CLINTON: I am supported in that belief, not just by Democrats, but remember the estate tax was first proposed by progressive Republicans, who believed in a meritocracy, who understood that if we began to move towards concentrated, inherited, generational health, we would begin to undermine the motivation of the meritocracy. So the estate tax, if we freeze it at the seven million dollar level, and please go out and tell people, there are people who make fifty thousand dollars a year who are worried they're going to be taxed when they die, the Republicans have done such a good job confusing this issue, and frankly misleading people. So you can tell them under me unless they make seven million dollars, an estate of seven million, there are no taxes. But if we tax the estate above seven million, that will bring in four hundred billion dollars in ten years. That's how much money it would give back.
(Applause)
CLINTON: I respect people like Bill Gates and Warren Buffet who've stated one hundred percent, that they oppose the repeal of the estate tax. Because they know what inheritance wealth does to their children and their grandchildren and their great grandchildren. So if Warren Buffet said, 'I'm doing this in the interest of my family's DNA. I don't' want lazy people who've inherited their money from me thinking that they don't have to do anything in their life. And I don't want a lazy America.' And that's the end of that. So that's how I would pay for because with that money I would pay for retirement accounts to help middle income Americans pay for retirement and I will help put more Americans off to work. With respect to the minimum wage I have looked at all the research. We raised the minimum wage in 1997 during one of the great expansions of job creation in America. Small businesses in the last twenty years have created eighty percent of new jobs in America. And there is no credible evidence that raising the minimum wage puts businesses out of business. What it does is enable people to move toward a more credible standard of living. I know there are comments on the other side, but the weight of the evidence is very clearly in favor of that. We just raised the minimum wage again and the idea that raising taxes always kills jobs is kind of hard to justify on the basis of our last fifteen years of experience. One of the ways my husband moved us from to surplus and a balanced budget was by raising taxes on the wealthiest Americans. And during that eight years we saw the creation of twenty-two million new jobs. President Bush never met a tax cut for a wealthy person he didn't want to cut. And we have not seen the kind of job creation that was promised by enacting those tax cuts on the wealthiest Americans.
(Applause)
CLINTON: Okay they tell me I have one more and I saw this ladies hand way back there, if you could get her a microphone.
Q: I heard a rumor, and the rumor was that you were on the board of directors at Walmart. The issue that pertains to me is the one of medical marijuana, thank you.
CLINTON: Well, I was on the board at Walmart. I was on the board at Walmart in the late nineteen eighties. I worked very hard when I was on the board to increase diversity for women and minorities at Walmart. And I also created the first committee to look at environment impact of Walmart. That was way back in the 1980s. I tried to encourage Walmart to be more energy efficient, to use more recyclable materials and so much else. Now I know that Walmart's policies are ones that do not reflect in my view, the best way of doing business and the values that I think are important in America like having big companies provide healthcare to the people who work for them. And I intend to have a healthcare plan which I propose having an American Choices plan that would require Walmart to provide health care to all employees and I think they can afford it, and I look forward to having that happen.
(Applause)
CLINTON: I also am a strong supporter of the Employee Free Choice Act, making it easier for people to organize unions because I think that the right to organize a union is a fundament human right, not just a fundamental American right. So there are changes that will come when I become president.
With respect to medical marijuana, we've had a lot of rhetoric and the federal government has been very intent upon on trying to prevent states from being able to offer that to people as an option to people who are in pain. I think we should be doing medical research on it. We ought to find were the elements that claim to be existing in marijuana that might help people who are suffering from cancer and nausea related to treatment, we ought to find that out. I don't think we should decriminalize it. But we ought to do research and to what if any benefits it has. Remember most painkillers come from poppies. You've got all kinds of drugs that have benefited Americans and we ought to be doing some research, if there's something that could be made available that would be legal we should look into that. There are a lot of people that are suffering from debilitating pain from medical treatment that they undergo and there's no reason they should suffer needlessly if we can have a legal, ethical framework to alleviate that pain. Thank you all very, very much.
(Applause)
Hillary Clinton, Speech on College Affordability at Plymouth State University in Plymouth, New Hampshire Online by Gerhard Peters and John T. Woolley, The American Presidency Project https://www.presidency.ucsb.edu/node/277588