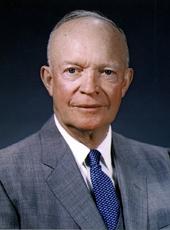 Special Message to the Congress Transmitting Reorganization Plan 7 of 1953 Relating to the Establishment of the Foreign Operations Administration.
To the Congress of the United States:
I transmit herewith Reorganization Plan No. 7 of 1953, prepared in accordance with the Reorganization Act of 1949, as amended, and providing for the reorganization of various foreign aid functions and agencies. My reasons for proposing the plan are stated in another message transmitted to the Congress today.
After investigation, I have found and hereby declare that each reorganization included in Reorganization Plan No. 7 of 1953 is necessary to accomplish one or more of the purposes set forth in section 2 (a) of the Reorganization Act of 1949, as amended. I have also found and hereby declare that it is necessary to include in the accompanying reorganization plan, by reason of reorganizations made thereby, provisions for the appointment and compensation of officers specified in section 1 of the plan. The rates of compensation fixed for these officers are, respectively, those which I have found to prevail in respect of comparable officers in the executive branch of the Government.
The statutory authority for the exercise of the functions abolished by section 8(a)(5) of the reorganization plan is section 413 (a) of the Act for International Development, as amended. The vesting of the functions of planning, implementing, and managing the programs authorized by that Act, as amended, in an officer other than the President is incongruous with the pattern of the Act as a whole, whereby other functions are vested in the President, with power of delegation. In the interest of having the most flexible arrangements for the administration of the Act, the functions in question could be either abolished or transferred to the President. I have concluded that they overlap the authority of the President under the Act generally, are thus dispensable, and should be abolished.
I expect that the improved organizational arrangement provided for in Reorganization Plan No. 7 of 1953 will lead to substantial economies and significantly improved effectiveness of administration. It is not practicable, however, to itemize at this time the reductions in expenditures which will probably be brought about by the taking effect of the reorganizations included in the reorganization plan.
DWIGHT D, EISENHOWER
Note: Reorganization Plan 7 of 1953 is published in the U.S. Statutes at Large (67 Stat. 639) and in the 1949-1953 Compilation of title 3 of the Code of Federal Regulations (p. 1028). It became effective on August 1, 1953.
Dwight D. Eisenhower, Special Message to the Congress Transmitting Reorganization Plan 7 of 1953 Relating to the Establishment of the Foreign Operations Administration. Online by Gerhard Peters and John T. Woolley, The American Presidency Project https://www.presidency.ucsb.edu/node/231874