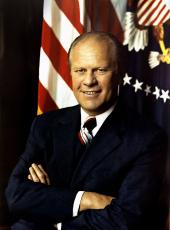 Special Message to the Congress Transmitting Proposed Agenda for Government Reform Legislation
To the Congress of the United States:
Our American economic system has been built upon individual initiative and freedom to strive to achieve our economic goals. In an increasingly complex society, however, the role of government has been to assist in the search for solutions to our National problems. But in many cases, government imposed solutions have created new problems and mandated excessive costs on our society. Over the years, we have departed from the reliance on individual initiative and consumer choice. We have expanded government's role and created a rigid system which has become less able to respond to changing conditions.
The growth of government expanded rapidly in the Depression era. New government agencies were created to resolve our economic and social problems-to help reduce unemployment, to stabilize financial markets, and to protect failing businesses. As a result of a proliferation of such government agencies since then--all designed to solve an increasing variety of problems--we have come to expect the Federal Government to have all the answers--more and better housing--an efficient transportation system--improved health care--and equal opportunities in the job market.
In our compassionate desire to solve urgent human problems, we have given the Federal Government the power to regulate more and more of our economy and our way of life. Over the years, regulation has been considered an inexpensive, easy answer to some very complex problems. Now, we are beginning to realize how high the costs are of what appeared to be the easy solutions of the past.
Federal programs and bureaucracies have grown geometrically. In the last fifteen years 236 departments, agencies, bureaus and commissions have been created while only 21 have been eliminated. Today we have more than a thousand different Federal programs, more than 80 regulatory agencies, and more than 100,000 government workers whose primary responsibility is to regulate some aspect of our lives.
My Administration has made the reform of government regulation one of its highest priorities. We have initiated a national debate on the role that government regulation should play in our economy. In the past year, we have achieved the most significant and comprehensive progress toward reform in three decades. At the same time we have moved toward a more open and vigorous free market in which consumers have available a wider range of goods and services to choose from and where businessmen have a greater opportunity to run their own businesses. For example:
--We have reversed the trend to paperwork growth and reduced regulatory delays.
--We have repealed the Federal fair trade laws which created artificially high consumer prices.
--The Senate has passed the Financial Institutions Act which is the most sweeping reform of banking regulation in over 40 years.
--We have increased civil and criminal penalties for antitrust violations to insure that competition flourishes.
--We have interjected competition into the setting of stock brokerage fees for the first time since the major stock exchanges were established almost 200 years ago.
--We have reduced the amount of ICC regulation of railroads for the first time since the creation of that agency in 1887, and have proposed comprehensive and long overdue reforms of airline and motor carrier regulation.
These are important steps, but they are only a beginning. We need a better understanding of the combined effects of all government regulatory activities on our economy and our lives. We need to eliminate contradictions and overlaps. We need to abolish outdated and unnecessary regulation. We need to strengthen the effectiveness of Congressional oversight of government operations.
To meet these needs, I am today submitting the Agenda for Government Reform Act which would establish a four-year action program to work toward these goals. It would produce comprehensive reforms to:

--guarantee that government policies do not infringe unnecessarily on individual choice and initiative nor intervene needlessly in the market place.
--find better ways to achieve our social goals at minimal economic cost.

--insure that government policies and programs benefit the public interest rather than special interests.
--assure that regulatory policies are equitably enforced.
This legislation would require the President to develop legislative reform proposals by January 31 of each year, and Congress would be required to act upon them. Such a disciplined approach will help focus attention on major, yet often neglected, aspects of government activities. This Agenda will require the assessment of the cumulative impact of government actions on major sectors of the economy and build a rational basis for more informed trade-offs between broad economic goals, such as more jobs and lower prices, and specific regulatory objectives, such as cleaner air and adequate rural services. And it will help identify the hidden costs imposed on the economy by government regulation.
This legislation is the product of joint Congressional and Executive branch interest in seeking long term solutions to our regulatory problems. Senators Charles Percy and Robert Byrd have been leaders in pressing for comprehensive reforms. In the House of Representatives, Congresswoman Barbara Jordan and Congressman John Anderson have also introduced systematic reform legislation. My legislation addresses similar concerns. I look forward to working with Congress to achieve our common goals.
Let me stress that this new program must not delay reform efforts now underway. This new legislation is a complement not a substitute for the on-going administrative improvements and legislative proposals I have already announced. My Administration will continue to press forward with reduction of unnecessary and burdensome regulation and elimination of government-imposed paperwork and red tape. We will continue to make administrative improvements wherever possible, and to obtain congressional action on proposals for increased competition in regulated industries.
This is an ambitious program. But I believe it is possible to make our regulatory system responsive to the concerns of all Americans. They demand and deserve nothing less. I ask the Congress to act quickly on this legislation so that together we may begin to create a legacy of economic prosperity for future generations.
GERALD R. FORD

The White House,

May 13, 1976.
Note: A section-by-section analysis and a copy of the draft bill were also included as part of the release.
Gerald R. Ford, Special Message to the Congress Transmitting Proposed Agenda for Government Reform Legislation Online by Gerhard Peters and John T. Woolley, The American Presidency Project https://www.presidency.ucsb.edu/node/258258