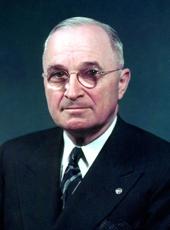 Special Message to the Congress on Amending the Surplus Property Act To Provide for a Single Administrator.
To the Congress of the United States:
On October 3, 1944, the Congress enacted the Surplus Property Act of 1944, a comprehensive scheme for the declaration, handling and disposal of all types of surplus property.
The operations of the 3-man Surplus Property Board created by that Act have been marked by substantial achievements. It has set in motion the disposal machinery which Congress authorized and it has begun to implement the standards which Congress laid down for the disposal of surplus property. Regulations already promulgated or in the process of adoption cover the most important types of property-consumer goods, plant equipment, industrial plants and farm lands. The emphasis in the Board's task will then shift from the promulgation of policy to the effectuation of basic policies already established.
The task of administration becomes increasingly difficult as the rate of surplus declarations rapidly rises. That rate is rising sharply now. To dispose of this growing volume of surplus property in a manner that will fully achieve the objectives declared by Congress will require the most efficient possible administrative machinery.
While the present Surplus Property Act was under consideration by the Congress the then Director of War Mobilization and Reconversion, Mr. Byrnes, recommended provision for a single Administrator. I think experience has proved him right.
In a field which calls for quick and decisive action, it is undesirable to dilute responsibility for the disposal of surplus property. Administration by a multimember Board has complicated day-to-day operations under the Act.
More recently the retiring Chairman of the Board has stated to the Congress that although he originally shared the view that a 3-man Board was appropriate, his experience also led him to the belief that the Act can best be administered by a single Administrator.
I am convinced that the effective performance of the vast administrative task remaining for the disposal of surplus property imperatively requires that authority to make decisions and responsibility for those decisions should be centralized in a single official. Such an official should operate, as do all other executive agencies, under the general authority conferred by the President and the Congress on the Office of War Mobilization and Reconversion. Accordingly I request the Congress to amend the Surplus Property Act of 1944 by substituting a single Administrator for the present Surplus Property Board.
Note: On September 18, 1945, the President approved Public Law 181 (59 Stat. 533) providing for the administration of the Surplus Property Act of 1944 by a Surplus Property Administrator.
Harry S. Truman, Special Message to the Congress on Amending the Surplus Property Act To Provide for a Single Administrator. Online by Gerhard Peters and John T. Woolley, The American Presidency Project https://www.presidency.ucsb.edu/node/231919