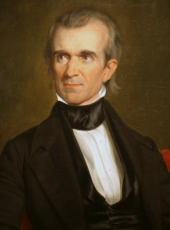 Special Message
To the Senate of the United States:
I have received and maturely considered the two resolutions adopted by the Senate in executive session on the 12th instant, the first requesting the President to communicate information to the Senate (in confidence) of any steps which have been taken, if any were taken, by the late President in execution of the resolution of Congress entitled "A joint resolution for the annexation of Texas to the United States," and if any such steps have been taken, then to inform the Senate whether anything has been done by him to counteract, suspend, or reverse the action of the late President in the premises; and the second requesting the President "to inform the Senate what communications have been made by the Mexican minister in consequence of the proceedings of Congress and the Executive in relation to Texas."
With the highest respect for the Senate and a sincere desire to furnish all the information requested by the first resolution, I yet entertain strong apprehensions lest such a communication might delay and ultimately endanger the success of the great measure which Congress so earnestly sought to accomplish by the passage of the "joint resolution for the annexation of Texas to the United States." The initiatory proceedings which have been adopted by the Executive to give effect to this resolution can not, therefore, in my judgment, at this time and under existing circumstances, be communicated without injury to the public interest.
In conformity with the second resolution, I herewith transmit to the Senate the copy of a note, dated on the 6th instant, addressed by General Almonte, envoy extraordinary and minister plenipotentiary of the Mexican Republic, to the Hon. John C. Calhoun, late Secretary of State, which is the only communication that has been made by the Mexican minister to the Department of State since the passage of the joint resolution of Congress for the annexation of Texas; and I also transmit a copy of the answer of the Secretary of State to this note of the Mexican minister.
JAMES K. POLK.
James K. Polk, Special Message Online by Gerhard Peters and John T. Woolley, The American Presidency Project https://www.presidency.ucsb.edu/node/200666