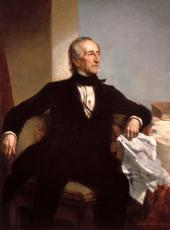 Special Message
To the Senate of the United States:
On the 15th day of April, 1842, in virtue of the sentence of a court-martial regularly convened under orders from the Secretary of the Navy, which received my approval, John H. Clack, who was a captain in the Navy, was dismissed the service. Since the confirmation of that sentence a letter has been addressed by Mr. Paulding, late Secretary of the Navy, to Captain Clack, which leads to the belief that he had analyzed the charges made against Captain Clack, and for reasons which appeared to him satisfactory and which, according to his letter, he indorsed on the charges, disposed of the case by refusing to submit it to a court-martial.
Notwithstanding a diligent search has been made for this document, none such can be found; but the only paper in the office having reference to this subject is a letter addressed by Mr. Paulding to Lieutenant Buchanan, a copy of which, together with the original of that of Mr. P. to Captain C., is herewith communicated. I felt it, however, every way due to the high character of Mr. Paulding to consider the fact stated by him to be as well sustained by his declaration to that effect as ff the record was found, and as the court-martial would not have been ordered by the present Secretary with the knowledge of the fact stated by Mr. Paulding, since it would have been improper to have reopened a case once finally disposed of, I have felt that it was alike due to the general service of the Navy as to Mr. Clack to nominate him for reappointment to the service.
I therefore nominate John H. Clack to be a captain in the Navy of the United States.
JOHN TYLER.
John Tyler, Special Message Online by Gerhard Peters and John T. Woolley, The American Presidency Project https://www.presidency.ucsb.edu/node/200603