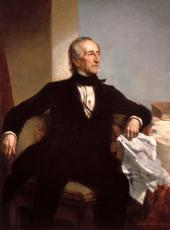 Special Message
To the Senate of the United States:
A resolution of the Senate of the 21st of June last requested the President to communicate to the Senate, so far as he might deem it compatible with the public interests, what measures, if any, had been taken to obtain the recognition by the Mexican Government of such claims of American citizens as were laid before the late joint commission. but were not finally acted on by it, and the satisfaction of such claims as were admitted by said commission; also whether any facts had come to his knowledge calculated to induce a belief that any such claims had been rejected in consequence of the evidence thereof having been withheld by the Mexican Government, its officers or agents, and any other information which he might deem it expedient to communicate relative to said claims; and another resolution of the 6th instant requested the President, so far as he might deem it compatible with the public service, to communicate to the Senate the measures taken to obtain the performance of the stipulations contained in the convention with Mexico in relation to the awards made by the commissioners and umpire under said convention.
In the present state of the correspondence and of the relations between the two Governments on these important subjects it is not deemed consistent with the public interest to communicate the information requested. The business engages earnest attention, and will be made the subject of a full communication to Congress at the earliest practicable period.
JOHN TYLER.
John Tyler, Special Message Online by Gerhard Peters and John T. Woolley, The American Presidency Project https://www.presidency.ucsb.edu/node/200596