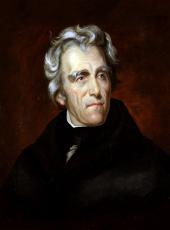 Special Message
To the Senate of the United States:
I have received the resolution of the Senate of the 9th instant, requesting me to communicate "a copy of any report made by any director or directors of the Bank of the United States appointed by the Government, purporting to give information to the Executive of certain notes and bills of exchange discounted at the Bank of the United States for account and benefit of George Poindexter, a member of the Senate; also the name or names of such director or directors."
In my replies to the resolutions of the Senate of the 11th December, 1833, and of 12th of June, 1834, the former passed in their legislative and the latter in their executive capacity, I had occasion to state the objections to requests of this nature, and to vindicate in this respect the constitutional rights of the executive department. The views then expressed remain unchanged, and as I think them peculiarly applicable to the present occasion I should feel myself required to decline any reply to the resolution before me were there not reason to apprehend that persons now in nomination before the Senate might possibly by such a course be exposed to improper and injurious imputations.
The resolution of the Senate, standing alone, would seem to be adopted with the view of obtaining information in regard to the transactions which may have been had between a particular member of the Senate and the Bank of the United States. It can, however, scarcely be supposed that such was its object, inasmuch as the Senate have it in their power to obtain any information they may desire on this subject from their own committee, who have been freely allowed, as appears by their published report, to make examinations of the books and proceedings of the bank, peremptorily denied to the Government directors, and not even allowed to the committee of the House of Representatives. It must therefore be presumed that the resolution has reference to some other matter, and on referring to the Executive Journal of the Senate I find therein such proceedings as in my judgment fully to authorize the apprehension stated.
Under these circumstances, and for the purpose of preventing misapprehension and injustice, I think it proper to communicate herewith a copy of the only report made to me by any director or directors of the Bank of the United States appointed by the Government, since the report of the 19th of August, 1833, which is already in the possession of the Senate. It will be perceived that the paper herewith transmitted contains no information whatever as to the discounting of notes or bills of exchange for the account and benefit of the member of the Senate named in their resolution, nor have I at any time received from the Government directors any report purporting to give any such information.
ANDREW JACKSON
Andrew Jackson, Special Message Online by Gerhard Peters and John T. Woolley, The American Presidency Project https://www.presidency.ucsb.edu/node/201367