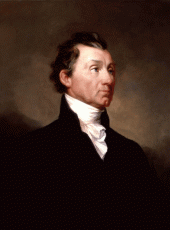 Special Message
To the House of Representatives of the United States.
I should hasten to communicate to you the documents called for by the resolution of the House of Representatives of the 4th instant, relating to the conduct of the officers of the Navy of the United States on the Pacific Ocean and of other public agents in South America, if such a communication might now be made consistently with the public interest or with justice to the parties concerned. In consequence of several charges which have been alleged against Commodore Stewart, touching his conduct while commanding the squadron of the United States on that sea, it has been deemed proper to suspend him from duty and to subject him to trial on these charges. It appearing also that some of those charges have been communicated to the Department by Mr. Provost, political agent at this time of the United States at Peru, and heretofore at Buenos Ayres and Chile, and apparently with his sanction, and that charges have likewise been made against him by citizens of the United States engaged in commerce in that quarter, it has been thought equally just and proper that he should attend here, as well to furnish the evidence in his possession applicable to the charges exhibited against Commodore Stewart as to answer such as have been exhibited against himself.
In this stage the publication of those documents might tend to excite prejudices which might operate to the injury of both. It is important that the public servants in every station should perform their duty with fidelity, according to the injunctions of the law and the orders of the Executive in fulfillment thereof. It is peculiarly so that this should be done by the commanders of our squadrons, especially on distant seas, and by political agents who represent the United States with foreign powers, for reasons that are obvious in both instances. It is due to their rights and to the character of the Government that they be not censured without just cause, which can not be ascertained until, on a view of the charges, they are heard in their defense, and after a thorough and impartial investigation of their conduct. Under these circumstances it is thought that a communication at this time of those documents would not comport with the public interest nor with what is due to the parties concerned.
JAMES MONROE.
James Monroe, Special Message Online by Gerhard Peters and John T. Woolley, The American Presidency Project https://www.presidency.ucsb.edu/node/207050