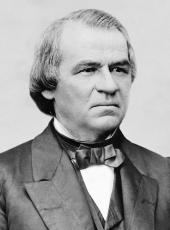 Special Message
To the Senate and House of Representatives:
I submit to Congress a report of the Secretary of State, to whom was referred the concurrent resolution of the 18th instant, respecting a submission to the legislatures of the States of an additional article to the Constitution of the United States. It will be seen from this report that the Secretary of State had, on the 16th instant, transmitted to the governors of the several States certified copies of the joint resolution passed on the 13th instant. proposing an amendment to the Constitution.
Even in ordinary times any question of amending the Constitution must be justly regarded as of paramount importance. This importance is at the present time enhanced by the fact that the joint resolution was not submitted by the two Houses for the approval of the President and that of the thirty-six States which constitute the Union eleven are excluded from representation in either House of Congress, although, with the single exception of Texas, they have been entirely restored to all their functions as States in conformity with the organic law of the land, and have appeared at the national capital by Senators and Representatives, who have applied for and have been refused admission to the vacant seats. Nor have the sovereign people of the nation been afforded an opportunity of expressing their views upon the important questions which the amendment involves. Grave doubts, therefore, may naturally and justly arise as to whether the action of Congress is in harmony with the sentiments of the people, and whether State legislatures, elected without reference to such an issue, should be called upon by Congress to decide respecting the ratification of the proposed amendment.
Waiving the question as to the constitutional validity of the proceedings of Congress upon the joint resolution proposing the amendment or as to the merits of the article which it submits through the executive department to the legislatures of the States, I deem it proper to observe that the steps taken by the Secretary of State, as detailed in the accompanying report, are to be considered as purely ministerial. and in no sense whatever committing the Executive to an approval or a recommendation of the amendment to the State legislatures or to the people. On the contrary, a proper appreciation of the letter and spirit of the Constitution, as well as of the interests of national order, harmony, and union, and a due deference for an enlightened public judgment may at this time well suggest a doubt whether any amendment to the Constitution ought to be proposed by Congress and pressed upon the legislatures of the several States for final decision until after the admission of such loyal Senators and Representatives of the now unrepresented States as have been or as may hereafter be chosen in conformity with the Constitution and laws of the United States.
ANDREW JOHNSON.
Andrew Johnson, Special Message Online by Gerhard Peters and John T. Woolley, The American Presidency Project https://www.presidency.ucsb.edu/node/202310