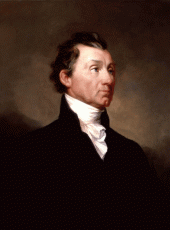 Special Message
To the Senate and House of Representatives of the United States:
I now lay before Congress all the information in the possession of the Executive respecting the war with the Seminoles, and the measures which it has been thought proper to adopt for the safety of our fellow-citizens on the frontier exposed to their ravages. The inclosed documents show that the hostilities of this tribe were unprovoked, the offspring of a spirit long cherished and often manifested toward the United States, and that in the present instance it was extending itself to other tribes and daily assuming a more serious aspect. As soon as the nature and object of this combination were perceived the major-general commanding the Southern division of the troops of the United States was ordered to the theater of action, charged with the management of the war and vested with the powers necessary to give it effect. The season of the year being unfavorable to active operations, and the recesses of the country affording shelter to these savages in case of retreat, may prevent a prompt termination of the war; but it may be fairly presumed that it will not be long before this tribe and its associates receive the punishment which they have provoked and justly merited.
As almost the whole of this tribe inhabits the country within the limits of Florida, Spain was bound by the treaty of 1795 to restrain them from committing hostilities against the United States. We have seen with regret that her Government has altogether failed to fulfill this obligation, nor are we aware that it made any effort to that effect. When we consider her utter inability to check, even in the slightest degree, the movements of this tribe by her very small and incompetent force in Florida, we are not disposed to ascribe the failure to any other cause. The inability, however, of Spain to maintain her authority over the territory and Indians within her limits, and in consequence to fulfill the treaty, ought not to expose the United States to other and greater injuries. When the authority of Spain ceases to exist there, the United States have a right to pursue their enemy on a principle of self-defense. In this instance the right is more complete and obvious because we shall perform only what Spain was bound to have performed herself. To the high obligations and privileges of this great and sacred right of self-defense will the movement of our troops be strictly confined. Orders have been given to the general in command not to enter Florida unless it be in pursuit of the enemy, and in that case to respect the Spanish authority wherever it is maintained; and he will be instructed to withdraw his forces from the Province as soon as he shall have reduced that tribe to order, and secure our fellow-citizens in that quarter by satisfactory arrangements against its unprovoked and savage hostilities in future.
JAMES MONROE.
James Monroe, Special Message Online by Gerhard Peters and John T. Woolley, The American Presidency Project https://www.presidency.ucsb.edu/node/206962