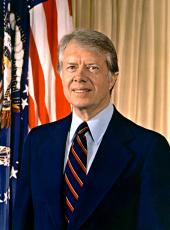 Special Assistant to the President for Consumer Affairs - Appointment of Esther Peterson
The President today announced the appointment of Esther Peterson as Special Assistant to the President for Consumer Affairs. Ms. Peterson is currently vice president of consumer programs and consumer adviser to the president of Giant Food Co. in Washington, D.C.
As Special Assistant to the President for Consumer Affairs, she will serve as a consumer spokesperson and advocate on the President's personal staff and advise the President on consumer-related matters.
She was born in Provo, Utah, on December 9, 1906. She received an A.B. degree from Brigham Young University in 1927 and an M.A. from Teachers College, Columbia University, in 1930.
She taught at Branch Agricultural College in Cedar City, Utah, and at Winsor School in Boston. She also taught at Bryn Mawr Summer School for Women Workers in Industry from 1932 to 1939.
Peterson was assistant director of education of the Amalgamated Clothing Workers of America from 1939 to 1944 and served as their legislative representative in Washington from 1945 to 1948. She and her family lived overseas from 1948 to 1957, while her husband served as labor attaché in Sweden and Belgium.
In 1957 Peterson became legislative representative of the Industrial Union Department of the AFL-CIO. She continued in this post until 1961, when she was appointed Director of the Women's Bureau in the Department of Labor by President John F. Kennedy. In August of that year, she 'became Assistant Secretary of Labor and held that position until 1969.
Between 1961 and 1963, Peterson served as Executive Vice Chairman of the President's Commission on the Status of Women. In 1964 President Lyndon B. Johnson appointed her to the newly created post of Special Assistant to the President for Consumer Affairs. She also served as Chairman of the President's Committee on Consumer Interests. She held these posts until 1967.
Peterson joined Giant in 1970, and since that time has spearheaded numerous consumer-related projects. She has her own professional staff, which develops consumer programs.
She is on the board of directors of many consumer, educational, and civic associations, including the Institute for Public Interest Representation at the Georgetown University Law Center, the Women's National Democratic Club, the Center for Science in the Public Interest, and the National Center for Resource Recovery.
Jimmy Carter, Special Assistant to the President for Consumer Affairs - Appointment of Esther Peterson Online by Gerhard Peters and John T. Woolley, The American Presidency Project https://www.presidency.ucsb.edu/node/243001