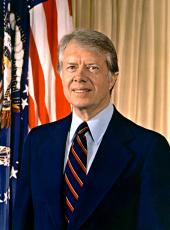 Solar Energy Development Bank Letter to the Speaker of the House and the President of the Senate Transmitting Proposed Legislation.
Dear Mr. Speaker: (Dear Mr. President:)
I am transmitting proposed legislation which would establish, within the Department of Housing and Urban Development, a Solar Energy Development Bank. This proposal is an essential element of my recently announced national strategy for accelerating the use of solar and other renewable resources. It provides for incentives which can, in conjunction with other governmental actions to be undertaken as part of the Administration's program, stimulate the installation of solar energy systems in residential and commercial properties on a significant scale.
The Solar Bank would be governed by a Board of Directors chaired by the Secretary of Housing and Urban Development. The Board would also include the Secretary of Energy and the Secretary of the Treasury. The Board would establish all major Solar Bank policies, particularly the depth of the subsidies to be provided.
The proposed Bank would pay subsidies to private lenders for the purchase and installation of solar energy systems. These lenders would, in turn, provide below-market financing to builders or owners of residential and commercial properties. The subsidized portion of a loan allocable to the purchase and installation of solar energy systems would be limited to $10,000 per unit for a one- to four-family structure, $5,000 per unit (up to a maximum of $500,000) for structures containing more than four units, and $200,000 for commercial properties.
Funds for operation of the Solar Bank would be derived from the proposed Energy Security Trust Fund. For this purpose, authorized expenditures would be up to (a) $35 million for fiscal year 1980 and (b) $150 million annually for fiscal years 1981 through 1985. Personnel within the Department of Housing and Urban Development, including personnel of the Government National Mortgage Association, would be used to administer Solar Bank programs.
I view the Solar Bank as a key component in my program to accelerate the development and use of solar technologies. Together with my Administration's other solar energy initiatives, the Solar Bank will ensure a sound national solar strategy. These measures will provide critical assistance in overcoming our Nation's energy problems. I urge its early enactment.
Sincerely,
JIMMY CARTER
Note: This is the text of identical letters addressed to Thomas P. O'Neill, Jr., Speaker of the House of Representatives, and Walter F. Mondale, President of the Senate.
Jimmy Carter, Solar Energy Development Bank Letter to the Speaker of the House and the President of the Senate Transmitting Proposed Legislation. Online by Gerhard Peters and John T. Woolley, The American Presidency Project https://www.presidency.ucsb.edu/node/249818