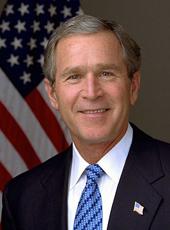 Setting the Record Straight: The New York Times Story On Hurricane Preparations
"[I]t is sad and irresponsible that The New York Times is rewriting history to fit an inaccurate storyline and conveniently ignoring key facts."
- Scott McClellan, White House Press Secretary, Press Gaggle, 2/10/06
Setting The Record Straight On The Administration's Preparations For Hurricane Katrina.
The New York Times Claims That The President Was "On Vacation In Texas" And "Feeling Relieved". "But the alert did not seem to register. Even the next morning, President Bush, on vacation in Texas, was feeling relieved that New Orleans had 'dodged the bullet,' he later recalled. Mr. Chertoff, similarly confident, flew Tuesday to Atlanta for a briefing on avian flu." (Eric Lipton, "White House Knew Of Levee's Failure On Night Of Storm," The New York Times, 2/10/06)
But The President Was Closely Monitoring The Situation And Not "On Vacation."
In California, Scott McClellan Told Reporters That The President Was Focused On Saving Lives And Would Return To Washington. MCCLELLAN: ""[T]his is one of the most devastating storms in our nation's history, and the President, after receiving a further update this morning, made the decision that he wanted to get back to D.C. and oversee the response efforts from there. This is going to – there are many agencies involved in this – in this response effort, and it's going to require a long and sustained effort on behalf of all the federal agencies working closely with state and local officials to help people recover from the destruction and devastation." (The White House, Press Gaggle, 8/30/05)
That Morning, President Bush Met With Soldiers Wounded In Afghanistan And Iraq. "Scott McClellan came back and gaggled as we were taking off; he said Bush met with doctors and corpsmen who had served aboard the Mercy, a ship that helped with Naval relief efforts during the tsunami. Bush delivered a purple heart to a Naval corpsman who was injured in Iraq; also visited with about 10 Navy SEALS wounded and treated at the center - one wounded in Afghanistan, the others in Iraq. Then Bush visited with 12 Marines who were at the medical center, all wounded in Iraq. He met with them in the physical therapy area; one of the Marines was a Mexican national who has applied for US citizenship. Bush thanked everyone for their efforts, Mr. McClellan said. ... Anne Kornblut [The New York Times]." (The White House, Pool Report, 8/30/05)

President Bush Discussed Federal Efforts To Support Disaster Assistance. THE PRESIDENT: "Right now our priority is on saving lives, and we are still in the midst of search and rescue operations. I urge everyone in the affected areas to continue to follow instructions from state and local authorities. The federal, state and local governments are working side-by-side to do all we can to help people get back on their feet, and we have got a lot of work to do. Our teams and equipment are in place and we're beginning to move in the help that people need. Americans who wish to help can call 1-800-HELPNOW, or log on to RedCross.org, or get in touch with the Salvation Army. The good folks in Louisiana and Mississippi and Alabama and other affected areas are going to need the help and compassion and prayers of our fellow citizens." (President George Bush, Remarks On 60th Anniversary Of V-J Day, San Diego, CA, 8/30/05)

Before The Hurricane Hit, President Bush Urged A Mandatory Evacuation. GOV. KATHLEEN BLANCO: "Thank you, Mayor. I want to reiterate what the mayor has said. This is a very dangerous time. Just before we walked into this room, President Bush called and told me to share with all of you that he is very concerned about the citizens. He is concerned about the impact that this hurricane would have on our people. And he asked me to please ensure that there would be a mandatory evacuation of New Orleans." (CNN's "Breaking News," 8/28/05)
President Bush Stressed The Danger Posed By Hurricane Katrina. THE PRESIDENT: "Hurricane Katrina is now designated a category five hurricane. We cannot stress enough the danger this hurricane poses to Gulf Coast communities. I urge all citizens to put their own safety and the safety of their families first by moving to safe ground. Please listen carefully to instructions provided by state and local officials." (President Bush, Statement By The President On Hurricane Katrina And The Iraq Constitution, Crawford, TX, 8/28/05)
The Administration Prepared The Federal Government To Support Relief Operations.
President Bush Was Closely Monitoring Hurricane Katrina And Issued Emergency Disaster Declarations For Louisiana And Mississippi Prior To Landfall. THE PRESIDENT: "Yesterday, I signed a disaster declaration for the state of Louisiana, and this morning I signed a disaster declaration for the state of Mississippi. These declarations will allow federal agencies to coordinate all disaster relief efforts with state and local officials. We will do everything in our power to help the people in the communities affected by this storm." (President Bush, Statement By The President On Hurricane Katrina And The Iraq Constitution, Crawford, TX, 8/28/05)
The Disaster Declarations Enabled The Pre-Positioning Of Supplies And Teams. MCCLELLAN: "Well, the ones yesterday enabled federal authorities really to pre-position supplies and teams so that they were in close - in full coordination with state and local partners. Today really allows FEMA now to start drawing down or using federal funds to get resources to those areas to help with the response and recovery from this disaster." (The White House, Press Gaggle, 8/29/05)
The Federal Government Deployed Medical And Rescue Teams In Preparation. MCCLELLAN: "The President, this morning, spoke with our FEMA head, Mike Brown. Mike gave the President an update. Katrina remains a dangerous storm. We are coordinating closely with state and local authorities. We continue to urge citizens in those areas to listen to local authorities. Medical assistance teams and rescue teams have been deployed, and we're continuing to coordinate all activities very closely to make sure that the focus is on saving lives. That's where the top priority is right now, and that's where it will remain." (The White House, Press Gaggle, 8/29/05)
The Administration Knew Flooding Was Occurring And Focused On Saving Lives.
Despite Conflicting Reports, The Administration "Knew Of The Flooding." MCCLELLAN: "There were conflicting reports coming in, in the initial aftermath of the storm in regards to the levee system. Some were saying it was overtopped, some were saying it was breached. And, again, we knew of the flooding that was going on, that's why our top priority was focused on saving lives. The cause of the flooding was secondary to that top priority, and that's the way it should be." (The White House, Press Gaggle, 2/10/06)
On August 29th, The Coast Guard Was Conducting Search And Rescue Operations. FOX NEWS' ANITA VOGEL: "Now, earlier the Coast Guard had to step in or fly in using helicopters. They're searching for residents who are stranded, people literally stranded in their attics and they're fetching people from rooftops using baskets, making very dramatic and heroic rescues and bringing them safely, dropping them onto I-10." (Fox News' "On The Record With Greta Van Susteren," 8/29/05)
More Than 40,000 U.S. National Guardsmen And Women Performed Lifesaving Search And Rescue Operations, Distributed Aid, And Helped Evacuate Over 175,000 Citizens. THE PRESIDENT: "When Hurricane Katrina struck the Gulf Coast last year, more than 40,000 Guardsmen and women rushed to the impact zone - it was the largest stateside deployment in National Guard history. They conducted search and rescue operations, distributed food and water, provided emergency medical care, protected communities from criminality, and worked around the clock to repair homes and restore power. Guard units from all 50 states, three U.S. territories, and the District of Columbia provided assistance - and together, they saved lives and helped evacuate over 175,000 people stranded by the storm." (President Bush, Remarks On The Global War On Terror, Washington, DC, 2/9/06)
The New York Times Took Completely Out Of Context The President's Reference To Media Reports And Assessments On The Ground That New Orleans Had "Dodged A Bullet."
The President Was Referring To What Many In The Media And On The Ground Were Saying, Including Emergency Officials The Day The Storm Hit, And Remained Focused On Saving Lives. THE PRESIDENT: "When that storm came by, a lot of people said we dodged a bullet. When that storm came through at first, people said, whew. There was a sense of relaxation, and that's what I was referring to. And I, myself, thought we had dodged a bullet. You know why? Because I was listening to people, probably over the airways, say, the bullet has been dodged. And that was what I was referring to." (President Bush, Remarks To The Travel Pool, New Orleans, LA, 9/12/05)
An August 30, 2005 Lead Story On Front Page Of The New York Times Sub-Headed "New Orleans Escapes A Direct Hit" Leads With "Hurricane Katrina Pounded The Gulf Coast With Devastating Force At Daybreak On Monday, Sparing New Orleans The Catastrophic Hit That Had Been Feared…" (Joseph B. Treaster and Kate Zernike, "HURRICANE SLAMS INTO GULF COAST; DOZENS ARE DEAD: New Orleans Escapes a Direct Hit — One Million Lose Power," The New York Times, 8/30/05, http://graphics7.nytimes.com/images/2005/08/30/nytfrontpage/scan.jpg)
Louisiana's Office Of Homeland Security And Emergency Preparedness Colonel Pete Schneider: "What We're Hearing Is We Kind Of Did Dodge A Bullet." COL. SCHNEIDER: "Well, it sounds like you had a pretty good bird's-eye view there. What we're hearing is we kind of did dodge a bullet. We dodged that bullet that we were planning for." (NPR's "Talk Of The Nation," 8/29/05)
NBC's Brian Williams: "New Orleans Dodged The Big Bullet." WILLIAMS: "Well, you've just put your finger on the – what I think is the biggest problem, the biggest deficit: There's no PA system. We're running on generators here. There's no effort to disseminate information. Very few radios and portable televisions, and we're inside, basically, a concrete structure. It's impossible to know. Most of them can sense that the storm has died down, but they don't know that New Orleans dodged the big bullet …from Katrina, and didn't get the worst of the storm." (NBC's "Today," 8/29/05)
Senator Joe Lieberman (D-CT) Says New Orleans Was Spared When Katrina Did Not Hit Head-On. SEN. JOE LIEBERMAN: "Nature hit New Orleans hard, but also gave its people a break by hitting hardest 15 miles to the east. Because of the failure to effectively evacuate the poor and infirm who could not evacuate themselves, if Katrina had hit New Orleans head-on, the death toll probably would have been in the tens of thousands, as Hurricane Pam exercise had predicted." (Committee On Homeland Security, U.S. Senate, Hearing, 2/10/06)
George W. Bush, Setting the Record Straight: The New York Times Story On Hurricane Preparations Online by Gerhard Peters and John T. Woolley, The American Presidency Project https://www.presidency.ucsb.edu/node/282819