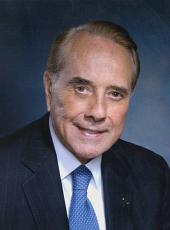 Senator Dole's Radio Address
Hello, I'm Bob Dole. I'm joined today by Michigan Governor John Engler to talk with you about one of the greatest threats facing our communities and our country — the epidemic of drugs and violent crime.
The statistics are truly staggering. In 1994 the American people were victimized by more than 42 million crimes, including nearly 11 million — 11 million — violent crimes, many committed by convicted criminals who were released from prison before their sentence was up.
The economic cost of this mayhem was more than $400 billion, but the human cost and lost and shattered lives cannot even begin to be calculated. Drug use among our youth has more than doubled just since President Clinton took office. And since drugs lead to violence, it's no surprise that youth violence is also on the rise. In fact, many experts predict that juvenile arrests will double within the next 15 years.
There is much I would do as president that Bill Clinton has not done to stem the tide of violent crime and drugs, including appointing judges and prosecutors who will protect the rights of crime victims and not expand the rights of criminals.
But I also understand that the federal government cannot provide all the answers. It must forge a close partnership with state and local governments and police departments, and that is exactly what I intend to do as president.
On Monday, I will be joined by many of America's outstanding Republican governors in announcing our action plan to combat drugs and violent crime. And one of the governors who has done an outstanding job in battling crime in his state is Michigan's Governor John Engler.
ENGLER: Thank you Bob. I speak for Republican governors across the nation when I say it has been an honor to work with you in developing the action plan you will announce in Philadelphia on Monday. Together, we are more committed than ever to winning the war on drugs and violent crime.
Our families deserve safe streets and my fellow Republican governors know that Bob Dole is the best man to get the job done. When our courts were being clogged with costly appeals and frivolous lawsuits from convicted criminals, it was Bob Dole who led the fight to pass legislation putting an end to those lawsuits. When federal judges were ordering state prisons to release convicted criminals, it was Bob Dole who helped lead the fight to keep those criminals behind bars.
On issue after issue when it comes to fighting crime, Bob Dole is a leader. For example, Bob Dole proposed a innovative national instant check system to keep all guns out of the hands of criminals. Bob Dole has always sent a clear message to America's young people that illegal drug use is wrong. And Bob Dole is fighting to accomplish at a national level what we've accomplished in Michigan: Reforming our criminal justice system so that violent juvenile offenders are held responsible and serve adult time for adult crime.
I join all Republican governors inviting all Americans to read Bob Dole's plan carefully, to join with us in making our homes, neighborhoods and schools safer.
DOLE: Thank you very much, Governor Engler. The details of our plan will be announced on Monday. But I do want to share with you its five cornerstones.
First, we will renew our commitment to a drug free America, a commitment that has been lost during the Clinton administration.
DOLE: Second, we will take the steps necessary to end a cruel charade of releasing violent criminals from prison after they have served only a fraction of their sentence.
Third, we will, as Governor Engler mentioned, hold violent juveniles, who now commit over 35 percent of violent crimes, accountable for their actions.
Fourth, we will reform our prisons into places where productive work is the rule, not the exception. I believe able-bodied prisoners should work to offset the costs of incarceration and pay compensation to the victims of their crimes.
And fifth, we will more vigorously prosecute and punish those who use guns in criminal activity, and we will establish a national instant check system to keep criminals and others from purchasing firearms.
My fellow Americans, a nation that cannot defend itself from violence against its citizens will not survive. It is time we stop making excuses for the criminals and start protecting the victims of crime.
Thanks again for listening.
May God bless the courageous men and women of our law enforcement community who risk their lives each day, and may God bless America.
Robert Dole, Senator Dole's Radio Address Online by Gerhard Peters and John T. Woolley, The American Presidency Project https://www.presidency.ucsb.edu/node/285536