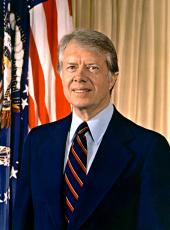 Securities and Exchange Commission Nomination of Harold M. Williams To Be a Member.
The President today announced that he will nominate Harold M. Williams, of Beverly Hills, Calif., to be a member of the Securities and Exchange Commission. The President indicated that Williams will be designated Chairman of the Commission once confirmed by the Senate. Williams is dean of the Graduate School of Management at the University of California at: Los Angeles.
He was born in Philadelphia on January 5, 1928. He received a B.A. degree from UCLA in 1946 and a J.D. from Harvard Law School in 1949. He joined the Los Angeles law firm of Charles H. Carr in 1949, served in the U.S. Army as a legal officer from 1950 to 1953, and returned to the law firm, where he remained until 1955, when he joined the legal staff of Hunt Foods as an associate tax counsel.
He was subsequently elected vice president, executive vice president and director, and president of Hunt-Wesson Foods. In 1968 he was elected president of Hunt Foods and Industries, Inc., and with the formation of Norton Simon later that year--resulting from the consolidation of Canada Dry Corp., Hunt Foods and Industries, and McCall Corp.--he was named chairman of the new company's finance committee. In 1969 he assumed the additional post of chairman of the board of Norton Simon.
In 1970 he became dean of the Graduate School of Management at UCLA. In 1973 he was appointed energy coordinator for the city of Los Angeles by Mayor Tom Bradley. He serves as cochairman for the Public Commission on County Government, a subcommittee chairman of the mayor's ad hoc committee on city revenues, a member of the California Citizens Commission on Tort Reform, and an adviser to the Committee on Productivity and the Private Sector, Committee on Economic Development.
He is a member of the Commission for Economic Development of the State of California and of the U.S. Securities and Exchange Commission Advisory Committee on Corporate Disclosure. In 1976 he received the Torch of Learning Award and Honorary Fellowship from Hebrew University and the Earl Warren Leadership Award from the American Society of Public Administration, Los Angeles chapter.
Williams is being nominated for the remainder of the term expiring June 5, 1977, and for a term of 5 years expiring June 5, 1982.
Jimmy Carter, Securities and Exchange Commission Nomination of Harold M. Williams To Be a Member. Online by Gerhard Peters and John T. Woolley, The American Presidency Project https://www.presidency.ucsb.edu/node/243528