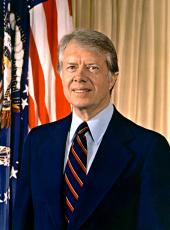 Secretary of the Army Nomination of Clifford L. Alexander, It.
The President today announced his intention to nominate Clifford L. Alexander, Jr., as Secretary of the Army. Alexander is presently a partner in the Washington law firm of Verner, Liipfert, Bernhard, McPherson and Alexander.
He was born September 21, 1933, in New York City. He received an A.B. degree in American government from Harvard University in 1955 and an LL.B. from Yale Law School in 1958.
From 1959 to 1961, Alexander was an assistant district attorney in the New York County District Attorney's office. In 1961 and 1962, he was executive director of Manhattanville Hamilton Grange in New York. In 1962 and 1963, he served as program and executive director of Harlem Youth Opportunities Unlimited.
From 1963 to 1964, Alexander served on the National Security Council as foreign .affairs officer. From 1964 to 1967, he worked in the White House as Deputy Special Assistant to the President, Associate Special Counsel, and Deputy Special Counsel.
From 1967 to 1969, Alexander was a member and Chairman of the U.S. Equal Employment Opportunity Commission, and also served as a civil rights consultant to the President. In 1968 he was a commissioner on the Commission for the Observance of Human Rights Year and served as special Ambassador to the Kingdom of Swaziland.
Alexander was a partner in the Washington law firm of Arnold & Porter from 1969 to 1975. Between 1972 and 1976, he worked for WMAL television in Washington as a news commentator and as host and coproducer of "Cliff Alexander--Black on White."
He was a professor of law at Howard University in 1973-74. In December 1975, he became a partner at Verner, Liipfert, Bernhard, McPherson and Alexander. Since 1975 he has served on the Judicial Nomination Commission of the District of Columbia government.
Alexander is married to the former Adele Logan. They have a son and a daughter and reside in the District of Columbia.
Jimmy Carter, Secretary of the Army Nomination of Clifford L. Alexander, It. Online by Gerhard Peters and John T. Woolley, The American Presidency Project https://www.presidency.ucsb.edu/node/243646