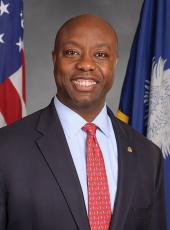 Scott Campaign Press Release - Tim Scott At The Border: As President, I Will Finish The Wall
CHARLESTON, SC –  This morning, Tim Scott joined FOX News' America's Newsroom to discuss his visit to the U.S. souther border. Tim is in Yuma, Arizona where he is touring the Southern border and hosting a roundtable discussion with community leaders and those on the front lines of Biden's border crisis.

Watch the full interview here
Tim Scott
America's Newsroom
August 4, 2023
Dana Perino: Senator, I know that you went to the border in 2019. Well, what did you learn that's different now? What did you see that's different? What disturbs you? What do you think could be fixed?
Sen Scott: Well, Dana, the biggest difference between 2019 and now, two words: Joe Biden. When you have a president who unleashes a wide open, unsafe, insecure border, we cannot be surprised by more than 6 million illegal crossings. However, the devastation of 70,000 Americans who lost their lives to fentanyl because Joe Biden refuses to close our southern border. Preventable. As President of the United States, I will finish this wall and I will use the available technology to surveil our border to stop fentanyl from killing another 70,000 Americans in the next 12 months.
Dana Perino: Did you have a chance to talk to some local people there, and what do they make of this recent surge? We can pull up, call for number one. July compared to June, there were 130,000 arrests in July. There were only about a hundred thousand in June. So there's a pretty dramatic uptick. What do they put that down to? Because the Biden administration says that they've been doing a pretty good job.
Sen Scott: Well, the Biden Administration continues to tell the American people believe what we say and not what you see with your own eyes. I've had an opportunity already to speak with law enforcement. They tell me that the surge continues. I'll meet after we leave the border right now with community leaders and frankly, with folks who lost their kids to fentanyl. The devastation that we are experiencing as Americans is preventable. Much of it is preventable. If we finish the wall, use technology, fire Joe Biden and hire me, I will be the president that finishes the wall and takes seriously the opportunity to save tens of thousands of Americans from the drug of fentanyl.
Tim Scott, Scott Campaign Press Release - Tim Scott At The Border: As President, I Will Finish The Wall Online by Gerhard Peters and John T. Woolley, The American Presidency Project https://www.presidency.ucsb.edu/node/364116