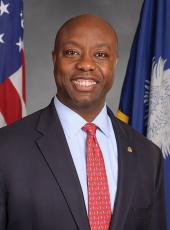 Scott Campaign Press Release - Tim Scott Receives Endorsements From More Than 140 South Carolina Elected Officials
SPARTANBURG, SC – Today, Tim Scott announced more than 140 endorsements from South Carolina elected officials for his candidacy for president.
"I'm honored to receive the endorsements of former colleagues and friends. The support across our state has been incredible and the energy has been electric," said Tim Scott. "I'm prepared to take our conservative message all across South Carolina and this country. We will restore faith in America and faith in each other."
"South Carolina conservative leaders are flocking to Tim Scott's campaign for President because they've seen his affirmational life story up close. Tim Scott is the real deal. I know he is the authentic conservative leader we need in the White House right now," said South Carolina Senate Majority Leader Shane Massey.
Tim Scott has spent a career focusing on people back home and supporting local government to solve real problems. I'm proud to join so many other local leaders and mayors from the Palmetto State endorsing Tim Scott's campaign for President. His work to develop Opportunity Zones across the country is a great showcase of his passion to give everyone a shot at the American Dream," said City of Columbia Mayor Daniel Rickenmann.
"I am honored to endorse Senator Tim Scott for president. His strong conservative message of hope and opportunity resonates with young voters. His energetic campaign has been building early momentum here in SC. I am excited to be on his leadership team," said House Chief Majority Whip Brandon Newton. 
Tim received the following endorsements:
Henry Brown, Former Congressman
Shane Massey, South Carolina Senate Majority Leader
Brian Adams, State Senator
Sean Bennett, State Senator
Scott Talley, State Senator
Chip Campsen, State Senator
Ronnie Cromer, State Senator
Stephen Goldfinch, State Senator
Billy Garrett, State Senator
Larry Grooms, State Senator
Penry Gustafson, State Senator
Katrina Shealy, State Senator
Ross Turner, State Senator
Brandon Newton, House Chief Majority Whip
Bruce Bannister, State Representative
Liston Barfield, Former State Representative
Jeff Bradley, State Representative
Don Chapman, State Representative
Brandon Cox, State Representative
Joe Daning, Former State Representative
Sylleste Davis, State Representative
Jason Elliott, State Representative
Shannon Erickson, State Representative
Gil Gatch, State Representative
Bobby Harrell, Former Speaker of the State House
Tom Hartnett, State Representative
Jenny Horne, Former State Representative
Jeff Johnson, State Representative
Deborah Long, Former State Representative
John McCravy, State Representative
Weston Newton, State Representative
Samuel Rivers, Former State Representative
Mark Smith, State Representative
Bill Taylor, State Representative
Daniel Rickenmann, City of Columbia Mayor
Cornelius Huff, Mayor of Inman
Brandy Amidon, Mayor of Travelers Rest
Robert Brown, Mayor of Hampton
Christopher Burton, Mayor of Honea Path
Jason Evans, Mayor of Pageland
John Gettys, Mayor of Rock Hill
Greg Habib, Mayor of Goose Creek
Kevin Hart, Mayor of St. George
Susan Holley, Mayor of Bethune
Carol Jayroe, Mayor of Georgetown
Michael Lockliear, Mayor of Moncks Corner
William McMillan, Former Mayor of Mullins
Rick Osbon, Mayor of Aiken
Phillip Pounds, Mayor of Isle of Palms
Christie Rainwater, Mayor of Hanahan
Keith Summey, Mayor of North Charleston
William Young, Mayor of Walterboro
Joe Boykin, Charleston County Councilman
Jay Byars, Dorchester County Councilman
David Chinnis, Dorchester County Councilman
Roy Costner, Pickens County Councilman
Todd Friddle, Dorchester County Councilman
Bill Hearn, Dorchester County Councilman
Harriet Holman, Dorchester County Councilwoman
Justin McCorkle, Spartanburg County Councilman
Don Mize, Oconee County Councilman
C. Brantley Moody, Charleston County Councilman
Phil Obie, Berkeley County Councilman
Dan Owens, Berkeley County Councilman
Rita Ranck, Dorchester County Councilwoman
Herbert Sass, Charleston County Councilman
Liz Seman, Greenville County Councilwoman
Kenny Skipper, North Charleston City Councilman
Amy Stern, Berkeley County Councilman
Bubba Trippe, Colleton County Councilman
Marshall West, Berkeley County Councilman
Josh Whitley, Berkeley County Councilman
Jonathan Angner, Georgetown City Councilman
Brett Banks, Branchville Town Councilman
Judy Bridge, Walterboro City Councilwoman
James Broderick, Walterboro City Councilman
Kay Brohl, Aiken City Councilwoman
Peter Brown, Columbia City Councilman
Jeff Chandler, Hanahan City Councilman
Phil Clemmer, Fountain Inn City Councilman
Mike Cook, Gaston Town Councilman
Hannah Cox, Goose Creek Councilwoman
John Don, Fountain Inn City Councilman
David Dunn, Rockville Town Councilman
Mike Dyson, Hanahan City Councilman
Melissa Enos, Goose Creek City Councilwoman
Jamie Fulmer, Spartanburg City Councilman
Kima Garten-Schmidt, Summerville Town Councilwoman
Andrea Gregory, Aiken City Councilwoman
Bubba  Hammett, Kingstree Town Councilman
Greg Hammond, Sullivan's Island Town Councilman
Chuck Hudson, Cottageville Town Councilman
Terry Jenkins, Summerville Town Councilman
Mechelle Mabry, South Congaree Town Councilwoman
Taft Matney, Mauldin City Councilman
Levi Mims, Olanta Town Councilman
Jimbo Moody, Barnwell Town Councilman
Troy Mullinax, James Island Town Councilman
Mark Phillips, Former Goose Creek City Councilman
Greg Pryor, Walterboro City Councilman
Rob Rain, Spartanburg City Councilman
Phil Render, Myrtle Beach City Councilman
Carl Ritchie, Mt. Pleasant Town Councilman
Michael Sally, Hanahan City Councilman
Kevin Shealy, Charleston City Councilman
Hunter Sox, Cayce City Councilman
Jarrett Taylor, Latta Town Councilman
Jerry Tekac, Goose Creek City Councilman
Terry Wilkinson, Ravenel Town Councilman
Edward Woltz, Aiken City Councilman
Grady Woods, Ridgeland Town Councilman
Janet Brown Jurosko, Berkeley County Auditor
JJ Messervy, Dorchester County Auditor
Leah Dupree, Berkeley County Clerk of Court
Karla Deese, Lancaster County Coroner
Parks Evans, Greenville County Coroner
Duane Lewis, Berkeley County Sheriff
Scarlett Wilson, Solicitor
Johnny Cribb, Berkeley County Supervisor
Eric Cathcart, Fairfield County Soil & Water Commissioner
Will Galloway, Kershaw County Soil & Water Commissioner
Patrick Jackson, Laurens County Soil & Water Commissioner
Brad Martin, Greenwood County Soil & Water Commissioner
Cindy Chitty, Dorchester County Treasurer
Sandy Cochran, Barnwell County Treasurer
Maria Walls, Beaufort County Treasurer
Mick Zais, Former SC Superintendent of Education
Barbara Nielsen, Former SC Superintendent of Education
Lindsay Agostini, Richland District Two School Board Member
Joe Baker, Berkeley County School Board Member
Abbott "Tre" Bray, Lexington School District Two Board Member
Richard Geier, Beaufort  County School Board Member
Hugh Gray, Newberry County School Board Member
Keith Grybowski, Charleston County School Board Member
Jody Hamm, Newberry County School Board Member
Rebecca Hines, Lexington-Richland School District Five School Board Member
Jimmy Hinson, Berkeley County School Board Member
Matt Hogan, Lexington-Richland School District Five School Board Member
Kathy Littleton, Berkeley County School Board Member
Mac McQuillin, Berkeley County School Board Member
Nikki Pruitt, Marlboro County School Board Member
Michael Ramsey, Berkeley County School Board Member
Bob Roddey, Chester County School Board Member
Ann Stuart, McCormick County School Board Member
Mark Truitt, Union County School Board Member
Jeffrey Zell, Sumter County School Board Member
Tim was previously endorsed by U.S. Senate Minority Whip John Thune and U.S. Senator Mike Rounds.
Tim Scott, Scott Campaign Press Release - Tim Scott Receives Endorsements From More Than 140 South Carolina Elected Officials Online by Gerhard Peters and John T. Woolley, The American Presidency Project https://www.presidency.ucsb.edu/node/364131