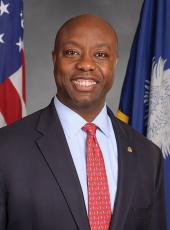 Scott Campaign Press Release - Tim Scott On FOX & Friends: "Progress In America Is Palpable"
CHARLESTON, SC –  This morning, Tim Scott joined FOX & Friends to applaud the Supreme Court's recent ruling on affirmative action and discuss American progress.

Watch the full interview here.
Tim Scott
FOX & Friends
June 30, 2023
Tim Scott: Progress in America is palpable. That is good news: that we have made reasonable progress in reasonable time. That means that today most of us judge each other by the content of our character, not the color of our skin. And in order to form a more perfect union, what do we have to do? We have to make sure that today is better than yesterday. That this year is better than last year, this decade better than last decade. That is a story of America. And that is why the last time I saw a poll, two out of three African Americans said, "using race as a primary factor?" Not necessary. 58% of Asians or more. 65% of Hispanics. All come to the same decision. The state of California struck down racial preferences. So what does that say about America? From the hearts of Americans, we believe in each other. That's good news. And why the radical left is screaming at the top of their lungs? Power. Control. Not progress.
...
Steve Doocy: As we head into the 4th of July holiday weekend, there's a new poll out by Gallup and it talks a little bit about how people feel less patriotic than they did a couple of years ago right now. And then there's this one. America's best days are behind us. A plurality of people say that we're on the wrong track.
Tim Scott: Well, we are on the wrong track. It's time for us to fire Joe Biden, fire Merrick Garland, fire Christopher Wray, and let's restore confidence in the halls of justice. But more importantly, let's stop telling Americans the lie that the Left tells them that we live in a racist, declining country. That this is not the land of opportunity, it's the land of oppression. Let's stop selling the drug of victimhood and the narcotic of despair. Let's start engaging the American people around the painful, truthful history of America. That we rise to the occasion. Good news is coming! 
Tim Scott, Scott Campaign Press Release - Tim Scott On FOX & Friends: "Progress In America Is Palpable" Online by Gerhard Peters and John T. Woolley, The American Presidency Project https://www.presidency.ucsb.edu/node/364120