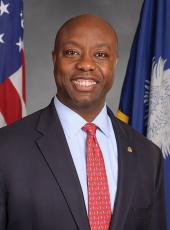 Scott Campaign Press Release - Tim Scott At Erick Erickson's The Gathering: "I'm Living Proof The American Dream Is Alive"
"I am living proof that the American dream is alive and it is well, and that no matter where you start in this country, if you work hard, work on your character, have strong grit, all things are possible." – Tim Scott
ATLANTA, GA –  This morning, Tim Scott joined Erick Erickson at The Gathering conference. During the conversation he discussed why he is running for president, the Lefts' attacks of his candidacy, and why he is the strongest candidate to beat Joe Biden.

Watch: Tim Scott on why he is running for president.
Erick Erickson: Why should Americans vote for you for president?
Tim Scott: You know, I think, great question, Eric. Perhaps the most important reason is I think God wastes none of the characteristics he's given us. I was blessed to be bald at 57 years old by the good Lord, and one of the things I say is that the truth of my life disproves the lies of the radical Left. I am living proof that the American dream is alive and it is well, and that no matter where you start in this country, if you work hard, work on your character, have strong grit, all things are possible. I'm a big believer in Ephesians 3:20, that God is able to do exceedingly, abundantly above all that we ask or imagine. And when you're a kid growing up in a single parent household, mired in poverty, you look around and you don't see any real reasons to be optimistic about your future.
Learning from a mother, the power of work, learning from a mentor that all things are possible. And yes, having a job is good, but creating jobs is better. Having an income, you've done well. But if you can create a profit, you can change your community. Having the ability to look at the Left, the far radical Left and say that what I have experienced as a person in this amazing country is in fact proof that the lies that you're selling — weaponizing race and class whenever you're losing an argument — you can't do that with me. Literally, I find myself in a position where having had a miserable beginning and succeeded as a catalyst for why we should believe that America's best days are still ahead of her, number one.
...
Erick Erickson: One of the very first and most frequently asked questions from the crowd for you is, what was it like to go to The View?
Tim Scott: You know, that's a really good question. It was a fascinating experience for them and it was an interesting experience for me.
People think because I'm optimistic and positive that maybe I'm just a nice guy. And that's all. The truth is that when you say something that is disgusting, offensive and undeniably wrong, I'm the guy you don't wanna watch. And going on The View to have a conversation about their comments and going toe to toe with Whoopi and the rest of the hosts. Unfortunately, Joy "Blackface" Behar did not decide to show up for the conversation she started. I look forward to that kind of conflict because I wanna resolve the issue. You don't have to be an exception if you're an African American to succeed in this world, all you have to do is go as high as your character and your grit and your hard work will take you. That's the truth of where we are as a nation.
...
People judged me on the content of my character, not the color of my skin. We need to get that right and tell the whole story of American progress. That's why I'm so excited to go on shows like The View or have one of my first town halls in a black church in a small town. I want people to understand that conservatism works. It doesn't work for the rich, it doesn't work for the poor, it doesn't work for the black, it doesn't work for the white, it works for America. Because we are applying judicial Christian foundations and principles, and when they permeate the soils of our land, the greatest things happen related to that.

Watch: Tim Scott on why the radical Left fears him the most
Erick Erickson: You're the only Republican candidate that former President Obama felt the need to call out. Why do you think that there, he and the Left are just so fundamentally threatened by your success?
Tim Scott: Well, the polls suggest that I'm the best candidate on our side to beat President Biden, number one. Number two, when you are the former President Obama, and you're looking at a guy that looks like me talking about the goodness of America and the progress of our nation, and the fact that education is the closest thing to magic, and if we are looking at the future of this nation, it's not the color of your skin, but it is the quality of your education, that kind of ruffles the feathers on the Left. Their entire identity politics falls apart when we recognize that we've come so far as a nation, that our future will be determined by the quality of your education. And if we had school choice in every single zip code, if parents had a choice, the kids would have a chance. That's America's future.
They can't hardly stand it. They do not like the truth spoken on big screens called TVs, or little screens called iPads. Because we've made so much progress as a nation, we should spend less time in the rear view mirror and more time in the big windshield of the future of this nation. And what President Obama sought to do was to drag us back in the past that no longer exists, so that we eliminate the future. Let's define and decide the future for ourselves. Let's empower our kids, not with indoctrination, but with education. Let's get back to the good old fashioned A, B, and Cs and let's eliminate CRT. Those thoughts ruin the Left. So they have to attack immediately, always attacking the infancy of a candidacy. You wanna destroy the kid, or the  candidacy early on. It's wrong.
Tim Scott, Scott Campaign Press Release - Tim Scott At Erick Erickson's The Gathering: "I'm Living Proof The American Dream Is Alive" Online by Gerhard Peters and John T. Woolley, The American Presidency Project https://www.presidency.ucsb.edu/node/364105