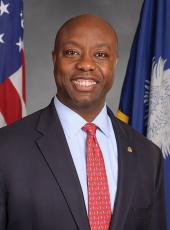 Scott Campaign Press Release - Tim Scott On Biden's Dereliction Of Duty At Southern Border
"President Biden has failed this nation, especially in declaring the actual emergency, which is an emergency at our border" – Tim Scott
CHARLESTON, SC –  This morning, Tim Scott joined FOX & Friends to react to Biden declaring climate change a national emergency, to discuss his recent visit to the border and the upcoming GOP debate.

Watch the full interview here.
Tim Scott
FOX & Friends
August 9, 2023
Brian Kilmeade: Presidential candidate Senator Tim Scott is here to react. Senator, first off, the president goes to the Grand Canyon, but doesn't do what you did and go to the border. Why do you think that is?
Sen Scott: Well, it's unbelievable. It's just a dereliction of duty. Let's be clear about it. President Biden has failed this nation, especially in declaring the actual emergency, which is an emergency at our border. Fentanyl has killed 70,000 Americans. He should reinstate Title 42 for a health emergency called fentanyl. It's killing Americans. We have an unsecure, wide open, and unsafe border that could be closed with a southern border wall. He refuses to complete the wall, and he also refuses to use the available technology like seismic monitors so that the CBP can do their jobs better. This is ridiculous to talk about a climate emergency when we have a border emergency that is an existential threat right now.
Brian Kilmeade: So, I mean, if we're to believe what the stats say, we are in record level heat across the current country, and in some cases around the world, do you believe that we're in the middle of climate change and you believe it's because of the use of fossil fuels?
Sen Scott: We said that the climate is obviously changing, but what we should realize, Brian, is that the country that's cut its carbon footprint in half in the last 25 years is America. The best thing to do for the climate is to keep our jobs at home. Not to send them to countries like China, India, and Africa that have not impacted their actual carbon footprint. But more importantly, Americans have done the right thing. We continue to do the right thing, but the President has done the wrong thing. He has the wrong focus. He refuses to go to our border. It's just pitiful.
Tim Scott, Scott Campaign Press Release - Tim Scott On Biden's Dereliction Of Duty At Southern Border Online by Gerhard Peters and John T. Woolley, The American Presidency Project https://www.presidency.ucsb.edu/node/364132