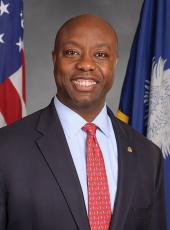 Scott Campaign Press Release - Tim Scott: "America Can Do For Anyone What She's Done For Me"

Watch here
Tim Scott:  Absolutely Not. Here's what the American people deserve: is a debate about the issues that affect their lives. Going back and forth and being childish is not helpful to the American people, to decide on the next leader of our country. Number two, as a kid who grew up in a single parent household, mired in poverty, I wondered was the American Dream real for kids who are devastated by poverty? Devastated by the challenges of life? I came to the conclusion that, America can do for anyone what she's done for me. If we focus on restoring hope, creating opportunities and protecting America, if we want the environment to be better, and we all do, the best thing to do is to bring our jobs home from China. If we create 10 million new jobs in my Made in America plan, we will have a better economy and a better environment. Let me tell you why I say that...
...
America has cut- I'm a southern boy, I talk slow. America has cut our carbon footprint in half in the last 25 years. So, places where they are continuing to increase, Africa at 950 million people, India over a billion, China over a billion. Why would we put ourselves at a disadvantage? Devastating our own economy? Let's bring our jobs home.
Tim Scott, Scott Campaign Press Release - Tim Scott: "America Can Do For Anyone What She's Done For Me" Online by Gerhard Peters and John T. Woolley, The American Presidency Project https://www.presidency.ucsb.edu/node/364739