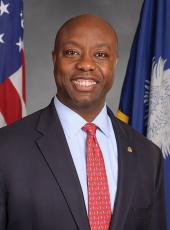 Scott Campaign Press Release - Scott Responds To The View: "A Lie From The Pit Of Hell"
SIOUX CITY, IA –  Following multiple events in Sioux City, Tim Scott joined FOX News' Sean Hannity to respond to the "dangerous and offensive" comments from the hosts of 'The View.'
Watch the full interview here.
Tim Scott
FOX News' Hannity
May 24, 2023
Tim Scott: I believe Sean, that the truth of my life, my experience coming from the wrong side of the tracks and seeing that opportunities available for every single one of us that is hard for them to swallow.
The truth of the matter is that their comments are offensive, they are dangerous and they're disgusting. Let me explain why, why are they dangerous? When you tell young African American kids that there's no chance to make it to the top unless you're the exception that is a lie from the pit of hell.
It's dangerous because kids today, they actually live down to the lowest level of expectations of their leaders. We need to tell kids the truth, that in America you can go as high as your character, your talent, and your grit will take you. If you want to live the American dream, work hard, put in the time, and all things are possible.
We are Americans, anything other than that is a lie. And here's why it is offensive to look around that new show. Two African American females, sitting on that stage, multi-millionaires, telling the rest of us that you can't make it in America unless you're the exception. I'm sorry. Yesterday's exception is today's rule. All things are possible. In today's America.
This week, Tim Scott announced his candidacy for president at his alma mater, Charleston Southern University. Watch the full announcement here. Tim will travel to Manchester, NH tomorrow for multiple events in the Granite State.
Tim Scott, Scott Campaign Press Release - Scott Responds To The View: "A Lie From The Pit Of Hell" Online by Gerhard Peters and John T. Woolley, The American Presidency Project https://www.presidency.ucsb.edu/node/364128