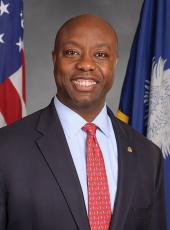 Scott Campaign Press Release - Scott: "My Candidacy Scares The Dickens Out Of The Radical Left"
CONCORD, NH - Today, Tim Scott appeared on Fox News with Neil Cavuto to discuss why he is the candidate Democrats fear the most.
Today, Tim is meeting voters around New Hampshire. In the days to come, he will take his optimistic message across Iowa and his home state of South Carolina.
Neil Cavuto: Alright, that's popping up in an ad for Joe Biden, Kamala Harris. And you might be resonating with your opponents, if your opponents are featuring you in their ads. The aforementioned Senator Tim Scott is kind enough to join us now. Senator, what do you think of that? You're the star in their latest ad.
Tim Scott: Well, Neil, obviously, my candidacy scares the dickens out of the radical left without any question. It's one of the reasons why they have me featured in their ad. When you bring out the former President Obama, and now you have the Biden-Harris ticket featuring me in their ads, it tells you what the polls have shown for several weeks now. That I'm the most likely Republican candidate to beat Joe Biden, I'm looking forward to being that candidate. I'm looking forward to being the next president of the United States. I'm also looking forward to making sure that we have a 15-week federal limit stopping abortions after 15 weeks. That is in all of our best interests. 72% of Americans agree with that position.
Neil Cavuto: ...They sense that this is an issue that will pull well for Democrats as it did in the last election. What do you think?
Tim Scott: Well, Neil, there's no doubt that they're looking for some, some, some genie in a bottle, some rabbit in the hat to try to find a way to bring Joe Biden across the finish line. First, it will not happen in 2024. Here's what the American people are so frustrated with. They're frustrated with this culture of grievance that brings with it the drug of victimhood, the narcotic of despair. They want to get away from this victimhood mentality and get back to talking about basic issues affecting the average kitchen table in America today, Bidenomics leading the way. Thousands of dollars of lost spending power because Joe Biden drove inflation over the last two years, nearly 16% leading as you know, Neil to 12 consecutive Federal Reserve increases, meaning they've destroyed the ability for so many Americans to buy their first home. It means that the average family is paying 40% more for gas, 20% more for food, 20% more for electricity. That is devastating for households like I was raised in. But the border, our southern border, is still wide open, unsafe, insecure, because Joe Biden refuses to use the resources available to finish the wall. No, he's actually selling parts of the wall. It's ridiculous.
Tim Scott, Scott Campaign Press Release - Scott: "My Candidacy Scares The Dickens Out Of The Radical Left" Online by Gerhard Peters and John T. Woolley, The American Presidency Project https://www.presidency.ucsb.edu/node/364726