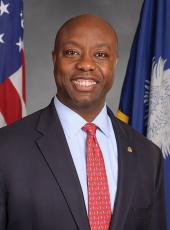 Scott Campaign Press Release - Ms. Frances: Tim's Journey Was At One Time "Impossible"
CHARLESTON, SC - Tim Scott's mother, Frances Scott, joined FOX News' Harris Faulkner to discuss Tim's journey, her experience raising children as a single mother, and how she is giving back and supporting single mothers in the Low Country.
Harris Faulkner: If your son makes it to the White House, is there something that you want him particularly to focus on?
Frances Scott: People who don't have. I think it's just important that if we have a president who's able to help people, help other people succeed in their life. Sometimes life can be hard, but if you have someone who can understand and who've also been there to understand that life is hard and to help them push them on, but only in America that this can be done for my daddy to be a part of the journey that brought Tim to be the US Senator. That's very important.
Harris Faulkner: What about that journey makes that matter so much?
Frances Scott: Cause at one time, that was impossible. And for him to witness that, to see it and be a part of it, it meant a lot.
Harris Faulkner: So many lives you've touched. That's an entire lifetime right there. And so how do you fill that, that energy, that void?
Frances Scott: How do I fill it now, with my foundation, it's called Raising up the Low Country Foundation geared towards working single moms. And I love it.
Harris Faulkner: If there is a single mom out there who's struggling right now, what would you say to her?
Frances Scott: I would tell her to keep the faith. If you're not a believer, become a believer. 'cause God will take you through this journey. It doesn't last forever. It is only temporarily. Keep focused, stay focused. I would like to say and keep on keeping on. Don't stop.
Tim Scott, Scott Campaign Press Release - Ms. Frances: Tim's Journey Was At One Time "Impossible" Online by Gerhard Peters and John T. Woolley, The American Presidency Project https://www.presidency.ucsb.edu/node/364745