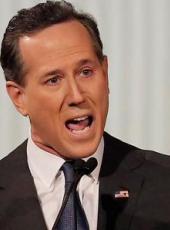 Santorum Campaign Press Release - Santorum's National Momentum Continues as Polls Show Surge Into Lead in Critical Super Tuesday State of Oklahoma
Santorum Wins 74% In Straw Poll Of Over 1,000 Ohio Republican Activists In Akron
Verona, PA - Republican Presidential Candidate Rick Santorum continued his momentum by surging out to a double-digit lead in the Super Tuesday state of Oklahoma, dominating a straw poll in a crucial Ohio county and continuing his rise in the Gallup national poll.
In the Super Tuesday state of Oklahoma, Santorum has surged out to a 16-point lead on the field, leading Governor Romney 39% to 23%.
Poll shows state Republicans favor Santorum

By Randy Krehbiel, Tulsa World

http://www.tulsaworld.com/news/article.aspx?subjectid=688&articleid=20120219_16_A1_Former398647
Former U.S. Sen. Rick Santorum has surged to the front among Oklahoma's Republican voters, according to a SoonerPoll.com survey released Sunday.
Santorum was the first choice of 39 percent of the 278 likely voters who said they planned to participate in the March 6 state GOP primary. Former U.S. Speaker of the House Newt Gingrich, first in a survey conducted last fall, dropped to third, behind former Massachusetts Gov. Mitt Romney, who remained second. Romney, generally considered the frontrunner for the GOP nomination, was at 23 percent, followed by Gingrich at 18.
In a straw poll conducted with over 1,000 northeast Ohio activists, Rick Santorum won the Summit County, OH (Akron) GOP Straw Poll with 74% of the vote. According to the Cincinnati Enquirer:
Santorum wins straw poll at Akron GOP dinner

By: Paul Kostyu, Cincinnati Enquirer

http://cincinnati.com/blogs/politics/2012/02/19/santorum-wins-straw-poll-at-akron-gop-dinner/
Speaking to his largest crowd yet in his two-day swing through Ohio, presidential candidate Rick Santorum captured 74 percent of the vote at the annual Lincoln Day dinner of the Summit County Republican Party - and that was before people heard what he had to say.
At the evening event at the University of Akron, Santorum picked up the endorsement of the county party's powerful chairman, Alex R. Arshinkoff. And though he hasn't officially said he was endorsing Santorum, Ohio House Speaker William G. Batchelder, R-Medina, led audiences in Akron and Columbus to believe he had done just that through his introductory remarks.
More than 1,350 attended the Akron event and another 425 had to be turned away, according to Arshinkoff. A number of attendees were seated in an adjoining room to the banquet hall and watched on large screen televisions while they ate. A nine-piece brass ensemble of university students played throughout the evening.
And nationally, Rick Santorum continues to expand his lead over Mitt Romney in the Gallup National Tracking Poll:
Gallup poll shows Santorum with 8-point lead over Romney

By Justin Sink, The Hill

http://thehill.com/blogs/ballot-box/polls/211591-santorum-continues-to-gain-ground-on-romney-in-latest-gallup-poll
Gallup's daily tracking poll shows Rick Santorum continuing to gain momentum among national Republican voters, with the former senator now holding a 8 percentage point lead over Mitt Romney.
Santorum earned the support of 36 percent of voters, up one percent from Saturday. Romney fell by one percent to 28 percent. Former House Speaker Newt Gingrich (Ga.) and Rep. Ron Paul (Texas) held steady at 13 percent and 11 percent respectively.
Rick Santorum, Santorum Campaign Press Release - Santorum's National Momentum Continues as Polls Show Surge Into Lead in Critical Super Tuesday State of Oklahoma Online by Gerhard Peters and John T. Woolley, The American Presidency Project https://www.presidency.ucsb.edu/node/300326