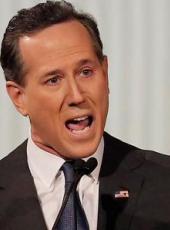 Santorum Campaign Press Release - Santorum Takes It To Romney & Gingrich
Charleston, SC - At this evening's CNN/Southern Republican Leadership Committee Republican Presidential Debate, Rick Santorum exposed their inconsistent records as conservatives and established himself as the conservative to defeat Barack Obama Governor Romney and Congressman Gingrich
Hogan Gidley, National Communications Director, said: "Rick Santorum showed tonight that he is the one candidate who has the record and the ability to defeat Barack Obama. He systematically dismantled Governor Romney and Congressman Gingrich on the biggest issues facing this nation. The reason the Tea Party was created mainly because of three issues: health care individual mandate, big bank bail outs and immigration. Rick Santorum is the only candidate to defeat Mitt Romney head-to-head and he is the one consistent conservative alternative in this race to take on Barack Obama this fall."
On Capitalism:
"I believe in capitalism that works for not just the high financiers, but the working man and woman too... We need to talk about how we're going to put the men and women who built this country back to work... South Carolina can compete with anybody, we just need to give them the ability to compete. We need to make our pitch to Reagan Democrats, tell them to sign up with us and we'll put 'em back to work!"
Should Government Help Veterans:
"The President can't cut a dime from social welfare programs, but he can cut a trillions from the military and our veterans. That's disgusting."
On Government Healthcare:
"I was fighting for private sector health care when these two guys were playing footsy with the left... It took Newt 10 years to figure out government run health care was wrong, while guys like Rick Santorum knew it was wrong from the beginning."
On Newt Gingrich's Suggestion To Drop Out:
"Grandiosity has never been a problem with Newt Gingrich... these are just not cogent thoughts.
On Campaign Regret:
"I would change nothing... After over 700 town hall meetings, this goes to prove that hard work and good ideas still payoff in America."
On Amnesty For Illegal Immigration:
"My grandfather came here legally and sacrificed because America was worth it."
On A Culture Of Life:
"You have a lot of people who go out and whisper that they're pro-life. It's another thing to lead."
Rick Santorum, Santorum Campaign Press Release - Santorum Takes It To Romney & Gingrich Online by Gerhard Peters and John T. Woolley, The American Presidency Project https://www.presidency.ucsb.edu/node/299558