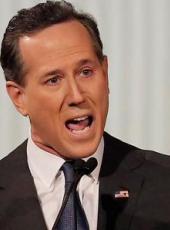 Santorum Campaign Press Release - Santorum Stands as a Strong, Consistent Conservative Leader
Manchester, NH -Republican Presidential candidate Rick Santorum again stood tall for strong, consistent conservative leadership during this morning's NBC "Meet the Press" Debate.
Hogan Gidley, National Communications Director, said: "Rick Santorum continues to prove he is the best consistent, conservative alternative to Governor Romney to take on President Obama. In order to defeat Barack Obama we must highlight his biggest mistakes - namely government run health care and government bailouts. We must draw clear contrasts. Rick Santorum is the one candidate with the consistent record of conservative success in entitlement reform, national security, and the preservation of the traditional family."
SANTORUM SAID:
Why Governor Romney Would Have A Difficult Time Defeating President Obama:

"If his record was so great, why didn't he run for re-election? Why did you bail out (on the people of Massachusetts)?... We want someone when the time gets tough to stand up for conservative principles."
On Representative Paul's Lack Of Accomplishments:

"The serious issue with Rep. Paul is that he's never passed anything of importance. One of the reasons people like Rep. Paul is his economic plan, but he's never been able to accomplish any of that. The problem is that what Ron can do is as commander-in-chief is pull our troops back and leave a vacuum for China and Iran to fill."
On Accomplishments:

"It worked in my case, look at welfare reform. I remember standing next to Ted Kennedy and Daniel Patrick Moynihan, saying that this dependency is more harmful and not believing in people is more harmful, so we went out and fought. Clinton vetoed it twice, but we were able to work together. Yes, we made compromise, but not on our core principles. I stuck to those principles, because poverty is not a disability and welfare programs should transition people from that dependency. And in the end, we were able to get 70 votes in the Senate."
On Gay Rights:

"I would be a voice for making sure every person in America is treated with respect and dignity. That does not mean I agree with changing laws though. Madison said it best regarding the First Amendment, that it is the perfect remedy. People can come into the public and be heard and be respectful of everyone else. Just because you don't agree with them doesn't mean that you are discriminating against them."
On A National Right To Work Law:

"I have signed a pledge that I would sign a National Right To Work Law."
On Iran:

"They are a theocracy that has deeply embedded beliefs that that afterlife is better than this life. President Ahmadinejad said the principle virtue of Islam is martyrdom, so there is no deterrent in using nuclear weapons. In fact it's an encouragement to use nuclear weapons. The Soviet Union and China is not a theocracy."
Rick Santorum, Santorum Campaign Press Release - Santorum Stands as a Strong, Consistent Conservative Leader Online by Gerhard Peters and John T. Woolley, The American Presidency Project https://www.presidency.ucsb.edu/node/299932