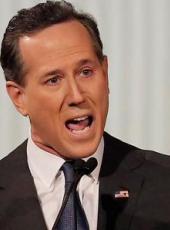 Santorum Campaign Press Release - Santorum Releases Two New Ads Statewide in Michigan Today
Verona, PA - Republican Presidential Candidate Rick Santorum released two new television advertisements that are running statewide in Michigan - "Very, Very Best Chance" and "Quotes." Both ads highlight Rick Santorum's qualifications as the best conservative choice to defeat Barack Obama.
Hogan Gidley, National Communications Director, said: "Rick Santorum has proven to be the one consistent conservative who is rock-solid on all the issues and best prepared to defeat Barack Obama this fall. He has stood tall for life, fiscal responsibility, entitlement reform, and our national security. National conservative leaders from Governor Mike Huckabee to Rush Limbaugh to Glenn Beck have proudly acknowledged Rick's strong conservative leadership for America. Now Americans from across the country are seeing that Rick Santorum is the right man, at the right time to lead our nation forward."
Watch: "Very, Very Best Chance"

Script: "Very, Very Best Chance"
Who has the best chance to beat Obama? Rick Santorum.
A full spectrum conservative, Rick Santorum is rock solid on values issues.
A favorite of the Tea party for fighting corruption and taxpayer abuse.
More foreign policy credentials than any candidate.
And Rick's 'Made in the USA' jobs plan will make America an economic superpower again.
Rick Santorum, a trusted conservative who gives us the best chance to take back America.
I'm Rick Santorum and I approve this message.
Watch: "Quotes"

Script: "Quotes"
"I adore Rick Santorum's conviction." - Mike Huckabee
"Santorum is the next George Washington." - Glenn Beck
"It would be great if he could get to the White House." - Rush Limbaugh
"Santorum... one of the 25 most influential evangelicals in America." - Time Magazine
Rick Santorum has been "consistent protecting the sanctity of life." - Sarah Palin
"We score Santorum's economic agenda bolder than Romney's." - Wall Street Journal
"Rick Santorum, a Tea Party guy before the Tea Party even existed." - Washington Post
Rick Santorum: "I'm Rick Santorum and I approve this message."
Rick Santorum, Santorum Campaign Press Release - Santorum Releases Two New Ads Statewide in Michigan Today Online by Gerhard Peters and John T. Woolley, The American Presidency Project https://www.presidency.ucsb.edu/node/300316