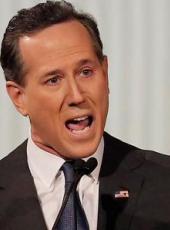 Santorum Campaign Press Release - Santorum Receives Backing of Prominent New Hampshire Tea Party Leaders
Bedford, NH - Republican Presidential Candidate Rick Santorum has received the personal endorsement of 912 and TEA Party leader Jerry DeLemus and his wife, State Representative Sue DeLemus.
Jerry DeLemus said: This Republican Primary season has been a roller coaster ride and quite frustrating at times for those of us involved in the Tea Party movement. We have had candidates that refused to meet with the Tea Party and yet claim to have our support. After our huge victories in 2011 bringing fiscal sanity to New Hampshire's Legislature and Senate, we now face that same responsibility in the New Hampshire Republican Primary. If we as the citizens of New Hampshire intend on turning back Obamacare this is your opportunity. I have found a candidate that doesn't have to apologize for his voting record or his public statements, a candidate that has been consistent and has the integrity to stand up for his beliefs and those of our Founders. The United States Marine Corps motto is "Semper Fidelis" or "Always Faithful" this describes Rick Santorum and I am honored to personally endorse him for President of the United States of America.
State Representative Sue DeLemus said: "I am proud to join the fight with Rick Santorum today. His positive campaign, based on the values found in our Constitution and Declaration of Independence have set him apart from the field and have rocketed his campaign forward. I am excited to work with him and his campaign to restore America to its rightful place as a shining city on a hill."
Rick Santorum said: "I am thrilled to receive Jerry and Sue's endorsement today. They are true patriots for freedom in New Hampshire and will be tremendous assets to our campaign as we continue our momentum. I am looking forward to working with them in the closing days of the New Hampshire primary, as we look to restore the ideal of 'live free or die."
Jerry DeLemus, a former United States Marine, is the Chairman of the Granite State Patriots Liberty PAC and the organizer of the Rochester New Hampshire 912 Project. State Representative Sue DeLemus represents Rochester in the New Hampshire State House of Representatives.
Rick Santorum, Santorum Campaign Press Release - Santorum Receives Backing of Prominent New Hampshire Tea Party Leaders Online by Gerhard Peters and John T. Woolley, The American Presidency Project https://www.presidency.ucsb.edu/node/299920