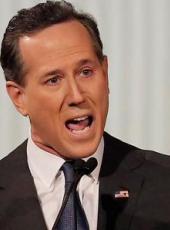 Santorum Campaign Press Release - Santorum: Ready and Able To Be Commander-in-Chief on Day-One
Manchester, NH - Tonight, Rick Santorum emerged as a front-runner for the Republican nomination for President. Attacked by his fellow contenders, Rick Santorum stood tall, calm, and collected - rebutting all scurrilous allegations with the fact that he has fought for causes he cares about. And when presented with the foreign policy challenges that face America, he stood head-and-shoulders above the fray as the best equipped, most knowledgeable, and with the fortitude to stand up for America's security interests.
Hogan Gidley, National Communications Director, said: "Rick Santorum stood on the stage tonight and emerged as a candidate ready to be commander-in-chief. Not just the Middle Class, not just Wall Street, but commander-in-chief for all Americans. Rick Santorum stood up for traditional values, stood up for the security of our nation, and stood up for all American workers. America needs such a leader, and it is becoming clearer and clear that leader is Rick Santorum."
SANTORUM SAID:
On CEO versus Commander-in-Chief:

"We need a leader, not a CEO. What we need is someone who can paint a positive vision for this country."
In Response To Rep. Ron Paul:

"If you haven't been accused by CREW, you're not a conservative. You should know better than cite a George Soros organization.
On The Right To Privacy:

"It created a right through something that wasn't there. I am for overturning Roe v. Wade, I do not believe we have a right to take a life. I do not believe the founders envisioned that. I do not believe the constitution enables that."
On Same-Sex Marriage:

"If the constitution says marriage is between a man and a woman, then marriage is between a man and woman."
On Securing Afghanistan (in response to Ambassador Huntsman):

"How long do you wait? Until the security of our country is ensured. That is the job of commander-in-chief."
On Iran (in response to Rep. Ron Paul):

"If we had your foreign policy there wouldn't have been a fleet to pick up the Iranian fishermen... The Iranian people love Americans because we stand up for the truth and call evil what it is."
On Manufacturing:

"I do something different than everybody else. I focus on one sector that has been hit hard - manufacturing. We eliminate the corporate tax for manufacturers... We eliminate all regulations that cost business over $100 million."
On The Middle Class:

"There are no classes in America... That's their (Democrats) job - divide, separate."
Rick Santorum, Santorum Campaign Press Release - Santorum: Ready and Able To Be Commander-in-Chief on Day-One Online by Gerhard Peters and John T. Woolley, The American Presidency Project https://www.presidency.ucsb.edu/node/299914