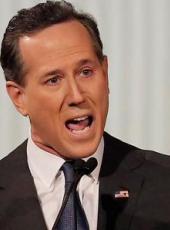 Santorum Campaign Press Release - Santorum Pledges to Protect Taxpayers
Signs ATR Presidential Taxpayer Protection Pledge
Manchester, NH - Former Senator Rick Santorum (R-PA) was joined by Americans for Tax Reform President Grover Norquist at Central Paper in Manchester, NH today as he signed the Taxpayer Protection Pledge.
The ATR Taxpayer Protection Pledge was first created in response to taxpayer fears that some politicians would raise income taxes in the wake of the Tax Reform Act of 1986. As of March 2011, over 230 members of the U.S. House of Representatives and 41 U.S. Senators had signed the pledge. Prior presidential candidates who had signed the Pledge include President George H.W. Bush, Sen. Bob Dole, and President George W. Bush.
In signing the Pledge, Senator Santorum commits to "oppose and veto any and all efforts to increase taxes" should he be elected President of the United States.
"Americans deserve a president who believes in them again, and today I am publicly committing to the American taxpayer that I believe that they know how to better spend their hard-earned money than Washington does," said Santorum. "I have always admired the great work Grover Norquist and the entire Americans for Tax Reform team have done in keeping public officials accountable to their responsibility of being stewards of the People's money, and I am anxious for the opportunity to bring fiscal responsibility back to Washington."
"I am delighted that Senator Santorum is continuing his long-standing commitment to the American taxpayer. This commitment from candidates for President is more important now than ever, as the Obama Administration has set in motion a dangerous precedent of imposing new taxes on our economy and threatening to allow existing tax rates to expire should they be re-elected," said Grover Norquist.
Rick Santorum, Santorum Campaign Press Release - Santorum Pledges to Protect Taxpayers Online by Gerhard Peters and John T. Woolley, The American Presidency Project https://www.presidency.ucsb.edu/node/298786