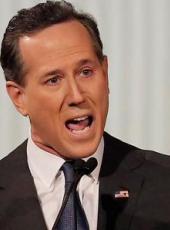 Santorum Campaign Press Release - Santorum Maintains Steady National and Michigan Lead; Surges in Washington and Georgia
Verona, PA - Mitt Romney's negative DC attack machine has spent millions of dollars in false, negative attack ads against Rick Santorum for weeks now.  We also learned this week that Romney's Super PAC has now spent about $12 million on the same type of attack ads.  But today, polls show that Republican Presidential Candidate Rick Santorum maintains his lead over Governor Romney nationally and in Romney's home state of Michigan, and is surging in Newt Gingrich's home state of Georgia and in Washington State.
In the daily Gallup Republican Presidential Tracking Poll, Rick Santorum continues to lead Governor Romney by 10 points: http://www.gallup.com/poll/election.aspx
Republican Presidential Preference:
Santorum:        36%
Romney:           26%
Gingrich:           14%
Rasmussen also reported today out of Governor Romney's home state of Michigan that Rick Santorum holds a 4-point lead over Romney, a 1-point increase over the last poll taken.  This poll is of note given the millions of dollars in negative advertising Governor Romney and his Super PAC supporters have invested in Michigan over the past two weeks to tear down Senator Santorum:
Michigan Republican Presidential Preference:
Santorum:        38%
Romney:           34%
Gingrich:           9%
And in new polls released out of Georgia and Washington, Rick Santorum has surged.
Washington Republican Presidential Preference:
Santorum:        38%
Romney:           27%
Gingrich:           12%
http://www.publicpolicypolling.com/main/2012/02/santorum-leads-in-washington.html
Georgia Republican Presidential Preference:
Santorum:        23%
Romney:           24%
Gingrich:           26%
http://www.realclearpolitics.com/docs/2012/InsiderAdvantage_GA_0220.pdf
Rick Santorum, Santorum Campaign Press Release - Santorum Maintains Steady National and Michigan Lead; Surges in Washington and Georgia Online by Gerhard Peters and John T. Woolley, The American Presidency Project https://www.presidency.ucsb.edu/node/300151