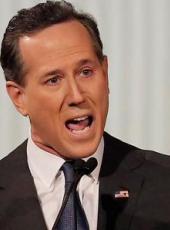 Santorum Campaign Press Release - Pennsylvania Congressman Tom Marino Joins the Fight With Santorum
Charleston, SC - The Rick Santorum for President campaign has received the endorsement of Congressman Tom Marino (R-PA).
Representative Tom Marino (R-PA) said: "Rick Santorum is a long-time friend of my mine. He has been a tireless advocate for common-sense conservative values his entire career. He is one of the hardest working candidates that I have ever met; his showing in today's Iowa Caucus is evidence of that. I want to congratulate him on his strong showing. We have a great slate of Republican presidential candidates this year, and I will enthusiastically work for our nominee. I will also work hard to ensure that the Republicans retain control of the House and win back the Senate. I share Rick Santorum's vision of lower taxes, less spending, private sector job creation, a strong national defense, and traditional family values. I believe that Rick Santorum offers our best hope of recapturing the White House and returning this nation to its prior position of strength and greatness. I am proud to support his campaign for the presidency."
Rick Santorum said: "I am thrilled to receive Tom's endorsement today. Both Tom and I understand that we need a nation built from the bottom up, not the top down - and Tom has led by these principles since being elected to Congress. Tom has been a great community leader in northeastern Pennsylvania and has now emerged as a strong voice for conservatism in Congress. Tom was part of the landmark 2010 freshman class of Republican who is restoring our Congress to the conservative principles our nation was founded upon, and I am excited to work with him as we build upon our newfound campaign momentum."
Congressman Tom Marino is a second-generation Italian-American. His father was a janitor and a fireman and his mother was a homemaker. Tom married his high school sweetheart, Edie, and went to work in the manufacturing field. It wasn't until he missed out on a promotion that he realized the importance of a college education. At age 30, Tom Marino sold his truck, Edie worked full time and he started college. He earned his bachelor's and law degrees in five years, attending the former Williamsport Area Community College, Lycoming College and Dickinson School of Law.
He practiced law for several years before being elected to two terms as District Attorney of Lycoming County. Marino later served as U.S. Attorney for the Middle District of Pennsylvania, where his name became synonymous with cracking down on organized crime and drug trafficking. Tom returned to work as a private-practice attorney for two years before deciding to run for Congress. The Marinos have two adopted children, Chloe and Victor. A two-time cancer survivor, Tom is active in community events and enjoys reading, motorcycle riding, weightlifting, running and spending time with his family.
Rick Santorum, Santorum Campaign Press Release - Pennsylvania Congressman Tom Marino Joins the Fight With Santorum Online by Gerhard Peters and John T. Woolley, The American Presidency Project https://www.presidency.ucsb.edu/node/300104