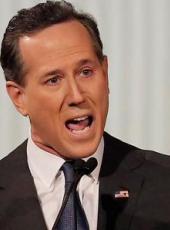 Santorum Campaign Press Release - National Nemesis of Planned Parenthood Joins the Fight With Santorum
Abby Johnson Endorses Rick Santorum For President
Mt. Pleasant, SC - The Rick Santorum for President campaign announced that Abby Johnson, former employee of and now national nemesis of Planned Parenthood, has endorsed Rick Santorum for President.
Abby Johnson said: "I am proud to give my personal endorsement to Senator Rick Santorum, a true champion of the unborn. While Senator Santorum has other outstanding qualities that would make him a wonderful President of the United States, his focus on protecting life in its most vulnerable stages speaks magnitudes about his values and morals as a leader. By valuing life in all its stages, Senator Santorum displays the courage that is needed to turn this country around.
When a society devalues life, from the unborn to the elderly and disabled, morals and values are thrown to the wayside to the detriment of all its citizens. As I saw during my time working at Planned Parenthood, when life is devalued, unborn babies and their mothers just become another way to boost the bottom dollar.
Senator Rick Santorum has the courage to lead by morals and absolute truths, which I find refreshing. He is a man of integrity and faith and I am proud to publicly offer my endorsement."
Rick Santorum said: "It is a true honor to receive Abby's endorsement. Abby is a woman of courage and conviction. Her stand against Planned Parenthood is something to be admired, and her stand for life is unquestioned. To receive her endorsement is a terrific boon to our campaign, and reaffirms my strong commitment to standing up for the dignity of each and every life - both the born and the unborn. I look forward to working with Abby to finally defund Planned Parenthood and advance our shared message of faith, family and freedom."
Abby Johnson has always had a fierce determination to help women in need. It was this desire that both led Abby to a career with Planned Parenthood, our nation's largest abortion provider, and caused her to flee the organization and become an outspoken advocate for the pro-life movement.
During her eight years with Planned Parenthood, Abby quickly rose in the organization's ranks and became a clinic director. She was increasingly disturbed by what she witnessed. Abortion was a product Planned Parenthood was selling, not an unfortunate necessity that they fought to decrease. Still, Abby loved the women that entered her clinic and her fellow workers. Despite a growing unrest within her, she stayed on and strove to serve women in crisis.
All of that changed on September 26, 2009 when Abby was asked to assist with an ultrasound-guided abortion. She watched in horror as a 13 week baby fought, and ultimately lost, its life at the hand of the abortionist. At that moment, the full realization of what abortion was and what she had dedicated her life to washed over Abby and a dramatic transformation took place.
Planned Parenthood did not take Abby's exodus sitting down. They are fully aware that the workers who leave are their greatest threat. Instantly, they took action to silence Abby with a gag order and took her to court. The lawsuit was quickly seen as the sham it was and thrown out of court.
The media was, and continues to be, intensely interested in Abby's story as well as her continued efforts to advocate for the unborn and help clinic workers escape the abortion industry. She is a frequently requested guest on Fox News and a variety of other shows and the author of the nationally best-selling book, Unplanned, which chronicles both her experiences within Planned Parenthood and her dramatic exit.
Today, Abby travels across the globe sharing her story, educating the public on pro-life issues, advocating for the unborn, and reaching out to abortion clinic staff who still work in the industry. She is the Chief Research Strategist for Live Action Films, works on projects for the various pro-life organizations and lives in Texas with her husband and precious daughter. She is grateful to God for her calling to speak for life and considers herself to be incredibly blessed.
Rick Santorum, Santorum Campaign Press Release - National Nemesis of Planned Parenthood Joins the Fight With Santorum Online by Gerhard Peters and John T. Woolley, The American Presidency Project https://www.presidency.ucsb.edu/node/300090