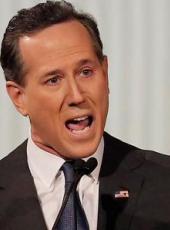 Santorum Campaign Press Release - Many on the Right Reject Mitt's "Juvenile" Mudslinging and His Well-Funded DC Attack Machine
"THE ROMNEY CAMPAIGN OFTEN GIVES THE IMPRESSION THAT IT THINKS REPUBLICAN PRIMARY VOTERS ARE REALLY STUPID."

-BILL KRISTOL, THE WEEKLY STANDARD
"THE EPISODE HIGHLIGHTED WHY SANTORUM WILL BE MORE DIFFICULT FOR THE ROMNEY TEAM TO ATTACK THAN NEWT GINGRICH."

-BYRON YORK, THE WASHINGTON EXAMINER
Verona, PA - It is becoming increasingly clear that the Romney Campaign's negative attacks are not only falling on deaf ears, but being recognized for what they are - mudslinging that distracts from the important issues facing voters.
Hogan Gidley, National Communications Director, said: "Bill Kristol is right. We are at War with Radical Islam, over 15% of Americans are either unemployed or underemployed, and we have a President who wants to take away more of your freedoms - and Gov. Romney is spending his time tearing down Rick Santorum. And as Byron York pointed out, the negative attacks are backfiring. At this point, it's sad that all Gov. Romney can do is unleash his well-funded DC attack machine to destroy others. However, Rick Santorum remains committed to discussing the issues that will have to be addressed if we are going to win this November and outlining his positive vision for America."
Going After Rick

By: William Kristol, The Weekly Standard
America is going bankrupt, Iran is going nuclear, the Obama administration is going after religious liberty. And Mitt Romney is going after Rick Santorum.
Which is fine (sort of). Romney's in a political fight, and politics ain't beanbag, as Romney has tried to say.
But does his super PAC-following public (and therefore legal) guidance from his own campaign-have to go after Santorum in so juvenile a way? Santorum voted to raise the debt limit!(Along with every virtually other Republican when the GOP controlled the Senate-and does Romney think they shouldn't have raised the debt limit?). Santorum voted to raise his own pay! (As part of an appropriations bill-and does Romney think senators are overpaid?)
The Romney campaign often gives the impression that it thinks Republican primary voters are really stupid-and it doesn't do a very good job of hiding its contempt. The Obama administration clearly thinks the American people are really stupid-and it doesn't do a very good job of hiding its contempt. It would be nice if the Republican nominee could contrast his respect for the American people with the Obama administration's contempt.
Team Romney Attack On Santorum Backfires

By: Byron York, The Washington Examiner
... The Romney campaign discovered the risk of enlisting those lawmakers on Tuesday, when it held a call in which former Rep. and Sen. Jim Talent denounced Santorum's spending record. Among the targets of Talent's criticism was Santorum's support of the Medicare prescription drug entitlement. "He voted for Medicare Part D, a big expansion of a federal entitlement," Talent said of Santorum.
The problem was, Talent himself was in the Senate at the time, and he also voted for Medicare Part D. When reporters brought up that fact, Talent explained that he wasn't running against Santorum -- Romney was. ... Whatever the explanation, there's no doubt Talent's record undermined his criticism of Santorum, and in the end the episode highlighted why Santorum will be more difficult for the Romney team to attack than Newt Gingrich...
... A new ad run in Michigan by the pro-Romney super PAC Restore Our Future hits Santorum for voting to raise the federal debt ceiling, for voting in favor of wasteful spending, and for voting to raise his own pay as a member of Congress. How many members of Romney's team of House and Senate endorsers have never voted to raise the debt ceiling, never voted for wasteful spending, and never voted to raise congressional pay? The fact is, many, many Republicans who have been members of Congress, especially in the George W. Bush years, have done those things and more. How effective will they be in Romney's effort to condemn Santorum as a big spender? Romney himself can still make the spending argument against Santorum, although as governor of Massachusetts Romney sought federal earmarks just like other governors. But in this campaign Romney has often relied on surrogates to attack his opponents. From now on, when it comes to charges of big spending, Team Romney will have to be careful about who's doing the talking."
Rick Santorum, Santorum Campaign Press Release - Many on the Right Reject Mitt's "Juvenile" Mudslinging and His Well-Funded DC Attack Machine Online by Gerhard Peters and John T. Woolley, The American Presidency Project https://www.presidency.ucsb.edu/node/300211