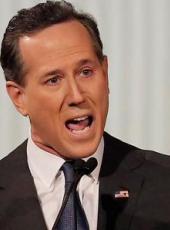 Santorum Campaign Press Release - Legendary Social Cconservative Leader Dr. James Dobson Endorses Rick Santorum For President
Mt. Pleasant, SC - The Rick Santorum for President campaign is proud to announced that Rick Santorum has received the endorsement of Dr. James Dobson.
Dr. James Dobson said: "The institution of the family is the key issue facing this great nation.  It is the foundation, the bedrock, upon which every dimension of Western Civilization rests.  If it is undermined or weakened by cultural and governmental forces, the entire superstructure will collapse in short order.  And indeed, today it is in serious jeopardy.  The very definition of marriage is threatened, which has implications for the next generation and the stability of society itself. 
Of all the Republican candidates who are vying for the presidency, former Sen. Santorum is the one who has spoken passionately in every debate about this concern.  He has pleaded with the nation and its leaders to come to the aid of marriages, parents, and their children.  What a refreshing message.  The Congress voted in 1969 to impose a marriage penalty tax on husbands and wives who were struggling to raise their children.  That unfair tax continued for 32 years, until George W. Bush rolled it back. Now, if Democrats and some Republicans have their way, the marriage penalty tax will be re-imposed in 2013.  We desperately need a president who will intercede on behalf of those who are caring for the next generation and working to build this nation. 
"While there are other GOP candidates who are worthy of our support, Sen. Santorum is the man of the hour. His knowledge of international politics, especially Israel and the turmoil in the Middle East, is highly relevant to the dangerous world in which we live.  This is why I am endorsing former Senator Rick Santorum for president of the United States, and urge my countrymen to join us in this campaign."
Rick Santorum said: "I am truly honored to receive Dr. Dobson's endorsement today. Dr. Dobson has been a light for conservative movement, an unwavering leader in the face of forces both within and outside our Party to call a truce on the foundational principles that make our nation the greatest in the history of the world, but he knows that calling a truce is nothing more than surrendering. I commit to never surrender our principles, our foundational values, and the moral enterprise that is America. I am excited to work with Dr. Dobson in the weeks to come as we build upon our momentum generated from our Iowa Caucus win."
James C. Dobson, Ph.D., is founder and chairman emeritus of Focus on the Family, a non-profit, multimedia organization with a global reach. As founder, Dr. Dobson's vision and philosophical perspectives shaped Focus on the Family at its inception and supplied the impetus for its outreach for the first three decades of its existence. Even though a new generation of leadership now bears responsibility for carrying out the ministry's mission, Dr. Dobson's influence remains significant.
Rick Santorum, Santorum Campaign Press Release - Legendary Social Cconservative Leader Dr. James Dobson Endorses Rick Santorum For President Online by Gerhard Peters and John T. Woolley, The American Presidency Project https://www.presidency.ucsb.edu/node/299490