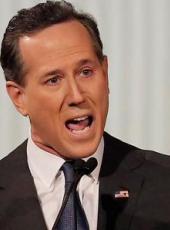 Santorum Campaign Press Release - Influential Des Moines-Area Minister Joins the Fight With Santorum
Urbandale, IA - Republican Presidential Candidate Rick Santorum announced that he has received the endorsement of influential Des Moines-area minister, Rev. Terry Amann.
Rev. Terry Amann said: "I am a pastor at Walnut Creek Community Church in Windsor Heights. I also serve as a pastor to the board of directors of the Family Leader. I do not speak on behalf of these two organizations, but as a private and concerned citizen.
I have been involved in politics for several years, having worked with the Mike Huckabee presidential campaign during the 2008 election cycle, and with the Tim Pawlenty campaign earlier this year.
Today, I am enthusiastically endorsing Senator Rick Santorum for President of the United States.
Rick Santorum is a humble person of solid character and integrity. He has been a powerful advocate for the unborn, and he has been a strong voice and excellent example for traditional marriage. On all points, Rick Santorum is a solid conservative -- both socially and fiscally -- and he has the political record to prove it. He also knows that we need to cut spending, cut taxes, and create jobs in order to stimulate the American economy. Senator Santorum is also well-versed in foreign policy. He understands the nuances and complexities of the Middle East, and of the threats posed by Islamic Jihad.
By visiting all 99 counties in our state, Rick Santorum has proven that he will do whatever it takes to get the job done. He will be a refreshing change in Washington. He is exactly what we need in a president. I urge all Iowans to carefully consider giving your support to Rick Santorum."
Senator Santorum said: "I am honored to receive the endorsement of Rev. Amann. Terry is a true leader for traditional American family values not just in Des Moines, but throughout Iowa. I am blessed to receive his vote of confidence today and look forward to working with him as we drive toward victory in the Iowa caucuses."
Rev. Terry Amann came to the Walnut Creek Community Church in 2007 and was recognized as a pastor in 2008. Rev. Amann has served as pastor in three denominational churches prior to Walnut Creek, as well as serving as a jail and prison chaplain for several years. Terry and his wife, Susan, are the proud parents of three daughters: Sarah, Rachel, and Samanthya.
Rick Santorum, Santorum Campaign Press Release - Influential Des Moines-Area Minister Joins the Fight With Santorum Online by Gerhard Peters and John T. Woolley, The American Presidency Project https://www.presidency.ucsb.edu/node/298426