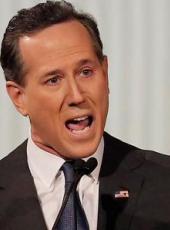 Santorum Campaign Press Release - Influential Conservative Florida State Legislator Stands With Santorum
Sarasota, FL - The Rick Santorum for President campaign is proud to announce that leading Florida conservative and State Representative Scott Plakon has endorsed Rick Santorum for President.
Scott Plakon said: "Rick Santorum is a man who has consistently shown that he can be trusted to stand by his deeply held conservative principles regardless of the way the political winds blow and will be a steady, even hand in leading America towards prosperity and liberty again.
He has consistently shown that he is willing to make decisions not for the next election cycle, but for the next generation. That is exactly the kind of leader and values we need to confront the failed policies and leadership of the Obama administration and to return America to the shining city on a hill that President Reagan spoke of."
Rick Santorum said: "I am truly honored to receive Scott's endorsement today. Scott has been a stalwart defender of conservative principles in Tallahassee, and a leader in the fight against health care mandates. His endorsement today is a great lift to our campaign in the days leading up to the Florida primary and I am looking forward to working with Scott as we continue to build upon our Iowa Caucus victory."
State Representative Scott Plakon is the only Florida House member to have two Constitutional Amendments pass both the State House and State Senate in at least the last 15 years. Plakon is the sponsor of the "Florida Health Care Freedom Act" to prevent state or federal health care mandates from infringing on the freedom of Floridians. For his work on behalf of conservatism and his constituents, Plakon was named Americans For Prosperity's Legislator of the Year and received the American Conservative Union's Defender of Liberty Award.
Rick Santorum, Santorum Campaign Press Release - Influential Conservative Florida State Legislator Stands With Santorum Online by Gerhard Peters and John T. Woolley, The American Presidency Project https://www.presidency.ucsb.edu/node/299481