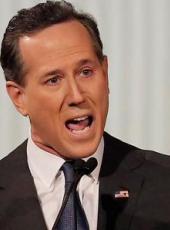 Santorum Campaign Press Release - ICYMI: "Santorum's Sizable Crowd Surprises"
Urbandale, IA - Former Senator Rick Santorum (R-PA) shocked the political establishment Saturday by finishing a surprising 4th Place at the Ames Straw Poll. Though outspent by more than 10:1 by his closest opponents, Senator Santorum proved that leadership trumps showmanship. The overwhelming response he received at the Ames Straw Poll shows that Senator Santorum's message and the messenger resonates with voters.
MSNBC: "Santorum's Sizable Crowd Surprises; Dubs campaign 'little engine that could"
http://firstread.msnbc.msn.com/_news/2011/08/13/7365178-santorums-sizable-crowd-suprises-dubs-campaign-little-engine-that-could
By NBC's Jo Ling Kent and Domenico Montanaro
AMES, Iowa -- There was a huge turnout for Santorum at his tent this morning, 25-plus buses brought in voters, according to staff. His tent had a very long line. The only line that was longer was Bachmann's. Santorum's campaign handed out free pork burgers and samples of "presidential peach preserves" from the family's peach trees...
CNN: "Santorum: We had something to prove here"
http://politicalticker.blogs.cnn.com/2011/08/13/santorum-we-had-something-to-prove-here/
By: CNN Deputy Political Director Paul Steinhauser
Ames, Iowa (CNN) - Rick Santorum is one happy guy.
The GOP presidential candidate and former senator from Pennsylvania came in fourth at the Republican straw poll in Ames, Iowa, Saturday, behind Rep. Michele Bachmann of Minnesota, Rep. Ron Paul of Texas and finishing just over 600 votes behind former Minnesota Gov. Tim Pawlenty.
"We were in range of three. I mean I felt like here's a guy who spent a million bucks in this and we spent a fraction of that and here we are within a few hundred votes of him and I feel very, very good about that. I feel we're positioned exactly where we want to be," Santorum told CNN. "If you look at the top four, three of them can win the caucus. And I really feel that Ron Paul can't win this caucus and can't win this nomination and the other three candidates have a potential to do so. The top three tickets get punched out of Iowa, so I feel really good about that."...
Rick Santorum, Santorum Campaign Press Release - ICYMI: "Santorum's Sizable Crowd Surprises" Online by Gerhard Peters and John T. Woolley, The American Presidency Project https://www.presidency.ucsb.edu/node/298394