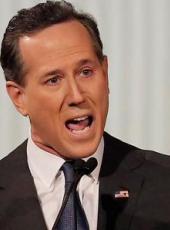 Santorum Campaign Press Release - ICYMI: "Santorum Vows: U.S. Open for Business"
Message of American innovation "receives positive reviews" in Iowa
Cedars Falls, IA - Former Senator Rick Santorum (R-PA) has received positive reviews for his emphasis on renewing American innovation and reinvigorating the job market, particularly the manufacturing sector, during stops in Burlington and Marion, IA. As reported by the Des Moines Register:
Santorum vows: U.S. 'is open for business'
By: William Petroski
Burlington, Ia. - Former Sen. Rick Santorum promised Tuesday that if he's elected president, he will lead a revival of America manufacturing, helping to spur economic growth and provide good jobs for workers...
... "We are going to say to those who are innovators here, those who are foreign investors or looking for a place to set up their manufacturing facility, 'America is open for business,' " Santorum said. "We are going to say, 'Go ahead and build your manufacturing plant here and employ people here, and your corporate taxes are going to be zero.' "
Santorum proposed a five-point plan aimed at reshaping the federal government, cutting taxes, removing regulatory burdens, improving capital markets, and tapping domestic energy sources to strengthen the economy and reduce unemployment.
He called manufacturing "the real key to bridging the wealth gap" in America, saying factory jobs have an economic multiplier effect because they require other companies to provide supplies, transportation and other goods and services. Manufacturing firms also pay dividends and salaries, generating tax revenue for the federal government, he noted.
His remarks received positive reviews from several Winegard Co. workers.
"Keep the jobs here in this state," said Shawn Mears, a maintenance manager who had previously lost a job in Fairfield when a former employer moved its operation to Mexico...
... Angie Carlile of Cedar Rapids, a homemaker with two children, said she came Tuesday night not sure of which presidential candidate she would support. But she left the Gettemy home leaning toward Santorum.
"I am a conservative, and what I am looking for is someone who will really be a conservative," Carlile said. Some Republican politicians run for office as conservatives, but they don't always stick to conservative values once they are elected, she said.
To read the Des Moines Register's complete report on the first leg of Senator Santorum's "Courage to Fight for American Jobs" Tour: http://caucuses.desmoinesregister.com/2011/07/05/santorum-vows-u-s-is-open-for-business/
Rick Santorum, Santorum Campaign Press Release - ICYMI: "Santorum Vows: U.S. Open for Business" Online by Gerhard Peters and John T. Woolley, The American Presidency Project https://www.presidency.ucsb.edu/node/298399