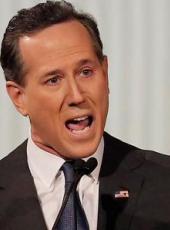 Santorum Campaign Press Release - ICYMI: Santorum Op-Ed Defends Traditional Marriage and Asks Why Other Republican Frontrunners Don't
On Marriage, Republicans Should Embrace Lincoln, Not Douglas
By: Rick Santorum
From its inception the Republican Party has been the party of the family and great moral causes.



This is only one of many reasons why it is so disturbing that some prominent Republicans have seemingly washed their hands of the value and importance of marriage.



When asked about New York State's new law recognizing homosexual marriage, Texas Governor Rick Perry recently told an audience in Aspen, Colorado: "Our friends in New York six weeks ago passed a statute that said marriage can be between two people of the same sex. And you know what? That's New York, and that's their business, and that's fine with me."



Governor Perry later attempted to clear up his statement saying, "I probably needed to add a few words after that 'it's fine with me,' and that it's fine with me that a state is using their sovereign rights to decide an issue. Obviously gay marriage is not fine with me."



By taking refuge behind "states' rights" as it relates to moral wrongs, the definition of marriage then becomes subject to fifty different interpretations and versions. What's even worse is for one to say you fundamentally disagree with homosexual marriage but then claim you don't have the right or will to fight it.



Governor Perry is not alone. Congresswoman Michele Bachmann also characterized what New York has done as an issue for each state when she said: "I'm running for the presidency of the United States. And I don't see that it's the role of a president to go into states and interfere with their state laws." In a subsequent interview she said, "states have, under the 10th Amendment, the right to pass any law they like."



These positions are deeply troubling for the Republican Party and the country. Consigning these moral issues strictly to local decision-making runs contrary to the positioning of our party's founding and to Abraham Lincoln's philosophy that there is no moral right to enact a major social and moral wrong.



Once the definition of marriage is discarded, there will be no rational or legitimate legal or moral argument left to prevent the acceptance of any other kind of definition of marriage, including other moral wrongs like polygamous marriages. Would those same candidates say that New York State has the right to allow for polygamous marriage-and then leave it at that?



In Lincoln's time the political debate was over the foundationally immoral institution of slavery. Lincoln rightly criticized Stephen Douglas' "don't care" attitude about that great moral issue this way: "When Judge Douglas says that whoever or whatever community wants slaves, they have a right to have them, he is perfectly logical, if there is nothing wrong in the institution; but if you admit that it is wrong, he cannot logically say that anybody has a right to do wrong."



Using Douglas' rationale today, we subject the definition of marriage to 50 different versions and that leads to settling of the conflict by the U.S. Supreme Court. This is precisely the same road that led to the downgrading of human life with abortion laws. By allowing the states to define and grant the right to life in a multitude of ways, the Supreme Court was forced to step in to settle the conflict; and it did so by granting localities even further latitude on the most important of all moral questions.



We simply cannot allow this to happen to marriage too. Traditional marriage is one man and one woman, and it has been the essential building block of every truly free, fruitful, and lasting society. Marriage-and the family founded upon it-is the first government, the first economy, the first school, the first hospital, and the first religious institution. The family is the first mediating and civil institution of society.



Conservatives simply concede too much when they communicate that there exists some "right" to commit a great moral and civil wrong, and then leave it at that. We must not give up our moral authority and say it is "fine" for a state legislature, or a court, or an executive, to redefine marriage in the name of states' rights or say it is none of our business. As Thomas Jefferson said the people are free, and "inherently independent of all but moral law."



I believe marriage is important enough to fight for and I've done it in my home state and in Iowa - actually campaigning last year against unelected judges when they re-wrote Iowa's marriage law. We must push for legislative and federal amendment fixes to the wrongs that have already been done and Republicans should not remain silent or inactive.



Running for president means running for president of all of the United States, unifying them behind great moral causes, taking sides, and then speaking to what a President or the federal government can do to ensure our national morality.



Marriage simply cannot be fifty different things, and the states do not have the right to choose what marriage will be. Marriage is one thing; one very important thing-the basis of all family law and morality - one man and one woman.
Rick Santorum, Santorum Campaign Press Release - ICYMI: Santorum Op-Ed Defends Traditional Marriage and Asks Why Other Republican Frontrunners Don't Online by Gerhard Peters and John T. Woolley, The American Presidency Project https://www.presidency.ucsb.edu/node/298366