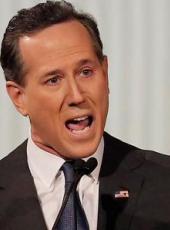 Santorum Campaign Press Release - ICYMI: Santorum Builds New Hampshire Campaign Team
While Others Were Preoccupied With The Latest Flavor Of The Week, Santorum Built A Strong New Hampshire Grassroots Network
Verona, PA - Republican Presidential candidate Rick Santorum has recruited 99 primary captains around the state of New Hampshire who will serve as local organizers and ambassadors for the Santorum Campaign. The extensive organization of the Santorum Campaign throughout New Hampshire reflects the Senator's travel and commitment to the First-in-the-Nation Primary State. Santorum has visited New Hampshire on 30 occasions.
Senator Santorum said: "I am honored to have such a great outpouring of support from Granite State conservatives. Many have said to me that I should skip New Hampshire because the state does not 'match-up' with my brand of conservatism. Today's announcement proves the nay-sayers wrong, because New Hampshire Republicans are looking for a candidate who is committed to their state, who speaks from the heart, and speaks the truth about the challenges facing our nation. I am committed to New Hampshire and was proud to support their efforts to remain the First-in-the-Nation primary state, and I look forward to working with this great team as we move on to victory in the New Hampshire primary."
Mike Biundo, National Campaign Manager, said: "As a New Hampshire resident, I could not be more proud to work for a candidate like Rick Santorum who has stood tall for the values that make America the greatest nation in the history of the world. From this announcement, it is clear that I am not alone. This is a terrific team of well-respected and well-known activists from around the state, and I am confident that with their help, the Santorum Campaign will shock the establishment on primary night."
Santorum Campaign New Hampshire Captains:
Belknap County:

Tim Crossman

Don Ewing
Carroll County:

Evelyn Bailey

Glenn Cordelli

Sheriff Chris Conley

Luke Fruedenberg

Rick Parent
Cheshire County

George Fellendorf

Hon. Charlie Moore

Jerry Sickles
Coos County:

Mary Shea
Grafton County:

William Cahill

Dale Sollars

Jerry Thibodeau
Hillsborough County:

Gwen Ahrent

Mike Ball

Gen Beaulieu

Carem Bennett

Hon. Jerry Bergevin

Rev. Paul Berube

Bill Boyd

Hon. Kevin Brown

Maureen Brown

Davide Brown

Alysha Brown

Tyler Carlisle

Howard Coffman

Karen Cote

Rick Cote

Lyn Davis

Harry Doutt

Lynn Ducasse

Mike Egan

James Face

Sean Fesko

Jim Finnegan

Gary Gahan

Hon. Bart Hardwick

Many Hazleton

County Attorney Dennis Hogan

Dan Hogan

Hon. Gary Hopper

Cynthia Horan

Ellen Kolb

Victoria LaDuke

Aaron Landis

Janet Larsen

Hon. Don Lebrun

Marcia Lebrun

Melinda Luther

June Marshall

Erin McNelly

Kyle Mercer

Claira Monier

Laura Morgan

Charlie Morgan

Ryan Nichols

Hon. Jeanine Notter

Hon. Bill Ohm

Hon. Stephen Palmer

Hon. Lenette Peterson

David Recupero

Kate Recupero

Matthew Robert

Cari Shaunessy

Valerie Somers

Jim Somers

Hon. Matt Swank

Tom Walton

Hon. Randall Whitehead
Merrimack County:

Travis LaCouter

Hon. Mark Lindsley

Greg Lull

Ahni Malahki

Hon. John McDonnell

Valerie Mitchell

Karen Testerman

Ava Voissem
Rockingham County:

Hon. Jason Antosz

Hon. Regina Birdsell

Sue Carroll

Ashley Christie

Paul Dimarco

Natalie Gallo

Elaine Kindler

Ted Maravelias

Hon. John Sedensky

Beverly Sedensky

Christopher Sedensky

Gen Sedensky

Hon. Wes Shuler

Mark Skelly

Gregory Spero

Hon. Dan Tamburello
Strafford County:

Sen. Fenton Groen

Amy Kindler

Hon. Kirsten Larsen Shultz

Michelle Paradeso
Sullivan County:

Hon. Stephen Smith
Rick Santorum, Santorum Campaign Press Release - ICYMI: Santorum Builds New Hampshire Campaign Team Online by Gerhard Peters and John T. Woolley, The American Presidency Project https://www.presidency.ucsb.edu/node/299902