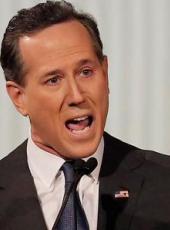 Santorum Campaign Press Release - ICYMI: Debate Reviews Are in and the "Big Winner" is Santorum
Sarasota, FL - While former Massachusetts Governor Mitt Romney and former Congressman Newt Gingrich bickered over their checkered past, the reviews are in and Rick Santorum stood head and shoulders above his competition.
Chris Cillizza of the Washington Post said: "But if Santorum is in a political no man's land, he didn't show it last night. While he got far less time to speak than either Romney or Gingrich... Santorum made the most with what he had.
As he had done in the debates last week, Santorum repeatedly attempted to lump Gingrich and Romney together as Obama-lite while presenting himself as the genuine conservative article.
In his best answer of the night - and the best overall answer from any candidate all night - Santorum detailed the apostasies of Gingrich and Romney on health care and climate change before adding: "They rejected conservatism when it was hard to stand."
And from Twitter, influential opinion-makers said:
Ari Fleisher (@arifleischer) "Good and effective shot by Santorum on the tea party's origins and newt & mitt's support for the bailouts."
Dick Morris (@DickMorrisTweet): "I think the big winner is Rick Santorum."
Phil Klein (@Philipaklein): "Santorum nailing it on Iran.  'It would be reckless not to do something' if they'd get nukes otherwise - exactly!"
Nate Silver (@fivethirtyeight): "Santorum wins debate in the penalty shootout phase."
Dana Loesch (@DLoesch): "Digging this Santorum answer."
Andrea Tantaros (@AndreaTantaros): "They rejected conservatism when it was hard to stand." - Santorum on Newt and Mitt. Great answer.
Rick Santorum, Santorum Campaign Press Release - ICYMI: Debate Reviews Are in and the "Big Winner" is Santorum Online by Gerhard Peters and John T. Woolley, The American Presidency Project https://www.presidency.ucsb.edu/node/299454